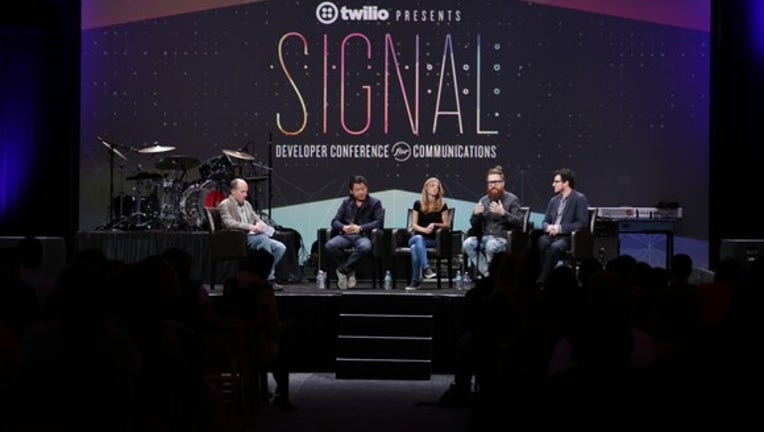 Image source: Twilio.
Shares ofTwilio (NYSE: TWLO)moved higher on Wednesday. The provider of cloud-based communications solutions got a boost afterJMP Securities analyst Patrick Walravens upgraded the stock from Market Perform to Outperform.
His checks show that developer demand remains strong for Twilio's platform that integrates communication features into existing applications. Walravens points out that the Twilio sales team is having a hard time keeping up with all of the inbound leads, a good problem to have when it comes to assessing the dot-com darling's near-term growth potential.
Walravens' $35 price target may not seem like much, suggesting just 21% of upside based on Tuesday's close. However, he also sees a scenario where the stock could hit as high $45 if things go really well for Twilio, a call that would result in a pop of 56% if it plays out.
Earnings season
One of the most encouraging aspects of JMP Securities turning bullish is the timing of the move. Twilio reports quarterly results less than a week from now -- next Tuesday -- and an analyst jumping into the camp of believers at this points implies a high degree of confidence in the call. It Walravens wasn't sure he could've just waited six days for the report to confirm or debunk his refreshed thesis.
Analysts see revenue of $74.1 million for the recently concluded fourth quarter in next week's report, 44% ahead of what it rang up during the prior year's holiday quarter. Twilio's own guidance three months ago was calling for a 41% to 45% top-line ascent. Wall Street pros see a deficit of $0.06 a share for the quarter, but Twilio has managed to post a smaller loss than analysts were targeting in each of its two first quarterly reports as a public company.
Twilio stock has nearly doubled since going public at $15 seven months ago, but the shares have fallen sharply since peaking north of $70 in late September. There may have been a lot of froth in the stock with its initial post-IPO feeding frenzy, but there's a real company here -- and it's hitting all of the right notes.
We've seen developers behind some of the hottest apps -- from Uber to WhatsApp to Airbnb -- hop on Twilio's real-time communications solutions. There were 34,457 developers on Twilio at the end of September, a 45% surge over the past year. We'll get updated year-end numbers next Tuesday, of course. Walravens turning bullish is nice, but when that's happening is the real story for investors.
10 stocks we like better than Twilio When investing geniuses David and Tom Gardner have a stock tip, it can pay to listen. After all, the newsletter they have run for over a decade, Motley Fool Stock Advisor, has tripled the market.*
David and Tom just revealed what they believe are the 10 best stocks for investors to buy right now... and Twilio wasn't one of them! That's right -- they think these 10 stocks are even better buys.
Click here to learn about these picks!
*Stock Advisor returns as of January 4, 2017
Rick Munarriz has no position in any stocks mentioned. The Motley Fool recommends Twilio. The Motley Fool has a disclosure policy.