1 Metric for Twitter Investors to Pay Attention to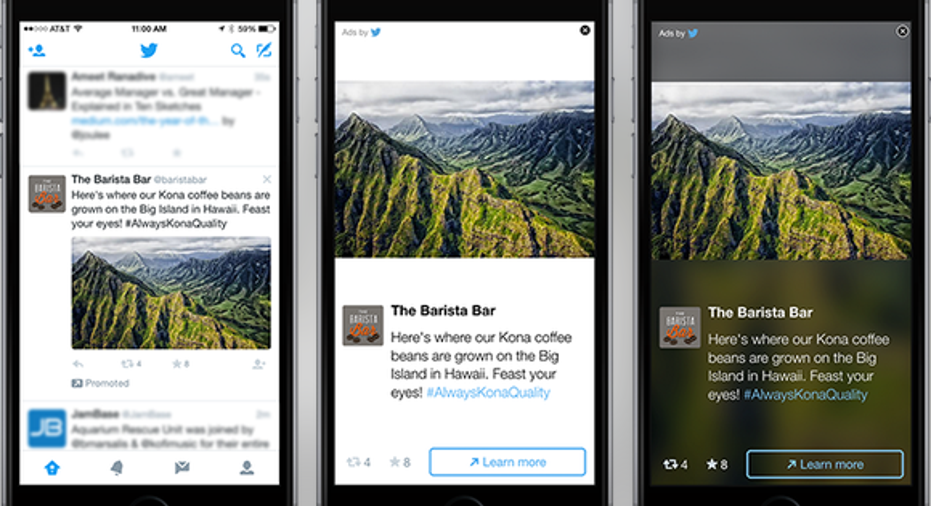 Image Source: Twitter
Last year, Twitter started to break out its advertising revenue into two categories: advertising on its owned and operated properties, and advertising sold on third-party publishers websites through its ad network. With Twitter's investments in ad technology companies like MoPub and TellApart, it was key for it to show investors how those investments are paying off with the growth of its ad network.
However, Twitter's decision to break out its ad revenue is shedding light on a key issue the company faces. Ad revenue growth for its owned and operated properties is slowing significantly. Last quarter, the company grew owned and operated ad revenue 23.3% year over year compared to 45.2% throughout 2015.
While the majority of Twitter's ad revenue growth still comes from its owned and operated properties, that might not last for long. Here's why that's bad for investors.
A look at the last quarter
Last quarter, Twitter brought in $467 million in ad revenue from its owned and operated properties and $63 million from its ad network. While the vast majority of revenue still comes from Twitter's own app and website, the amount of ad revenue growth for each category is much closer. $88 million worth of growth came from Twitter's owned and operated properties, and $54 million came from third-party ads.
With such a significant jump in ad revenue from its ad network, Twitter saw a huge increase in traffic acquisition costs. TAC increased $30 million in the first quarter to reach $36 million.
Twitter's Audience Platform. Image source: Twitter.
That implies that Twitter only keeps about 43% of ad revenue from its ad network, which actually compares favorably with other digital advertising companies. Alphabet's Google, by comparison, keeps only about 30% of its ad network revenue after traffic acquisition costs. Facebookreceives a similar cut as Google from publishers that use its Instant Articles format, but it doesn't commit to a specific revenue split for its ad network.
While it's good Twitter seems to be able to keep such a high percentage of revenue from ad partners, the results from its larger competitors indicate it's more likely for Twitter to keep a smaller percentage of revenue as it scales.
Twitter's outlook for the second quarter implies less than 1% in sequential revenue growth at its midpoint. Additionally, it expects its adjusted EBITDA margin to decline to around 25% in the second quarter from 30% in the first quarter. Twitter generated an adjusted EBITDA margin of 24% in both the first and second quarters last year.
That outlook indicates Twitter expects a larger portion of its revenue will come from the lower-margin ad network revenue.
How does Twitter stack up?
Comparing Twitter's ad revenue to Google sheds some light on how bad this problem is for Twitter. Last quarter, Google generated about 80% of its total ad revenue from its owned and operated websites; Twitter generated 88% of ad revenue from its owned and operated sites.
But the percentage of ad revenue growth that came from Google's ad network partners was just 4.6%. For all of 2015, network partners accounted for just 6.3% of ad revenue growth. Indeed, most of Google's revenue growth is coming from higher-margin ads. As a result, the company's operating margin is expanding, reaching 37.8% last quarter.
Twitter, meanwhile, could see the majority of its revenue growth come from its ad network in the near future. User growth is stalling, and the number of big-budget brand advertisers isn't growing like it used to. On Twitter's first-quarter earnings call, CFO Anthony Noto mentioned that it's shifting from two avenues of growth (more advertisers and larger share) to just trying to increase the average spend for brand advertisers -- its biggest source of revenue. Last quarter, spending on Twitter's new ads largely replaced spending on its old ads, leading to less-than-stellar results. Without a meaningful increase in engagement on its owned and operated properties, it will be difficult for Twitter to grow its share of advertisers' budgets.
As a result, you'd be excused for concluding that Twitter's profit growth will lag its revenue growth going forward. Investors should pay attention to what percentage of ad revenue growth is coming from Twitter's owned and operated properties and how much is coming from its ad network when the company releases its second-quarter results later this month.
The article 1 Metric for Twitter Investors to Pay Attention to originally appeared on Fool.com.
Suzanne Frey, an executive at Alphabet, is a member of The Motley Fool's board of directors. Adam Levy has no position in any stocks mentioned. The Motley Fool owns shares of and recommends Alphabet (A and C shares), Facebook, and Twitter. Try any of our Foolish newsletter services free for 30 days. We Fools may not all hold the same opinions, but we all believe that considering a diverse range of insights makes us better investors. The Motley Fool has a disclosure policy.
Copyright 1995 - 2016 The Motley Fool, LLC. All rights reserved. The Motley Fool has a disclosure policy.