1 Key Summit Midstream Partners' Stock Number You Must Know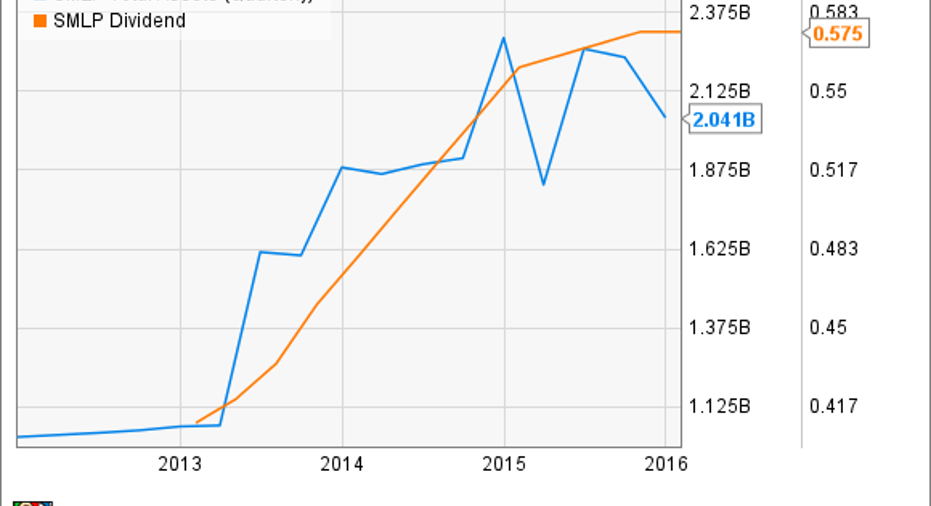 Summit Midstream Partners bills itself as a "growth-oriented MLP," and it has done a fairly decent job doing just that since going public in 2012. Not only has its asset value nearly doubled, but its quarterly distribution is up 44% over that same time-frame:
SMLP Total Assets (Quarterly) data by YCharts
That growth, however, came at a cost with the company borrowing heavily, in particular, using the borrowing capacity of its revolving credit facility. Because of that it's a number that investors really need to know because it could cause problems down the road given that it's the company's main source of liquidity.
Summit Midstream's capital structureAs of the end of last year, Summit Midstream had borrowed $944 billion. That said, it's not the company's leverage in general that bears watching. While its year-end debt-to-EBITDA was 4.23 times, which is well above the company's long-term target leverage ratio of 3.5 to 4.0 times, that's not a huge concern at the moment. It's actually quite comparable to leading MLPEnterprise Products Partners , which had a 4.2 times debt-to-adjusted EBITDA ratio at the end of last year, well above the 3.5 to 3.9 times range it had averaged in the prior five years.
What is mildly concerning is the type of debt Summit Midstream Partners used. As the slide below shows, more than a third of its borrowing had been done via its revolving credit facility.
Source: Summit Midstream Partners Investor Presentation.
While the company says that it is using a conservative financial strategy, it had borrowed nearly 50% of the total borrowing capacity of its credit facility as of the end of last year. Having said that, the credit facility was recently up-sized to $1.25 billion in conjunction with its most recent drop down transaction. However, it then borrowed $360 million of that capacity to basically make a down payment on the drop down transaction, taking out an IOU with its parent company for the rest of the $800 million to $900 million it still owes for those assets. As a result it has now borrowed roughly 56% of the newly up-sized amount. Compare that to Enterprise Products Partners, which boasts $4.4 billion of liquidity having barely touched itscredit facility's $4.7 billion borrowing base.
Liquidity will start running lowSummit Midstream's liquidity on the other hand, which is currently of around $550 million, is expected to slowly drain over the next few years given the company's current plans. That's because it plans to fund a portion of its roughly $150 million to $200 million of annual capex on that revolver given that it can't access the debt or equity markets right now at attractive rates due to the currently weak market conditions. As such, its liquidity is projected to erode a bit each year, falling to a projected low of $300 million in 2018:
Source: Summit Midstream Partners Investor Presentation.
There are a number of reasons why this is a potential concern for investors. First of all, the company's current asset base might not perform as expected due to the deepening downturn in the energy market, which could tighten its liquidity even further. While a robust 98% of its revenue is fee-based, a bankruptcy at one or more of its key customers, for example, could lead to weaker cash generation than was expected. On the other side of the equation, if additional growth opportunities arise, Summit Midstream might not have the liquidity to fund those projects because of the shrinking capacity on its revolver.
Contrast this with Enterprise Products Partners. Not only does it have an abundance of available capacity on its credit facility, but because that and its larger size and investment grade credit rating it can still access the capital markets at very reasonable rates. In fact, earlier this month it was able to price $1.25 billion of notes at fixed interest rates as low as 2.85% with Enterprise even pricing a 30-year note at just 4.9%. Summit Midstream, on the other hand, is paying 5.5% and 7.5% for its debt, which is due early next decade.
Investor takeawayBecause Summit Midstream Partners relies so heavily on its credit facility, investors really need to keep an eye on how much capacity it still has on that facility. If industry conditions worsen, it runs the risk of running out of liquidity at the worst possible moment. Further, its shrinking capacity could be a problem if the company has a growth opportunity come its way, but it can't fund that project because it lacks the access to cash. Bottom line, investors will want to see the company start to pay down this facility to make sure it has the liquidity it needs in the future.
The article 1 Key Summit Midstream Partners' Stock Number You Must Know originally appeared on Fool.com.
Matt DiLallo owns shares of Enterprise Products Partners. The Motley Fool recommends Enterprise Products Partners. Try any of our Foolish newsletter services free for 30 days. We Fools may not all hold the same opinions, but we all believe that considering a diverse range of insights makes us better investors. The Motley Fool has a disclosure policy.
Copyright 1995 - 2016 The Motley Fool, LLC. All rights reserved. The Motley Fool has a disclosure policy.