1 Important Metric in BJ's Restaurants, Inc.'s Favor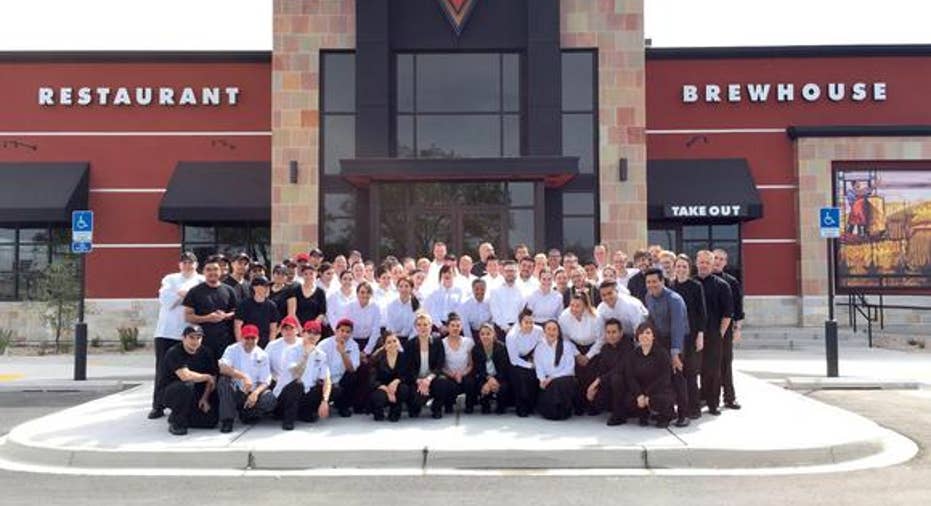 BJ's Restaurants brews its own beer and operates 172 restaurants. Its $1 billion market cap makes it smaller than most of its peers, but it has one big advantage over the likes of DineEquity'sApplebee's andBrinker International's Chili's: a higher percentage of sales come from alcohol. This is an important metric and BJ's has the ability to improve it even further.
Image source: BJ'sRestaurants.
Why alcohol?Margins are the name of the game in the restaurant business. There are a number of fixed costs -- labor, rent, utilities, and licenses -- and the margins on food and drinks must be large enough to cover these and still allow the restaurant to turn a profit. Selling $20 worth of ingredients as a $25 entree isn't going to keep the lights on.
The margins on alcohol are enormous, generally ranging between 200% and 600%, according to some estimates, depending on type and cost. Generating more revenue from alcohol sales allows a restaurant to operate with lower margins on food (increasing traffic and selling more) or keep food margins the same (and have higher overall operating profits).
The average alcohol sales mix for casual dining chains is estimated to be between 12% and 14%. BJ's falls in the mid 20% range, according to Nation's Restaurant News. The fact that the company brews many of its own beers is a part of this success. A focus on cocktails (spirits are the fastest-growing alcohol segment in the U.S.) -- including EnLIGHTened Cocktails with less than 130calories each --has helped as well.
There are still restaurants that have a higher alcohol sales mix. One type BJ's can't try to mimic, but there is an opportunity to learn from the other.
Who does it better? Can BJ's compete?The first type of restaurant that consistently delivers a higher percentage of sales from alcohol is high-end steakhouses such as DardenRestaurants'Capital Grille. Even with more expensive food, the price of cocktails and especially bottles of wine leads to an alcohol sales mix north of 30%. With an order of four $50 steaks, one $100 bottle of wine leads to a 33% alcohol sales mix. But BJ's -- which bills itself as "the place to go when you're looking for amazing craft beer, delicious pizza selections, and an extensive menu of high quality food -- all in a fun, casual, accommodating setting" -- will not and should not rely on selling expensive bottles of wine to increase its alcohol sales mix.
The second type of restaurant I want to highlight serves meals but also functions as a drinking establishment, where patrons might choose to not eat at all on a particular visit.Buffalo Wild Wings has an alcohol sales mix in the mid-20% range and Darden's Yard House concept flies high at around 35%, according to Nation's Restaurant News.
Image source: BJ's Restaurants.
Buffalo Wild Wings draws crowds looking to come together and watch a sporting event on one of its many televisions. After a few hours, a few beers, and some appetizers or bar snacks, the server rings in a high-margin ticket. BJ's needs to do a better job of becoming a sports bar as well as a restaurant. CEO Greg Trojan has spoken during conference calls with analysts about how BJ's is a great place for fans to watch sports.This needs to be more of apublic message. A sports bar crowd shouldn't be a happycoincidence but the result of a decidedeffort on the part of management.
Yard House is famous for havingover 100 beers on tap, including dozens of craft selections. It's a good place for beer lovers or simply a group looking tomake sure that everyone can find somethingthat they'll like.
BJ's has 10regular beers on tap along with a few rotatingspecialty or seasonal selections andits brews have wonnumerous medals at the Great American Beer Festival. Since the beer is sold on tap only at BJ's (a small and growing retail presence is in the works) a beerdrinker who falls in love with the Annual Grand Cru or thePiranha Pale Ale becomes a repeat customer by default. Selling one beer to a diner enjoying a meal is good for the company. Having someone head to the restaurant for the purpose of ordering two or three beers is a margin coup.
BJ's is already doing well -- many of its competitors would love to have its alcohol sales mix -- but a focus on building its sports bar business and catering more to beer lovers could drive this number higher. More alcohol sales, with their juicy margins, would have a positive effect on net margins, and ultimately on EPS. I think BJ's is already poised to be a long-term winner but focusing on these two initiatives could send it even higher.
The article 1 Important Metric in BJ's Restaurants, Inc.'s Favor originally appeared on Fool.com.
James Sullivan owns shares of BJ's Restaurants. The Motley Fool owns shares of and recommends Buffalo Wild Wings. The Motley Fool recommends BJ's Restaurants. Try any of our Foolish newsletter services free for 30 days. We Fools may not all hold the same opinions, but we all believe that considering a diverse range of insights makes us better investors. The Motley Fool has a disclosure policy.
Copyright 1995 - 2016 The Motley Fool, LLC. All rights reserved. The Motley Fool has a disclosure policy.