1 Factor for Ford Motor Company's Investors to Keep in Mind Next Week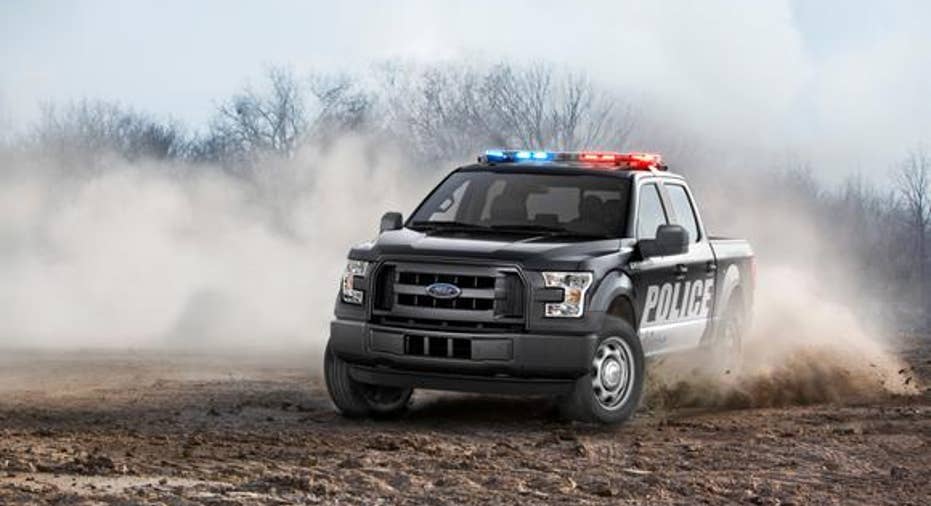 Ford Motor Company will release its first-quarter financial results Thursday, April 28, and investors can expect results similar to that of the past year: a truck-load of profits. Not only is North America likely to continue printing cash thanks to rapid-selling SUVs and full-size trucks, but Europe is again profitable, and the company's Asia-Pacific region just posted its best-ever annual profit.
However, one thing investors might prepare for is a sequential decline in North America's operating margin. Here's why.
Daily rental Many still believe fleet sales are entirely bad business, but upon closer inspection, that is simply not the case. There are definitely healthy fleet sales to commercial and government customers; consider that Ford's Police Interceptor utility vehicle has posted a 27% increase in sales this year through March, compared to the prior year, and has outsold Ford's Flex utility vehicle in terms of volume.
It's not a one-hit wonder, either, as Ford has a whole family of police vehicles for sale including the F-150, Expedition, and Sedan Special Service Vehicles as well as the Transit Prisoner Transport Vehicle and Police Interceptor Sedan.
2016 F-150 Special Service Vehicle Package. Image source: Ford Motor Company.
Ford works hard to earn valuable commercial and government business, and investors should be thrilled the company does well in those segments. The fleet sales associated with lower margins are those to daily rental fleet customers, and unfortunately, Ford has witnessed an acceleration in those sales during the first quarter.
During the first quarter, Ford's fleet sales accounted for 36% of total sales in the U.S., a noticeable increase from last year's 29% during the same timeframe. Moreover, the increase was largely driven by daily rental sales. This year's 36% of fleet sales breaks down into 13% commercial, 6% government, and 17% daily rental, which is unfavorable compared to last year's 13%, 5%, and 11%, respectively.
Despite posting healthy margins in North America in recent years, the rise in daily rental fleet sales could mean a second quarter of margins in North America checking in closer to the total automotive margin, which is historically lower.
Chart by author. Data source: Ford Motor Company's earnings releases.
That said, Ford's North America operating margin is facing a weak year-over-year comparison, so it's likely to still post an improvement on that front.
Is it a new trend? There are a couple of factors to consider, here. The first factor is that one quarter, assuming margins do feel some pressure when the financials are reported, doesn't make a trend. Ford's management has noted that while fleet deliveries are likely to remain elevated during the first half of 2016, it will taper off during the second half of the year and end up at or only slightly above 2015 levels.
While that means Ford's full-year North America operating margins should remain around a strong 10%, it is worth noting that its cross-town rival is doing almost the opposite when it comes to daily rental fleet sales.
As previously mentioned, 36% of Ford's first-quarter sales were generated in fleet channels, and that's quite a bit higher than General Motors' 21.5% of first-quarter sales. Moreover, GM's decline in fleet sales wasn't in the healthier government and commercial segments. GM's commercial and government fleet sales moved 9% and 23% higher, respectively, while its daily rental sales plunged roughly 36%. It will be very telling for investors to compare the operating margins from each Detroit automaker's first quarter and see if the different strategies for fleet sales make a noticeable impact.
Ultimately, North America drives the vast majority of Detroit automakers' profits, and the operating margins in this region are of high interest to investors. Ford's margins might feel some pressure due to the inflated daily rental fleet sales, but it won't be a year-long issue -- that's worth keeping in mind when glancing at Ford's financial presentation next week.
The article 1 Factor for Ford Motor Company's Investors to Keep in Mind Next Week originally appeared on Fool.com.
Daniel Miller owns shares of Ford and General Motors. The Motley Fool owns shares of and recommends Ford. The Motley Fool recommends General Motors. Try any of our Foolish newsletter services free for 30 days. We Fools may not all hold the same opinions, but we all believe that considering a diverse range of insights makes us better investors. The Motley Fool has a disclosure policy.
Copyright 1995 - 2016 The Motley Fool, LLC. All rights reserved. The Motley Fool has a disclosure policy.