1 Chart That Shows Why General Motors Is a Growth Stock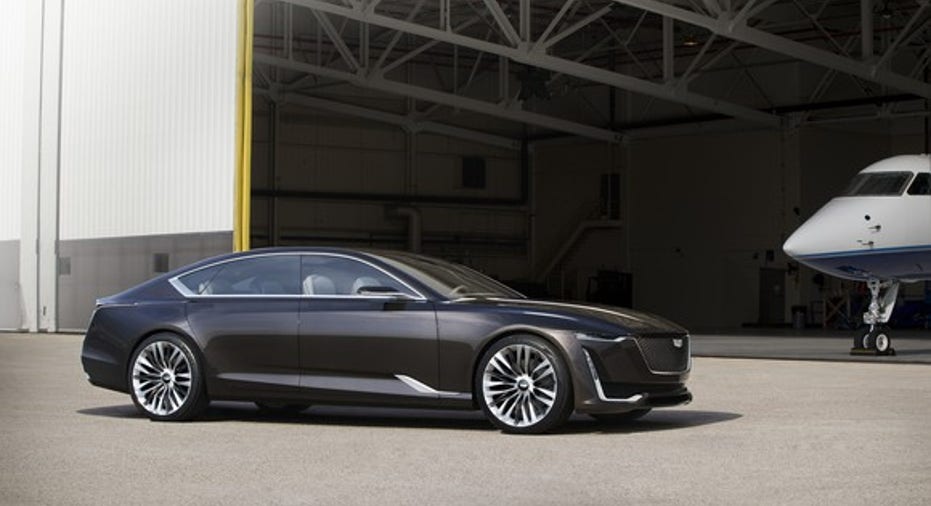 General Motors (NYSE: GM) has recently been getting some attention from investors attracted by its strong dividend yield, currently hovering around 4%.
That's certainly a good reason to take a look at GM. But there's also an argument to be made -- and I've made it, more than once -- that CEO Mary Barra has GM on a path that could lead to significant profit growth over the next several years as well.
That profit growth has already begun to happen as GM executes on a growth plan put in place by Barra a couple of years ago. The plan itself is complex, but the thinking behind it isn't.
In fact, in a presentation earlier this week, GM president Dan Ammann showed a chart that explains GM's approach to profit growth in a single graphic.
CEO Mary Barra is pushing GM to boost profitability on several fronts. Image source: General Motors.
The chart that shows how GM is boosting its profitability
Barra, Ammann, and CFO Chuck Stevens held a conference call on March 6 to explain the deal to sell Opel to French automaker Peugeot SA. As part of that presentation, Ammann explained why GM decided to sell Opel -- and as part of that explanation, he showed this slide:
Image source: General Motors.
The magic of this slide is that it shows in one chart how GM's management team thinks about the opportunities in its global business portfolio, and about maximizing the profitability of its business as a whole.
Past GM management teams thought in terms of size and scale. The result was that GM was for years the world's largest-selling automaker, and is still in the top three (at least until the Opel sale is completed). But it wasn't nearly as profitable as its global peers.
Barra and company have been changing that by thinking in terms of maximizing return on investments. Put simply, Barra doesn't care if GM is the biggest-selling automaker in the world. Instead, she wants it to be the most profitable.
So let's look at the chart. We have "profit potential," which might be more accurately thought of as profitability potential, on the horizontal axis. "Franchise strength," or the relative strength of the business relative to the competition, is on the vertical axis.
As you can see, GM is boosting its investments of money and time in businesses that have high profit potential, very strong franchise strength, or both, shown in green:
South America is a region where GM has recently been losing money. Steep recessions in key markets have put a damper on new-car sales across the industry. But GM has a strong competitive position that makes the region worth ongoing effort as the market recovers.
GMF is GM Financial, the company's profitable and growing financial-services arm.
Commercial vehicles like trucks and vans are a good business and a growth opportunity for GM in the U.S. and China.
NA Truck/SUV are GM's highly profitable lines of pickup trucks, big SUVs, and crossover SUVs in North America. They're all well-regarded and sell in big numbers.
China is the world's largest new-car market, in which GM is the second-largest-selling automaker. It's a big source of profit and will likely grow bigger and more important over time.
AV/TaaS includes self-driving cars ("autonomous vehicles") and "transportation as a service," including GM's Maven car-sharing subsidiary and its investment in ride-hailing start-up Lyft.
Cadillac is GM's luxury brand, which is in the midst of an $11 billion overhaul intended to make it globally competitive with the German luxury-car giants -- and a major long-term profit center for GM.
The Cadillac Escala concept car previews the luxury brand's upcoming overhaul. Image source: General Motors.
On the flip side, GM is rolling back its investments in the opportunities shown in red:
Select GMI Markets are international markets where GM doesn't have a strong competitive position or a clear path to good profitability.
NA Car is GM's car models in North America. GM isn't giving up on sedans and coupes. In fact, it recently completed the launch of a slew of all-new car models, built on brand-new architectures. Those architectures, which represent the bulk of the engineering investment GM made in those models, are intended to last for a couple of generations, until 2025 or later. What GM is saying here is that it can now dial back investments in its cars for the next several years.
And finally, the businesses shown in black are the ones where GM has concluded that it doesn't have a good path to what it considers acceptable profitability, so it won't invest any further. As of Monday, Opel (and its sibling brand, Vauxhall) joined that list.
The upshot: A complex profit-boosting plan in one chart
To make a long story short, that chart explains Barra's plan to boost GM's profitability. GM will make big investments in the things that are working well (trucks, SUVs, China), invest in opportunities that could turn out to be very profitable in time (Cadillac, self-driving vehicles), and reduce or end investments in areas that don't have a clear path to profit, like Opel.
The goal of this plan is to get GM's operating profit margin into the 9% to 10% range, sustainably, by "early next decade." Last year, that margin was 7.5%, up from 7.1% in 2015.
That's progress. But note: Without Opel, it would have been 8.6% last year. That's more progress.
10 stocks we like better than General MotorsWhen investing geniuses David and Tom Gardner have a stock tip, it can pay to listen. After all, the newsletter they have run for over a decade, Motley Fool Stock Advisor, has tripled the market.*
David and Tom just revealed what they believe are the 10 best stocks for investors to buy right now... and General Motors wasn't one of them! That's right -- they think these 10 stocks are even better buys.
Click here to learn about these picks!
*Stock Advisor returns as of February 6, 2017
John Rosevear owns shares of General Motors. The Motley Fool recommends General Motors. The Motley Fool has a disclosure policy.