1 Chart Proving That It's Too Early to Label Apple Pay a Failure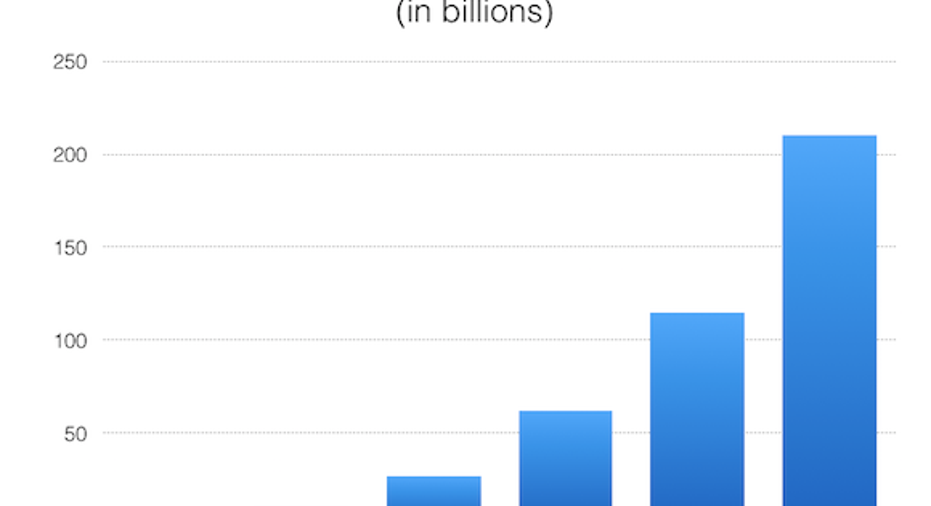 There has been plenty of talk about how Apple Pay has stumbled, if not completely failed. Adoption rates are growing, but Pay hasn't quite ushered in the end of physical wallets that many thought it would.
But let me make the case for a moment that Apple Pay isn't dead yet, or even close, but rather has just gotten an early start to a long mobile payments race that's about to heat up.
Take a look at the chart below, which shows the transaction value of proximity mobile payments over the next few years.
Data Source: eMarketer.
Proximity mobile payments refer to point-of-sale purchases where a person uses their smartphone (or a tablet, if they choose to rise above social norms) to purchase an item. These differ from other mobile payments and mobile commerce where a user sits on the couch and orders a Snuggie via smartphone or tablet.
The chart shows that the proximity transactional value will double this year, compared to last year, and then triple in 2016. According to eMarketer, the increase will come from an increase in the number of users tapping into mobile payment systems and more adoption from merchants.
"As the barriers to using mobile phones to make point-of-sale proximity payments gradually go by the wayside, eMarketer estimates that both users and transaction values will undergo aggressive gains over the next several years," the eMarketer report said.
Where Apple Pay stands nowJust a year after its launch, Apple Pay is being used by 14% of households with eligible credit cards, according to Phoenix Marketing. Much of that growth came within the first four months, and has since slowed.
And according to a separate report conducted by PYMNTS and InfoScout, 16% of iPhone 6 and 6s users have tried Apple Pay and just 5.1% use it when there is an available point-of-sale terminal that accepts the service.
While it'd be a stretch to call Apple Pay a success at this point, the chart of proximity mobile payments growth shows that the retail and mobile industries are still at the beginning stages of mobile payments, so labeling Apple Pay a failure right now is a tad premature.
The opportunityeMarketer data shows that by 2019, proximity mobile payment transaction value will exceed retail mcommerce sales in the U.S. In that year people will use their smartphone and tablets to order $149.70 billion in digital and physical goods remotely through mobile apps (to be delivered later), but proximity transactions (happening in retail stores) will hit $210.45 billion.
Clearly, Apple won't be able to snatch up all of those sales, but the company is already building a long list of banks and retailers that accept Apple Pay. For merchants in the U.S., the estimated tens of millions of Apple Pay compatible iPhones will be hard to ignore as they upgrade their point-of-sale kiosks to accept mobile payments.
But until proximity based mobile payments begin to take off next year, Apple investors will have to wait patiently for the company's mobile payment service to follow suit. Apple CEO Tim Cook predicted that 2015 would be the "year of Apple Pay," and if the above data pans out, he may have only missed it by one year.
The article 1 Chart Proving That It's Too Early to Label Apple Pay a Failure originally appeared on Fool.com.
Chris Neiger has no position in any stocks mentioned. The Motley Fool owns shares of and recommends Apple. Try any of our Foolish newsletter services free for 30 days. We Fools may not all hold the same opinions, but we all believe that considering a diverse range of insights makes us better investors. The Motley Fool has a disclosure policy.
Copyright 1995 - 2015 The Motley Fool, LLC. All rights reserved. The Motley Fool has a disclosure policy.