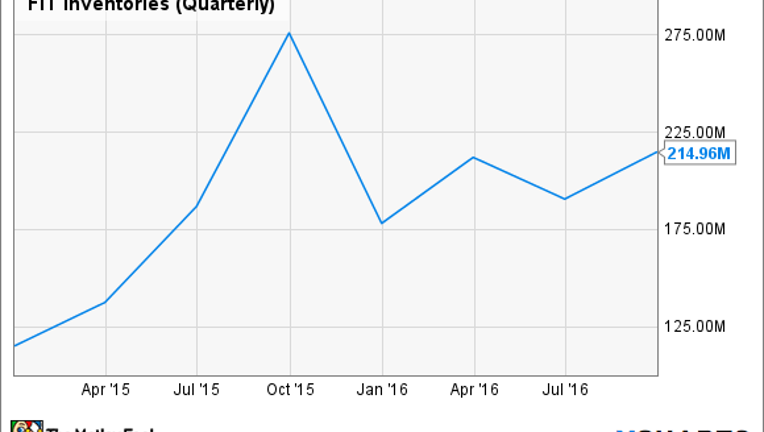 Charge 2. Image source: Fitbit.
Investors already knew this was going to be a tough quarter for Fitbit (NYSE: FIT). The company warned as much in early November when it released third-quarter earnings and issued soft guidance for the holiday quarter. Management directly acknowledged that there could be "softness in overall demand," which sounds pretty scary. Beyond that, Charge 2 ramped up faster than expected and pulled forward some sales to Q3, while the company was suffering supply constraints around Flex 2 that threatened to leave some money on the table in the form of unfulfilled demand (roughly $50 million worth).
A month and a half later, with holiday shopping in full swing, it looks like Fitbit may be having a hard time moving inventory.
Word on the Street
Pacific Crest analyst Brad Erickson released a research note yesterday (via Tech Trader Daily), urging investors to proceed with caution since Fitbit inventory levels appear to be a little too high for comfort. The analyst has been conducting retail inventory checks and believes that days of inventory are at elevated levels within the U.S. (almost 18 days). A range of five days to 10 days would be a lot more encouraging, as that would require retailers to restock their inventories at higher volumes next quarter.
Erickson is encouraged by sales of Blaze and Alta, but thinks that Charge 2 is faring poorly and now suffering from particularly high levels of inventory. Flex 2 demand is also weak, according to his checks. As a result, Erickson is reducing his estimates for next year, dropping his revenue forecast from $2.19 billion to $1.99 billion, and his bottom-line estimate from $0.25 per share to just $0.01 per share.
Restocking suffers
Before you go rushing out to check Fitbit's last balance sheet to scrutinize its inventory level (inventory trends shown below), keep in mind that Erickson's checks are based on retailer inventory levels and not Fitbit's own balance sheet.
FIT Inventories (Quarterly) data by YCharts.
We're talking about channel inventories here, and bloated channel inventories are never a good thing. Companies recognize revenue upon selling into distribution channels, and ideally the channel moves the products and needs to restock. That's why Erickson is warning investors about the first quarter, which is normally when you would expect retailers to restock inventory following the holiday shopping season. But if Fitbit's products are sitting unsold on shelves, that won't happen.
For what it's worth, here are some comments from CFO Bill Zerella regarding channel inventory expectations from the last earnings call.
Zerella also noted that Fitbit entered the fourth quarter with "higher levels of Charge 2 inventory than we had of Charge HR coming into the holidays last year." All told, Fitbit is acknowledging that it was starting out with plenty of Charge 2 inventory, which lines up with Erickson's checks and belief that Charge 2 is selling poorly. It seems Fitbit's marketing team didn't generate enough demand.
10 stocks we like better than Fitbit When investing geniuses David and Tom Gardner have a stock tip, it can pay to listen. After all, the newsletter they have run for over a decade, Motley Fool Stock Advisor, has tripled the market.*
David and Tom just revealed what they believe are the 10 best stocks for investors to buy right now... and Fitbit wasn't one of them! That's right -- they think these 10 stocks are even better buys.
Click here to learn about these picks!
*Stock Advisor returns as of Nov. 7, 2016
Evan Niu, CFA has no position in any stocks mentioned. The Motley Fool owns shares of and recommends Fitbit. Try any of our Foolish newsletter services free for 30 days. We Fools may not all hold the same opinions, but we all believe that considering a diverse range of insights makes us better investors. The Motley Fool has a disclosure policy.