Trump signs executive order establishing police credentialing system, database to track excessive force
Announcement made in wake of mass demonstrations over the deaths of George Floyd, other black Americans
President Donald Trump on Tuesday announced executive actions on police procedures, such as a police department credentialing system and a database to track complaints against officers for excessive use of force, in the wake of mass demonstrations over the deaths of George Floyd and other black Americans.
Trump's executive order, "Safe Policing for Safe Communities," includes establishing a database of police officers who have complaints filed against them over using excessive force. It also establishes a national credentialing and certification system that will give police departments a financial incentive to adopt best practices.
It placed a ban on chokeholds, "except if an officer's life is at risk."
The order will also include federal funding and resources for "co-responder programs" that will encourage frontline law enforcement and mental health experts or social workers to collaborate on homeless, medical and psychological cases.
Prior to the ceremony on Tuesday, Trump had met with the families of several black Americans who had been killed by police.
"To all of the hurting families, I want you to know that all Americans mourn by your side. Your loved ones will not have died in vain," Trump said. "We are one nation. We grieve together and we heal together. I can never imagine your pain or the depth of your anguish, but I can promise to fight for justice for all of our people."
He said Tuesday's executive order was "about pursuing common sense and fighting, fighting for a cause like we seldom get the chance to fight for."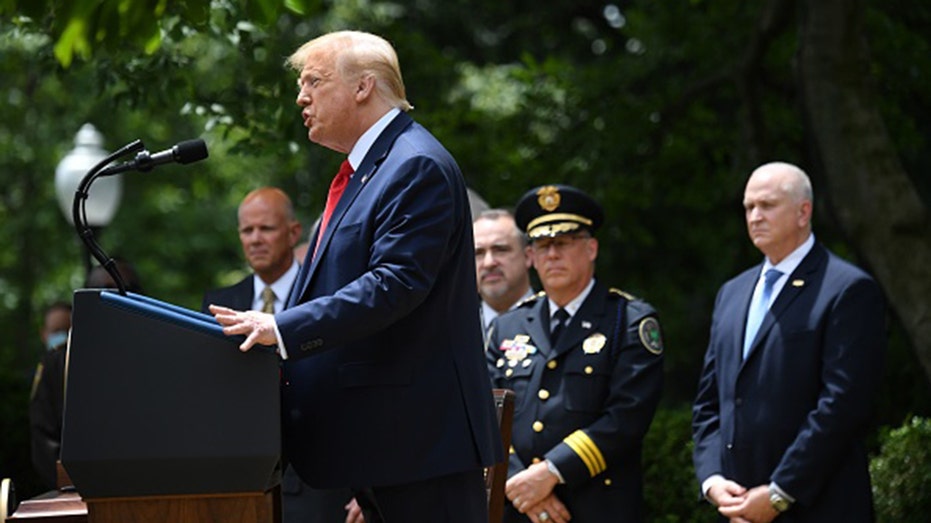 He denounced the efforts to "dismantle and dissolve" police departments and said there will be reform "without undermining" law enforcement officers.
"Americans know the truth: without police there is chaos, without law there is anarchy and without safety there is catastrophe," he said.
Tuesday's executive order is the first of a series of expected announcements by the GOP, with Senate Majority Leader Mitch McConnell, declaring that Republicans are developing "a serious proposal to reform law enforcement."
STOCKS SOAR AS TRUMP WEIGHS $1T INFRASTRUCTURE PLAN, RETAIL SALES REBOUND
The Senate Judiciary Committee will gavel in Tuesday afternoon for an extensive hearing on "Police Use of Force and Community Relations," drawing testimony from the nation's leading civil rights and law enforcement leaders.
Racial tensions have flared amid demonstrations calling for police to be defunded, and protesting police brutality in the wake of the May 25 death of Minnesota man George Floyd.
CLICK HERE TO READ MORE ON FOX BUSINESS
Floyd, a 46-year-old black man, died after a white Minneapolis police officer knelt on his neck for more than eight minutes, despite Floyd saying he could not breathe.
More recently, last weekend's shooting death of Rayshard Brooks by a white officer in Atlanta led to a renewed public outcry, more street protests and the police chief's resignation.
Democratic proposals, which are headed for a House vote next week, would limit legal protections for police, create a national database of excessive-force encounters and ban police chokeholds, among other changes.
Under the proposal, the federal civil rights law that governs police misconduct would no longer require prosecutors to prove that an officer's actions were willful, a high burden of proof. It also takes aim at qualified immunity, a concept that has long been a way to protect police from unnecessary lawsuits and to give them the freedom to police without fear of unnecessary retribution.
FOX Business' Blake Burman and The Associated Press contributed to this report.