San Francisco's Cliff House restaurant to close permanently
180 employees will lose their job by years' end
A 157-year-old San Francisco restaurant will permanently close by the end of the year -- but not solely because of the coronavirus pandemic.
The Cliff House proprietors Dan and Mary Hountalas announced Sunday that the landmark will close permanently on Dec. 31, leaving 180 employees without jobs.
CORONAVIRUS SHUTTERS PROHIBITION-ERA 21 CLUB IN NEW YORK CITY AFTER 90 YEARS
In a notice to customers, the property owners said that although the coronavirus -- which decimated the restaurant industry -- exacerbated their issues, the problem began when the restaurant's 20-year contract had expired in June of 2018.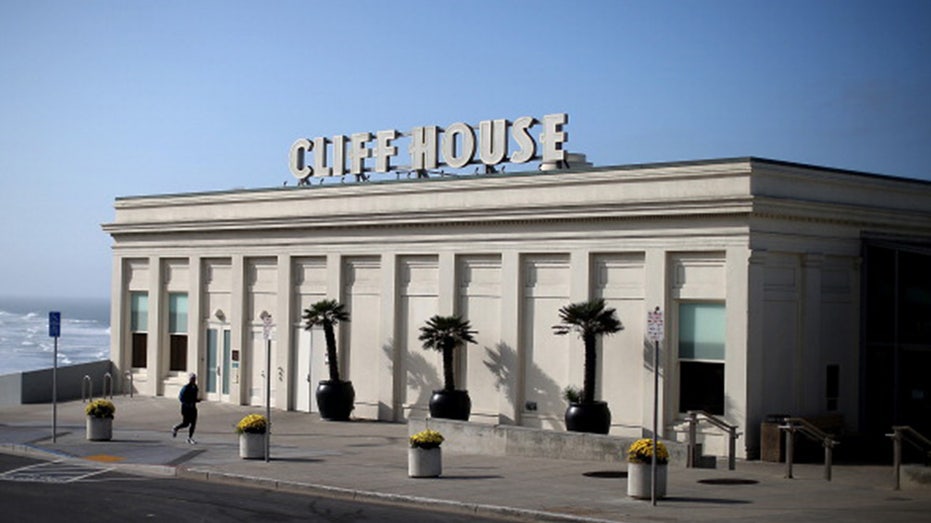 At that point, the Hountalases said the National Park Service (NPS) was expected to issue another long-term contract or lease. Instead, the NPS issued one six-month and then two consecutive one-year concessions.
CLICK HERE TO READ MORE ON FOX BUSINESS
The last extension was executed on Jan. 1, 2020, and is slated to expire on Dec. 31, according to the owners.
"All of us here at The Cliff House are outraged at the failure of the NPS to select a new long-term operator in 2018, thereby avoiding all this unnecessary hardship and heartache," the Hountalases said on the restaurant's website, adding that "a lot of priceless memorabilia" inside will now be auctioned off.
The Cliff House was offered a fourth one-year extension to "continue guarding and maintaining" the building, the owners said. However, they declined the extension due to the high cost of maintaining and guarding the building, especially during the pandemic.
GET FOX BUSINESS ON THE GO BY CLICKING HERE
"Unlike the government which is not held accountable for profits and losses we could not accept the additional extension as there is no possibility of doing a sustainable level of business for the foreseeable future," the Hountalases said.
The owners said they have been unable to operate since March 17. Although they attempted to shift to takeout service in early June, after a few months they had to end the service due to the "unbearable losses associated with takeout."
The Hountalases, who have run the Cliff House for the last 47 years, said this situation could have been prevented if they were given a long-term contract two and a half years ago.
"This is certainly not the way to thank us, a local small business owned and operated by native San Franciscans, for taking care of this San Francisco treasure this past year at a significant financial loss," the Hountalases said.
Now, they are "seeking help in holding the NPS publicly responsible for their failures resulting in the loss of the livelihood of 180 employees and their families" as well as the "loss one of San Francisco's treasured landmarks."
CORONAVIRUS PUTS ICONIC SOUTH FLORIDA RESTAURANT IN 'DIFFERENT SCENARIO,' OWNER SAYS
Representatives for the National Park Service did not immediately respond to FOX Business' request for comment.