Quiznos proposes to cater your wedding
Here's how you can win an all-you-can-eat sandwich buffet on your big day
Quiznos is celebrating the leap year by asking women to break tradition with a sandwich-based marriage proposal. Participants who join in on the campaign will be entered for a chance to win an all-you-can-eat sandwich buffet on their actual wedding day – given that the proposal is accepted.
ENGAGEMENT-RING SHOPPING: WHAT YOU NEED TO KNOW BEFORE YOU BUY THAT ROCK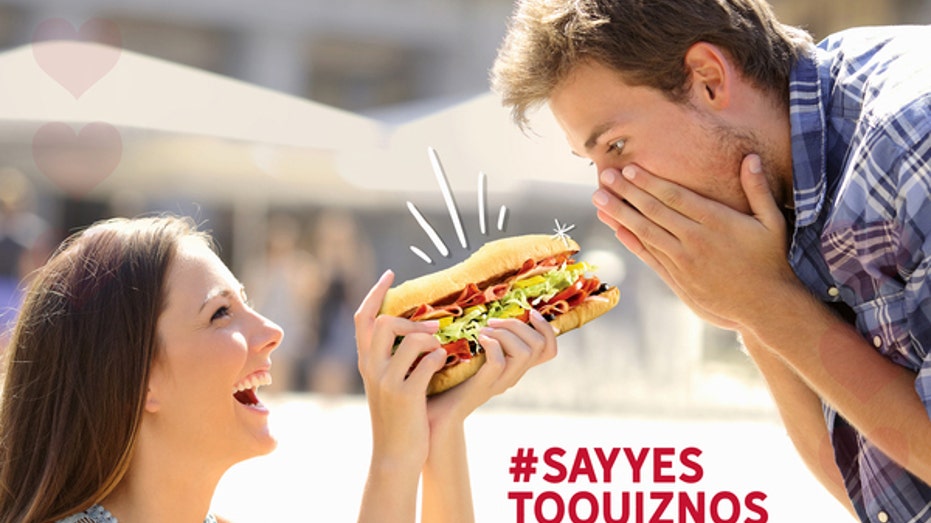 On Leap Day (Feb. 29), some women propose marriage, flipping the tradition of men popping the question.
"While we strive to fill our customers with happiness by consistently delivering them delicious sandwiches and salads made with the highest quality ingredients, we also know that for happiness that lasts past the last bite, the eternal ingredient is love," said Sheila Zimmerman, the vice president of marketing at Quiznos' parent company REGO Restaurant Group.
"It is a delight to 'engage' with our consumers by celebrating this timeless Leap Day tradition," she added.
COUPLE ENGAGED AT KFC IN VIRAL VIDEO GET DREAM WEDDING
To enter the contest, Quiznos requires participants to swap the go-to diamond ring for one of the restaurant's subs and capture the moment with a photo or video. The proposal will need to be hashtagged with #SayYestoQuiznos on Facebook, Instagram and Twitter to qualify.
There is also an online form on the Quiznos website titled "Take The Leap Year Plunge!" for additional detail.
GET FOX BUSINESS ON THE GO BY CLICKING HERE
Customers can start sending in their submissions on Feb. 29 at midnight. MST. The cutoff time is midnight the following day. Winners will be selected at random by the sandwich chain no later than March 31, according to a press statement.
Given that the average cost of an engagement ring in the U.S. ranges between $5,300 and $7,500 while the average cost of wedding catering is $70 per person, according to research from The Knot, this contest could be a great option for budget-savvy couples.
CLICK HERE TO READ MORE ON FOX BUSINESS
Quiznos isn't the only fast-food chain that has dived into the multibillion-dollar wedding industry. Taco Bell has a wedding chapel in Las Vegas that's dedicated to getting its customers hitched. White Castles across the country also host ceremonies on special occasions. Several other quick-service restaurants offer wedding catering packages and menu items for the big day.