New York City mayor reportedly starts his workday later than most Americans
The former Democratic contender for president has previously admitted he is "not a morning person."
New York City Mayor Bill de Blasio typically starts his workday shortly after 10 a.m. – more than two hours later than when the workday begins for the majority of Americans, according to public data and an analysis by the New York Daily News.
The former Democratic contender for president – who has previously admitted he is "not a morning person" – started his workday on average around 10:11 a.m. in 2018, roughly 52 minutes later than his 9:19 a.m. average start time during his first year in office, the Daily News reported.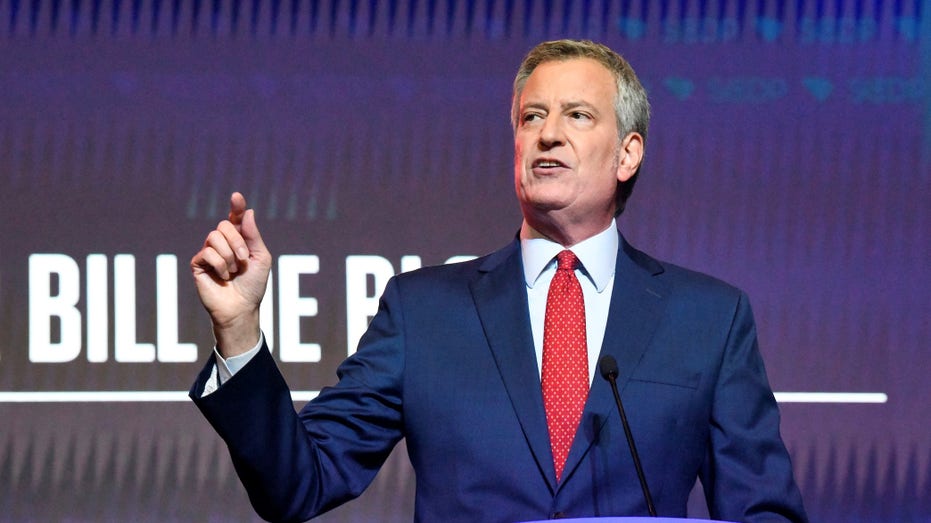 The outlet analyzed de Blasio's official schedules from when he first took office at the end of 2013 to May of 2018, which was the most recent available.
GET FOX BUSINESS ON THE GO BY CLICKING HERE
De Blasio recently described his work as "just non-stop," according to the Daily News.
THIS CITY'S MAYOR UPPED HIS MOBILE GREENHOUSE GAS EMISSIONS BY 6,000% SINCE TAKING OFFICE: REPORT
On Sept. 4, he said: "The first thing in the morning, I start seeing the emails come in with different issues … and it goes until late at night," the outlet reported. "I am looking at my Blackberry all the time and I'm on the phone all the time."
His office has consistently argued that the Big Apple mayor is working all the time.
CLICK HERE TO READ MORE ON FOX BUSINESS
"The Daily News can dissect the schedule as much as they would like, but the facts remain the same: The Mayor is working 24/7 to improve the lives of New Yorkers," mayoral spokesperson Olivia Lapeyrolerie said, according to the outlet. A representative for de Blasio's office did not immediately respond to FOX Business' request for comment.
Data collected in the American Community Survey's 2016 Public Use Microdata Sample, which was compiled by Overflow Data in 2018, shows the plurality of Americans – approximately 8.8 percent – get to work between 7:45 a.m. and 7:59 a.m. local time.
That's followed closely by the 8.3 percent who start work between 8 a.m. and 8:14 a.m., and then by the 8.1 percent of employees who start their workdays around 7:30 a.m. and 7:44 a.m.
NEW YORK CITY GIFTING ALLEGED CRIMINALS BASEBALL TICKETS, GIFT CARDS AS PART OF $12M PERK PROGRAM
Meanwhile, the plurality of New Yorkers – approximately 8.5 percent – arrive at work between 8 a.m. and 8:14 a.m., followed by the 7.8 percent who start between 8:30 a.m. and 8:44 a.m.