Flavored vaping ban takes effect: Here's what you need to know
Fruit, candy, mint and dessert flavors from small, cartridge-based e-cigarettes are prohibited
Certain flavored e-cigarette products have officially been banned from the U.S. marketplace, an effort by health officials and the Trump administration to curb use among teenagers.
In January, the Trump administration announced fruit, candy, mint and dessert flavors from small, cartridge-based e-cigarettes are be prohibited. The partial ban, which took effect Thursday, exempts menthol and tobacco flavors.
ANOTHER VAPING-RELATED DEATH AS CDC REPORT SHOWS OUTBREAK WANING
The targeted flavor ban will also entirely exempt large, tank-based vaping devices, which are primarily sold in vape shops that cater to adult smokers.
Together, the two exemptions represent a departure from President Trump's original plan announced four months ago, which would have banned all vaping flavors — including menthol — from all types of e-cigarettes.
Health and Human Services Secretary Alex Azar called the new enforcement policy "comprehensive" and "aggressive."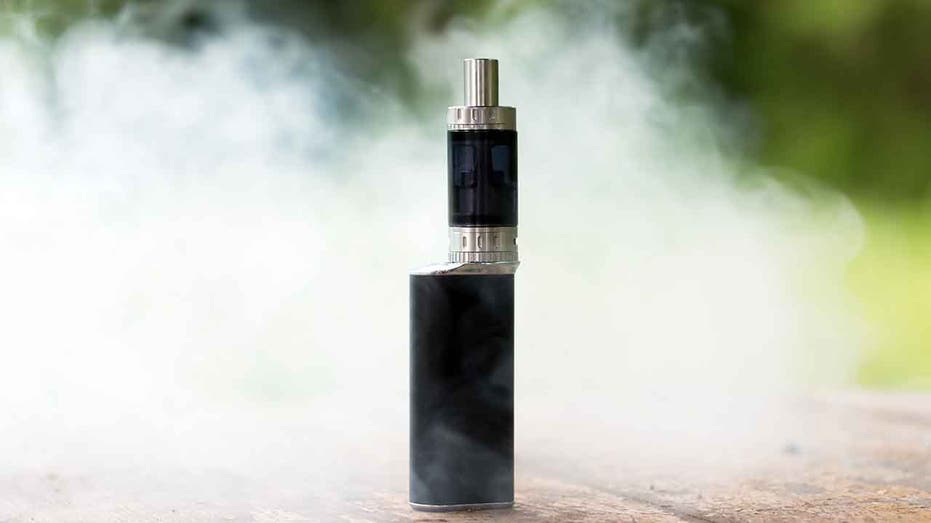 TRUMP ADMINISTRATION FINALIZES CRACKDOWN ON FLAVORED VAPE CARTRIDGES
E-cigarettes are battery-powered devices that typically heat a flavored nicotine solution into an inhalable aerosol. They have been pitched to adults as a less-harmful alternative to traditional cigarettes. However, the fruity flavors began to appeal to teens and children, drumming up serious concerns among health officials.
Vaping-related illnesses have claimed dozens of lives and caused nearly 3,000 hospitalizations across 50 states and two U.S. territories, according to the latest statistics by the Centers for Disease Control and Prevention.
According to the 2019 National Youth Tobacco Survey on e-cigarette use, more than 5 million U.S. middle and high school students are current e-cigarette users, which are defined as having used the product within the last 30 days.
"The United States has never seen an epidemic of substance use arise as quickly as our current epidemic of youth use of e-cigarettes," said Azar.
TRUMP ADMINISTRATION DELAYS VAPING BAN AS IT CONSIDERS IMPACT ON JOBS
Democratic presidential candidate Michael Bloomberg criticized Trump for the crackdown, claiming he "backtracked."
"The FDA's guidance will ensure that dangerous & addictive flavored products will remain widely available," Bloomberg tweeted Thursday. "As a result, millions of kids will get addicted to nicotine through e-cigs."
Other Democratic presidential candidates have also weighed in over the last month from former vice president Joe Biden to Sen. Bernie Sanders who said they would "eliminate" the sale of the devices.
The partial ban is expected to have little to no impact on the country's best selling e-cigarette brand Juul, which halted sales of its fruit and dessert flavors in October. The voluntary step was the company's latest attempt to weather a growing political backlash that blames its flavored-nicotine products for hooking a generation of teenagers on electronic cigarettes.
However, the partial ban leaves "countless flavored-cigarette products widely available" a spokesperson for the Campaign for Tobacco Free Kids, an organization that advocates in favor of reducing tobacco consumption, told FOX Business.
Among the loopholes, the organization noted that disposable flavored e-cigarettes, for instance, will still remain available.
FDA SCRUTINIZED FOR LACK OF STUDIES SHOWING HOW E-CIGARETTES MAY REDUCE SMOKING-RELATED DEATHS
Starting in May, the FDA will review all e-cigarettes and only those with demonstrated benefits to U.S. public health will be allowed to stay on the market.
In December, Trump also signed a bill into law that raised the legal age for buying tobacco products to 21 from 18.
The Associated Press and FOX Business' Evie Fordham contributed to this report.