Boston Market, Olive Garden offer Valentine's Day food bouquets
Fast-food companies are getting creative with seasonal menu items that resemble flowers
With only a few days left until Valentine's Day, fast-food establishments are busy promoting limited-edition deals to get customers in the door. Fast-casual Boston Market is no different, but instead of launching a predictable heart-shaped dish for the romantic holiday, the chain is offering an unconventional baby back rib bouquet nationwide.
KRAFT TEMPTS SEX-STARVED PARENTS WITH A VALENTINE'S DAY QUICKIE
News of the seasonal launch came in the form of a tweet and press release Monday. The bouquet menu item has been aptly named "BAE-by Back Ribs" and will be available in participating restaurants on Feb. 14 while supplies last.
The BAE-by Back Ribs will be arranged and wrapped in paper the same way florists present flower bouquets. Boston Market customers will be able to purchase the rib bouquet for $29.99.
VALENTINE'S DAY GIFT SPENDING FOR PETS TO HIT RECORD IN US
"We just launched Baby Back Ribs a few weeks ago," said Tony Fialho, a chef director of culinary innovation at Boston Market. "On their own, our Baby Back Ribs are sure to delight barbeque enthusiasts everywhere, but when packaged in a delectable bouquet, they're the picture-perfect Valentine's Day gift to help anyone delight – and feed – that special someone."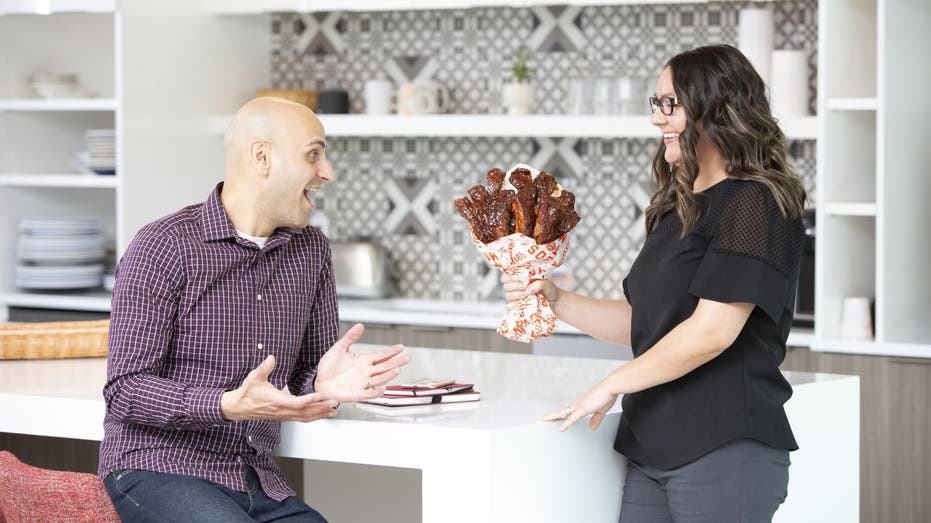 "When we first toyed with the idea of adding Baby Back Ribs to our menu, we knew we wanted to focus on flavor and quality," Fialho added. "That's why we're slow-cooking our ribs to fall-off-the-bone perfection before smothering them in Sweet Baby Ray's famous hickory barbecue sauce."
The restaurant will also offer a romantic dinner for two that includes two half orders of ribs, two sides per person and two pieces of cornbread for only $20. Boston Market is offering a coupon on its website along with a newly launched rewards program for customers that want to maximize Valentine's Day savings.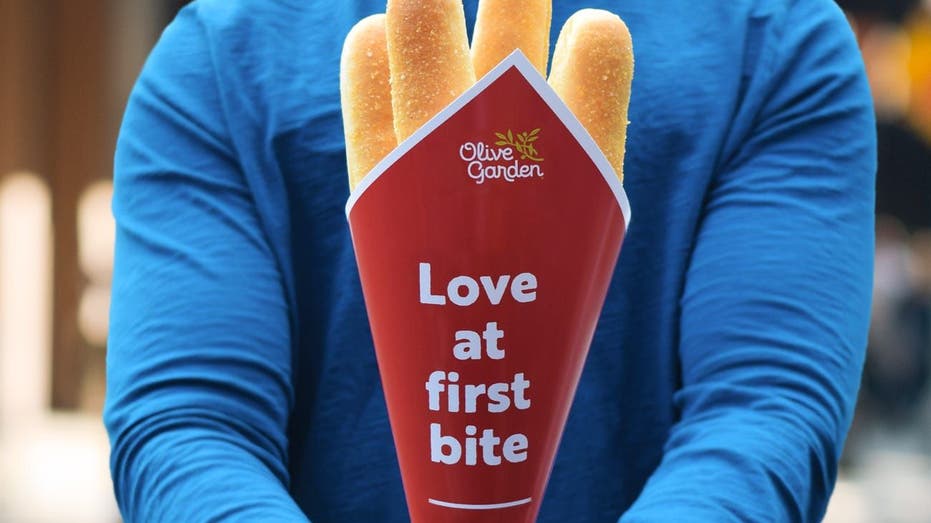 OLIVE GARDEN SERVING UP VALENTINE'S DAY BOUQUET ALTERNATIVE
However, Boston Market isn't the only fast-food chain capitalizing on floral-inspired arrangements. Olive Garden is offering a breadstick bouquet for customers that purchase a $35 Valentine's Day ToGo Dinner for Two, which includes a soup or salad, a breadstick dipping sauce, a pasta entrée, a dessert and chocolate mints.
Outside of the fast-food industry, Atlanta-based fruit bouquet retailer Edible Arrangements has been a force in the seasonal gifting market. In 2018, Edible Arrangements' CEO and Founder Tariq Farid told Business Insider that he built his company into a $600 million global business.
GET FOX BUSINESS ON THE GO BY CLICKING HERE
Additionally, in a company profile, Edible Arrangements said the gifting industry is a growing sector that is estimated at over $20 billion in the U.S. alone.
Other food companies are jumping into the edible bouquet business as well, including Grillo's Pickles, which is offering a Valentine's Day Pickle Bouquet, and Stop & Shop, which is offering rose-shaped steaks and cupcakes.
Homemade, do-it-yourself food bouquets have also been a popular option for trendy social media sharers in recent years.
CLICK HERE TO READ MORE ON FOX BUSINESS
This article has been updated with courtesy imagery from Grillo's Pickles and Stop & Shop.