Record-high 90% Americans 'satisfied' with personal life
65% of Americans reported feeling 'very satisfied' with their personal life
A record number of Americans are feeling extremely optimistic about the direction their personal lives are headed, a new poll released Thursday revealed.
About 90 percent of Americans reported feeling "satisfied" with their personal life, which is an all-time high over the past four decades, Gallup's Mood of the Nation poll indicated. In 2003, the previous high was recorded at 88 percent.
Meanwhile, 65 percent of Americans reported feeling "very satisfied" with the direction their personal life is headed, which marks an all-time high in over two decades.
While Americans across all major demographic and political subgroups remain content with life, some groups felt exceptionally optimistic about the direction their life is moving, the report revealed.
The heightened satisfaction comes as consumer confidence across the country remains at a historic high. U.S. consumer confidence in the last three months of 2019 neared a historic high at 122 points on a scale of 54 to 138 points, according to The Conference Board's latest Consumer Confidence Report.
The report comes as the U.S unemployment rate sits at a 50-year low.
U.S. CONSUMER CONFIDENCE NEARS ALL-TIME HIGH IN Q4
The survey indicated that household income, political party, marital status are contributing factors to one's level of optimism as it relates to their personal life.
According to the poll, households with a higher level income, Republicans, and those that are married reported higher levels of satisfaction compared to lower-income households, Democrats and single people.
US UNEMPLOYMENT REACHES LOWEST SINCE 1969 DESPITE SLOWING JOB GROWTH
Ninety-five percent of respondents who live in high-income households, who identify as Republicans and who are married reported feeling "satisfied." About three in four among each of these groups are "very satisfied" the findings show.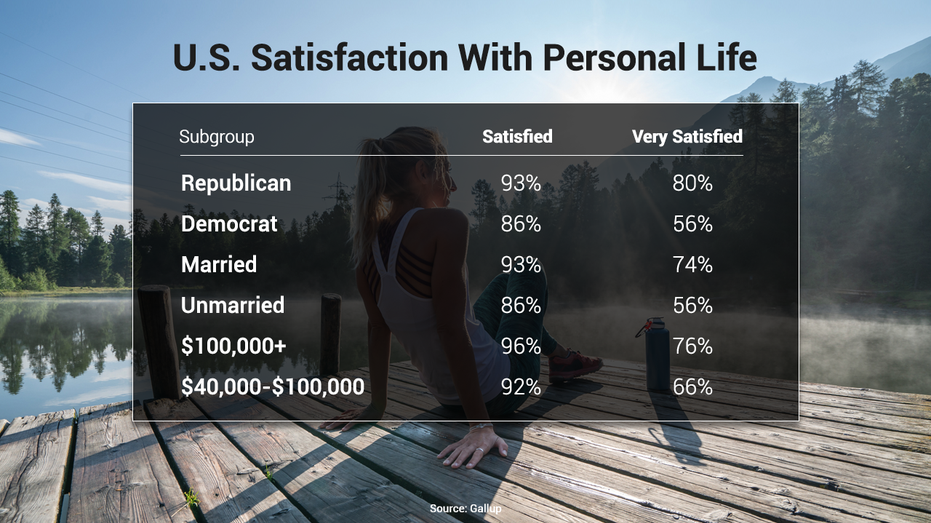 GET FOX BUSINESS ON THE GO BY CLICKING HERE
Comparatively, respondents from low-income households are the least likely to say they are "satisfied" with life, followed by Democrats and unmarried adults, the report indicated. A small majority within each of these groups reported being "very satisfied."
The Associated Press and FOX Business' Audrey Conklin contributed to this report.