P&G's sanitizing spray to combat coronavirus wins EPA approval
P&G's Microban 24 Sanitizing Spray was first introduced in February
In a time when the nation is racing to disinfect their homes, a new sanitizing product has won approval from the U.S. Environmental Protection Agency (EPA) for its ability to kill the novel coronavirus in 60 seconds.
Proctor and Gamble's (P&G) Microban 24 Sanitizing Spray has won approval from the EPA, the consumer goods giant announced on Monday.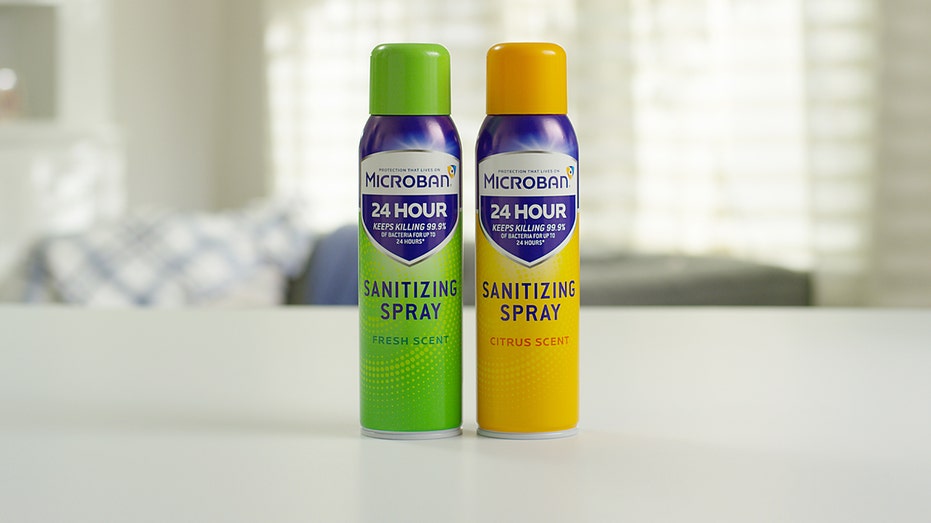 Mircoban was first released in February before the coronavirus crisis was officially declared a pandemic by the World Health Organization in March. However, the product had been in development for more than two years prior to its release, Kevin Wenzel, vice president of P&G's North American Surface Care Design & Delivery unit, told FOX Business in a statement.
"Our goal was not to compete with other products but to provide something with a new benefit that will grow the category," he said. "We know that consumers are more focused on keeping their homes sanitized in 2020 than they've ever been before, and that's why we were thrilled to be able to introduce this remarkable 24-hour bacteria shield technology into a category that hadn't seen a true breakthrough innovation in several decades. The EPA approval of Microban 24 Sanitizing Spray to kill the virus that causes COVID-19 brings trust to a young product."
Ticker
Security
Last
Change
Change %
PG
PROCTER & GAMBLE CO.
147.33
-2.00
-1.34%
RBGLY
RECKITT BENCKISER GROUP PLC
13.84
-0.14
-1.00%
CLX
THE CLOROX CO.
129.15
-1.24
-0.95%
But as "Americans shifted from their standard sanitizing routine to one focused on protecting their homes against the COVID-19 virus," said Martin Hettich, SVP North America Home Care, P&G, in a statement, "Procter & Gamble has been diligently working with scientists and health experts to ensure that Microban 24 Sanitizing Spray provides the effectiveness against the COVID-19 virus that people need."
HOW COVID-SAFE IS DINING IN A RESTAURANT'S OUTDOOR TENT? 
For a product to claim it can kill a specific pathogen, or SARS-CoV-2 in this instance, the EPA "must conduct a data review and provide approval," the company said in a news release, noting that Mircoban "has been tested by a third-party lab, in accordance with the EPA testing guidelines, and was shown to kill SARS-CoV-2 in 60 seconds."
Additionally, the product is also approved to kill nearly all — 99.9%, to be exact — of bacteria and viruses, per P&G.
Bloomberg reported that Mircoban is already on track to reach $200 million in sales per year.
The product, which is part of the EPA's list N, is now one of a select number of spray products that have been approved by the agency to kill the novel virus.