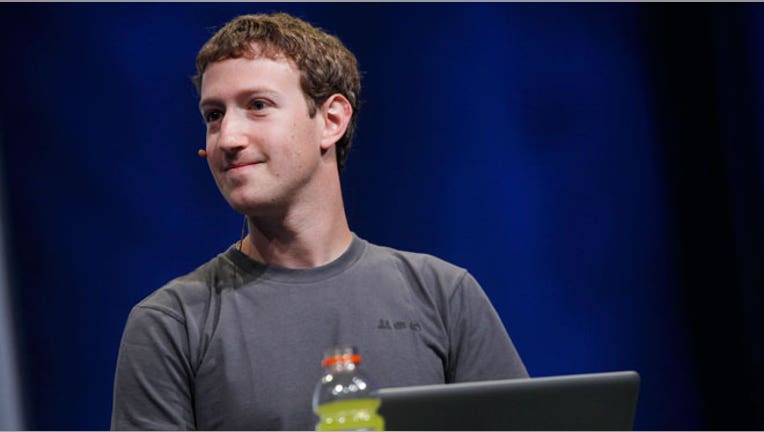 For days, one of the biggest questions on Wall Street was whether a 27-year-old man would attend a meeting in New York City.
Of course, this focus wasn't on just any twenty-something -- it was on Mark Zuckerberg -- and not about just any meeting -- it was a powwow with big-time moneymen considering investing in social-networking titan Facebook.
But the intense attention being paid to Zuckerberg's attendance at the kickoff to Facebook's IPO road show misses a big point: his appearance would likely have little to no impact on the company's share price.
After all, there is a massive amount of demand to get a piece of red-hot Facebook, and one could even argue that Zuckerberg should leave this delicate task to the professionals while he runs the social network from Silicon Valley.
"I wouldn't worry about it too much," billionaire investor Warren Buffett told FOX Business on Monday. "People know what Facebook is. It's not a mystery that has to be explained -- except to me."
With its 900 million users, Facebook is set to leap into the public markets later this month with a massive IPO that could raise $10.6 billion, which would be the largest global Internet offering ever.
Not Unprecedented
In general, it's standard operating procedure for the CEO of a company to attend the IPO roadshow to offer investors their vision.
But it wasn't known until minutes before the start of Facebook's road show in Midtown Manhattan on Monday that Zuckerberg would in fact be in attendance -- and it still seems likely his role may be limited during events later this week.
However, it's not unprecedented for a founding CEO of a technology company to take a back seat during the road show.
"I know when Microsoft had to do its road show I minimized the amount of time," Bill Gates, co-founder of software maker Microsoft (NASDAQ:MSFT), told FOX Business. "You've got to focus on what's important. Making sure your product for end users is great is number one."
Lynn Tyson, who led investor-relations at Dell (NASDAQ:DELL) and PepsiCo (NYSE:PEP), said often at tech companies the CEO cedes the spotlight in front of shareholders to lieutenants like the chief operating officer and the chief financial officer.
Little Impact
In this case, that job largely falls to Sheryl Sandberg, Facebook's well-respected COO who Zuckerberg recruited from Google (NASDAQ:GOOG).
"I don't think whether or not he attends all of the meetings of the road show is going to have a significant impact on the ultimate valuation," said Tyson. "In this day and age with everything being electronic, investors will have access to information whether he attends or not."
When Google became a public company in 2004 it showed near disdain for the IPO process. Some people believe the Internet heavyweight's approach to the IPO process resulted in it leaving money on the table.
But that appears to be less of a concern to technology companies because they often go public due to regulatory reasons and to create liquidity for employees who own stock, not necessarily to raise capital.
Still, there is little doubt investors on Monday would have been disappointed if Zuckerberg, who founded Facebook in 2004 out of his college dorm room, decided not to show up.
"As a visionary in how connectivity can help change things in society, investors will want to hear directly from Mark on that. You can't replace him with anyone else because he's the visionary," said Tyson.
Ad Sales Questions Remain
If they do get to question Zuckerberg, potential shareholders are likely to ping him with questions about the future of Facebook's advertising model, which only recently got off the ground.
Some advertisers have expressed skepticism about the benefits of buying ads on Facebook.
Facebook said first quarter ad sales jumped 37% year-over-year, but slipped 7.5% from the fourth quarter due to "seasonal trends" and shifting user growth.
Zuckerberg's apparent reluctance to attend the road show does underscore his nontraditional way of running the business and could hint at how Facebook will treat the financial community in the years ahead.
"If he's not making a personal effort to reach out to the most important investors, what does that signal? Does it say anything about their attitude toward the press or analysts?" said Brian Blau, research director at Gartner (NYSE:IT). "Maybe there's a natural antagonism there and maybe they're trying to avoid" a conflict, he said.
At the end of the day, analysts and investors remain largely bullish about Facebook regardless of Zuckerberg's whereabouts this week.
Last week Wedbush Securities slapped an "outperform" rating and a $44 price target on Facebook, which set an indicative IPO price range of $28 to $35 in regulatory filings.
David Menlow, president of IPOFinancial.com, told FOX Business Facebook's IPO could "very easily triple" on its first day.
"We are in a feeding frenzy mode," said Menlow.