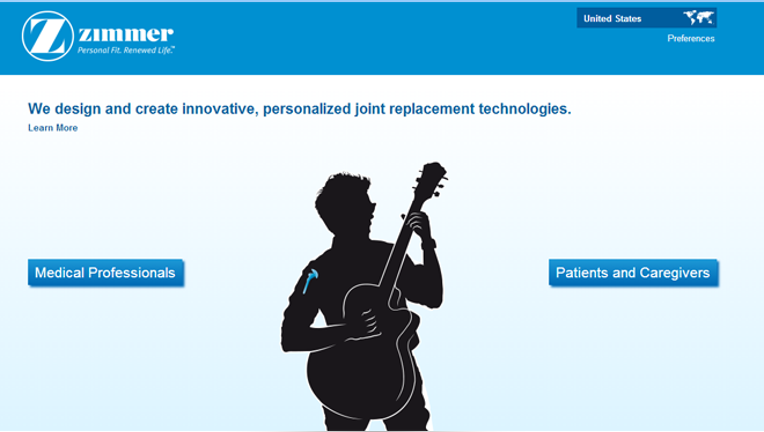 Zimmer Holdings (NYSE:ZMH) agreed on Thursday to buy orthopedic products maker Biomet in a $13.35 billion deal, expanding the company's portfolio of treatments for muscle and bone issues.
The cash-and-stock proposal, which would end Biomet's plans to launch an initial public offering, has been approved by the boards of both companies. Zimmer expects the transaction to be completed in the first quarter of next year.
Zimmer shareholders will own about 84% of the combined company, while Biomet investors will own the rest. Zimmer and Biomet will remain headquartered in Warsaw, Ind. Two representatives of Biomet's principal stockholders will be given seats on the board.
Shares of Zimmer soared 12.3% to $102.68 in recent trading, hitting a new all-time high for the stock.
Biomet, which makes artificial hips and knees, was taken private in 2007 when Blackstone (NYSE:BX), KKR (NYSE:KKR), TPG and Goldman Sachs' (NYSE:GS) private-equity arm paid $11.3 billion for the company.
Earlier this month, Biomet said its third-quarter loss narrowed on stronger revenue from hip and knee replacements. Zimmer reported a slight uptick in profit and revenue for its fiscal first quarter, although it dampened its full-year outlook. Combined, Zimmer and Biomet logged sales of $7.8 billion in 2013.
Zimmer expects the deal to boost earnings on a double-digit basis in the first year. By the third year after closing, the company sees $270 million in synergies.
"We believe that current demographic and macroeconomic trends affecting the healthcare industry will reward companies that successfully partner with other key stakeholders to improve patient care in a cost-effective manner," Zimmer president and CEO David Dvorak, who will lead the combined company, said in a statement.
The healthcare sector has seen a flurry of deals this week. Swiss pharmaceutical giant Novartis (NYSE:NVS) agreed to $20 billion in transactions with GlaxoSmithKline (NYSE:GSK) and announced plans to sell its animal health unit to Eli Lilly (NYSE:LLY).
Meanwhile, Valeant Pharmaceuticals (NYSE:VRX) unveiled a buyout offer for Botox maker Allergan (NYSE:AGN).