You're Out: A-Rod Insider Addresses Yankee Exit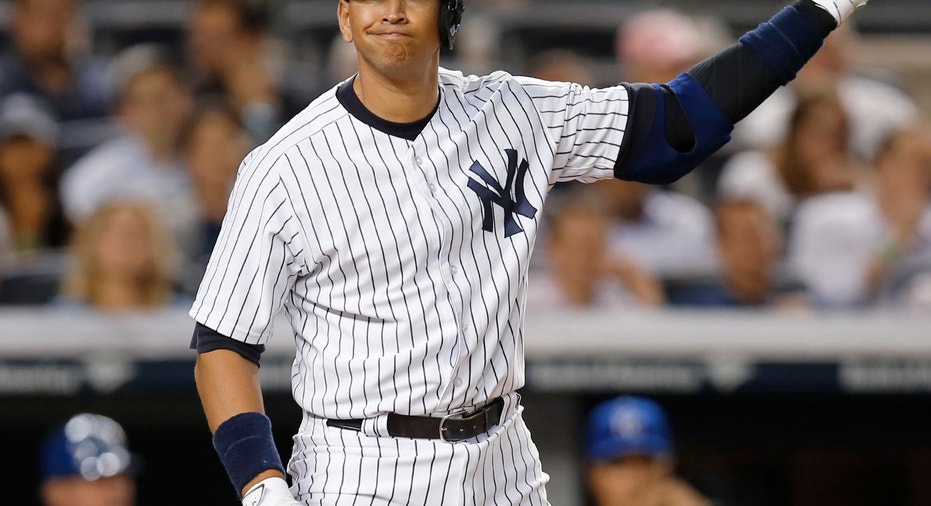 After more than a decade of on-field triumphs and off-field controversies with the New York Yankees, Alex Rodriguez will wrap his career with the Bronx Bombers on Friday without the season-long victory laps that former teammates Derek Jeter or Mariano Rivera received during their final year in pinstripes.
The 41-year-old Rodriguez will serve as the Yankees' designated hitter in his final game, after team manager Joe Girardi denied his request to play third base. Girardi bristled Wednesday when asked about Rodriguez's playing time this week, stating that his "job description does not entail farewell tours." After Friday's game, Rodriguez will transition to his new role as a "special adviser" to Yankees co-owner Hal Steinbrenner.
But Ron Berkowitz, Rodriguez's longtime publicist and the architect of his PR makeover after a season-long suspension in 2014 for use of performance-enhancing drugs, said his client has a strong relationship with Yankees management and is excited to begin his new role as a mentor to players in the team's farm system.
"I think Alex said it best in his press conference on Sunday. He's extremely honored and humbled to be a special adviser to Hal Steinbrenner," Berkowitz told FOXBusiness.com. "That's a great job. That's a great honor to have. Clearly, there's no issue between Alex and Hal and the Yankees. He wants to be a Yankee and that's why he's doing it."
Rodriguez's quiet exit from the Bronx has exacerbated rumors of a rift between himself and the Yankees front office, who will still pay the remaining $27 million on a contract that runs through the end of 2017. Media pundits and fans have been critical of the Yankees' handling of the situation.
A-Rod's defenders argue that Jeter, who experienced similar on-field struggles during his final year on the team, was allowed to play shortstop and remain the No. 2 hitter in the lineup from start to finish.
"For fans, yes, there will always be questions about what happened this week and what happened over the last couple of years," Berkowitz said. "We can't harp on that, we have to just move forward and put our best foot forward as a group and figure out how to make it better for Alex and make it better for his fans. That's why [tonight] is so important. It was so important for his fans to get another chance to see him here in New York, and they're going to get that shot."
For his part, Rodriguez accepted Girardi's decision not to play him at third base without complaint.
"It would have just been fun," Rodriguez said during an appearance Thursday on the "Michael Kay Show" on 98.7 FM in New York. "Look, it wasn't a big request. I get that we are playing games. I totally get the answer."
Rodriguez hasn't ruled out the possibility of returning to the field to play for another franchise. Asked if Rodriguez would consider continuing his baseball career, Berkowitz said that his client is concentrating on his final game with the Yankees and his new role with the team.
Aside from baseball, Rodriguez has a diverse portfolio of business ventures. He's invested in several projects – with a focus on real estate and construction – through his company, ARod Corporation. The Miami native also served as an analyst last fall during FOX Sports' coverage of the 2015 World Series.
"I think you'll see Alex Rodriguez on the field for the Yankees, helping the organization win another championship through teaching and molding younger players," Berkowitz said regarding his clients' future plans. "I think you'll see him in the business world and I think you'll have a good shot to see him on TV."
A midseason sendoff is a surprising end for the highest-paid player in baseball history. Rodriguez, who enters his final game with the Yankees with 696 career home runs, will be remembered as one of the most enigmatic – and polarizing – figures the sport has ever seen.
On Friday, Berkowitz said Rodriguez is focused on enjoying what could be the final game of his career.
"Whether it's a farewell tour or a farewell week or a farewell game, I think he's going to have the same feeling," Berkowitz said. "It's going to be incredibly emotional when he puts on the pinstripes for the last time. It's going to be incredibly emotional when he takes the uniform off for the last time and walks out of there."