'You're just meat' - Ukrainian soldiers get chilling texts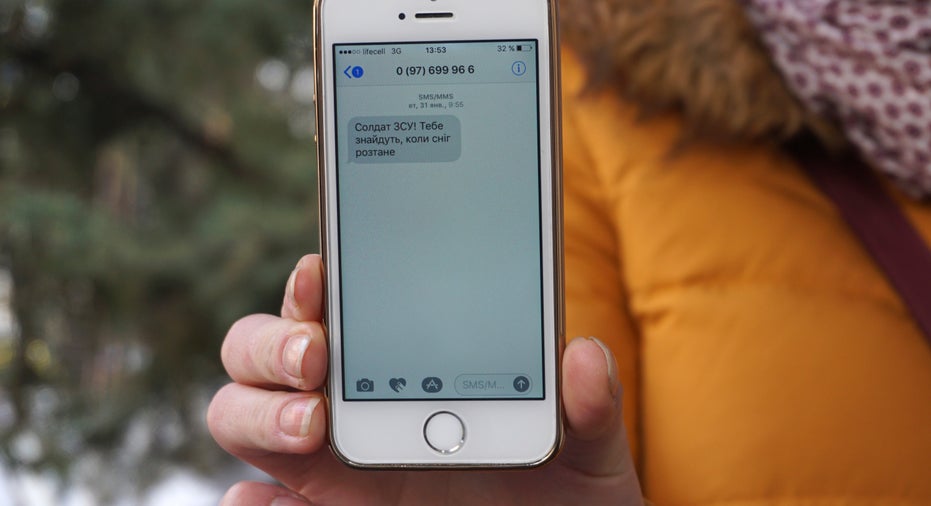 The Associated Press has found that Ukrainian soldiers are being bombarded by text messages likely dispatched by cell site simulators. Some are crude threats, while others play on allegations that Ukraine's billionaire president, Petro Poroshenko, sometimes nicknamed Parasha, is lining his pockets as soldiers fight in the field. Several of the roughly four dozen messages collected by AP and other journalists and activists carried spelling mistakes typical of Russian speakers trying to write in Ukrainian. Others came from nonsensical numbers (such as 77777) or were sent at impossible times (such as the year 1995), hinting at electronic fakery. A few even tried to mimic payment alerts in a bid to trick soldiers into thinking their accounts were being emptied by their commanders.
Here are a few of the messages, which have been edited for clarity:
"Guys, Parasha sold us out to the Yanks. Let's go attack Kiev instead!"
—text message received on Feb. 12, 2015, at Debaltseve, Ukraine.
"Your account was charged 10 hryvnias (then about $0.50) to support the Anti-Terrorism Operation."
—text message received on Oct. 6, 2015, at Schastia, Ukraine.
"Are you ready to die for Poroshenko's golden deposits!?"
—text message received at 12:58 a.m. on Oct. 16, 2015, at Checkpoint 29, an hour from Luhansk, Ukraine.
"Who is robbing your family while you are paid pennies waiting for your bullet?"
—text message received at 11:46 a.m. on Nov. 11, 2015, at Checkpoint 29.
"Murderer from the Ukrainian Armed Forces. The East won't forgive you and the West won't remember you!"
—text message received on Nov. 17, 2015, at Checkpoint 29.
"Ukrainian Armed Forces, you're just meat for your commanders."
—text message received at 9:32 a.m. on Jan. 31 in Avdiivka, Ukraine.
___
Online:
All the text messages collected by the AP and others have been gathered here: https://goo.gl/ap2O7C
___
Raphael Satter can be reached at: http://raphaelsatter.com