Your Home Was Damaged By Sandy, Now What?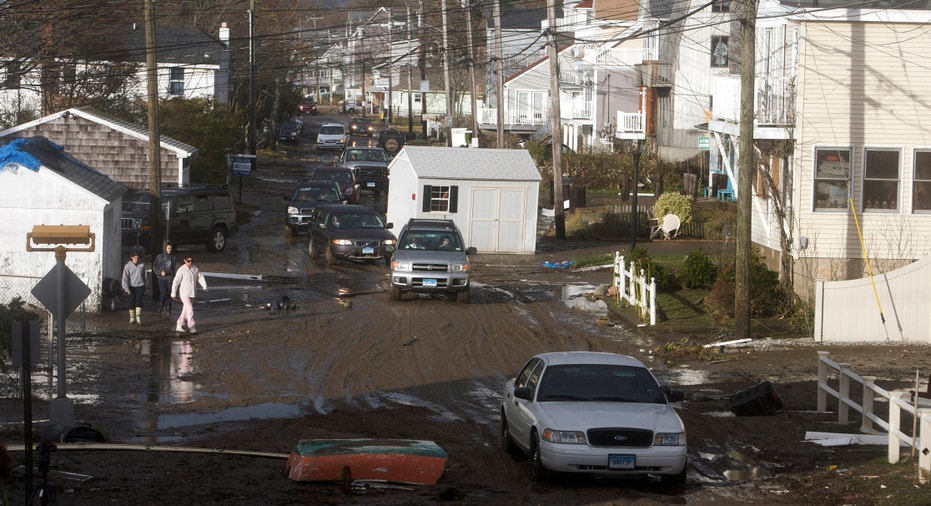 As homeowners across the Northeast begin to assess the damage caused by superstorm Sandy, now's the time to get organized and start the insurance-claims process.
Insurers often tackle claims on a first come, first served basis so it's in your best interest to start the claims-filing process as soon as possible.
What to Do Now
Homeowners need to find their insurance policy right away and evaluate their coverage. Many plans include hurricane deductibles that tend to be calculated as a percentage of the home's value.
"Don't be afraid to call your insurance company," says Roger Wildermuth, spokesman for insurer USAA. "Have a dialogue and discuss what is covered under the policy. They are the professionals and are going to be able to provide the best information on the policy to make sure your claim is filed and processed as quickly and accurately as possible."
John Egan, managing editor of InsuranceQuotes.com, recommends being concise when detailing damage to an agent. "If you have a hole in your roof because a tree fell on it, just say that and stick to the facts. There might be circumstances you aren't aware of that contributed to the damage."
If there are any repairs that must be done immediately, experts recommend calling the insurer before spending any money and to only fix damage that poses an immediate threat or might cause further damage.
If your home or possessions are damaged from the storm, be sure to document it thoroughly before making any repairs. Take pictures or even videos of the damaged belongings and scavenge for any receipts documenting purchase price and value. Keep a running list of all the damaged items to make the claims filing process smoother.
If You Have Damage
Don't make permanent repairs until an insurance agent has come and inspected the damage.
"Only do emergency repairs, stop-gap measures, so there's no further damage," says Egan.
Insurance aggregator Trusted Choice advises keeping a written record including the date, a summary and money amounts discussed during conversations about an insurance claim. Keep all photos, conversation summaries and receipts in a binder or folder to stay organized and for easy reference when filing a claim.
"Note who you talked to, when and what you spoke about along with any other details. Take meticulous notes, get any names, positions and contact information to speed up the process times on claims," says Egan.
Many policies cover wind damage, just be sure to take the proper documentation.
If You Have Flooding
Flood damage is not included in standard home and renters insurance policies and must be obtained through the federal government's National Flood Insurance Program (NFIP) or a private insurance company.
According to the Insurance Information Institute, only 13% of homeowners had a flood policy in 2012. However, policies jumped 5% to 14% in the Northeast from 2012 from 2011 in the Northeast after Hurricane Irene slammed the coastal area and caused significant flooding.  Most mortgage lenders require homeowners living along or close to the coastline to have flood insurance.
"Unfortunately it takes a disaster of this magnitude to wake people up about the need for flood insurance," says Egan. "Flood insurance costs $600 a year and that is a small price to pay if your property is destroyed the cost to repair it tends to be to the tune of thousands of dollars."
Flood insurance doesn't cover everything—it tends to cover any structural damage, but if a flooded basement ruined belongings and furniture they might not be covered.
If you have water damage, filing a claim with the federal government is similar to that of a home or auto issue. "The same rules apply in terms of what you need to prove in damage, take photos, video, keep track of conversations and email exchanges about the damage," says Egan.
Keep in mind that many flood policies have a 60-day deadline, so be sure to file as soon as you can.
If you have significant flooding, Egan recommends hiring a professional to handle getting water out and cleaning up since they have knowledge and tools to get it out quickly and effectively without causing more damage.
If You Have to Leave or Have No Power
Limit opening refrigerators and freezers to curb food spoilage if you are without power. Although many plans cover spoiled food, depending on the extent of your other damage, it might not be cost-effective to file a claim.
Some plans cover the cost of relocation if a home is considered structurally unsafe -- for example, if a tree feel on the roof -- but not necessarily if your home floods or if you don't have power.
"The home must be unlivable," explains Egan. "Some policies will cover additional living expenses if you have to move into a hotel or apartment. If you typically pay $500 a month on groceries and have to pay $700 on take-out because you aren't in your home, plans tend to cover the difference. It won't pay for normal expenses like a mortgage or utilities."
Laws vary by state one what insurance companies must cover so be sure to check your state's regulations before making any decisions.
If you need to hire a contractor make sure to do proper background research to validate the legitimacy of a company or person claiming to be able to help with repairs. "This is prime territory for scam artists to swoop in and take advantage of people who are distraught and worried," warns Egan.
Before hiring anyone check to make sure they have proper documentation and licenses and look for reviews on reliable sites like the Better Business Bureau. "If they are coming door to door, chances are they aren't legitimate."