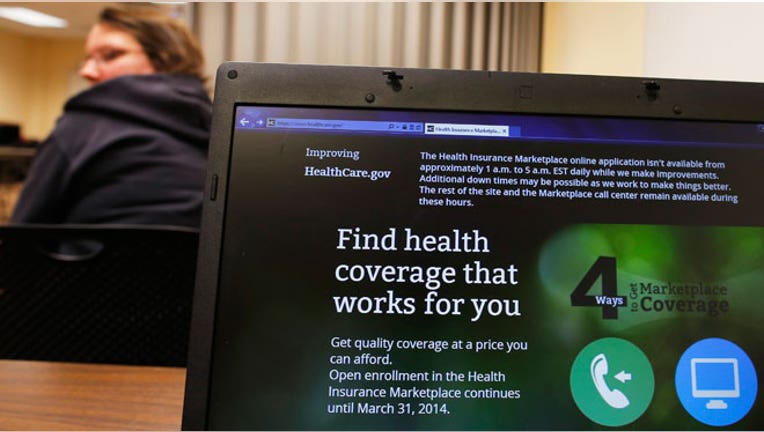 The third progress report from the White House regarding enrollment numbers in the Affordable Care Act is a stark improvement from the first two, but there's still a long way to go to hit the administration's own projections.
The Department of Health and Human Services released on Monday demographic information of the 2.2 million ObamaCare enrollees via state and federal exchanges through Dec. 28.
Thirty percent of enrollees are ages 34 and under, HHS reports  while 24% are between the ages of 18 and 34. Fifty-four percent are female and 46% of enrollees are male.
The exchanges saw a surge in enrollment in December with 1.8 million people making plan selections that month. The numbers still fall about 1 million short of the Obama Administration's original goal of having 3.3 million enrolled through the end of December 2013. For year one of the ACA, the administration had projected to have 7 million enrollees, 2.7 million of which are young and healthy people needed to keep premium levels down.
Under the Affordable Care Act, every individual in the country has to have insurance by the end of open enrollment period on April 1, or they will face a penalty of $95 or 1% of their annual income for failing to comply.
Experts have been holding their breath over whether young people will opt to enroll in plans or just get coverage when they need it.  Under the ACA, adult children can stay on their parents' plans until their 26.
Yevgeniy Feyman, Manhattan Institute scholar, says the preliminary data isn't promising. Feyman crunched census data for 2011 and 2012, finding that 18-to-30-year-olds represented 37% of the uninsured population in the country.
"It's not good news if only 24% of those in that age group are joining the enrollment pool," he says. "They are enrolling at a lower rate, relative to their population."
Sixty percent of all enrollees selected the mid-tier silver plan while 20% selected a bronze plan. HHS projects the average American would pay about $328 per month for a mid-tier silver plan, pre-subsidy.
Almost 80% of enrollees  selected a plan with financial assistance. Under the ACA, those making up to 400% of the federal poverty level are eligible for subsidies for care. This is about $45,000 for an individual and $94,000 for a family of four.
Feyman says he is most interested in the health status of those who are enrolling in plans, and says insurers likely priced their initial plans low to garner more interest and because they know have a safety net through 2016.
"Insurers still want healthy 45 year olds," he says. "When claims start coming in from insurers, that will be the next big picture: the healthy-to-sick ratio."
In the law's risk corridors provision, if insurers have losses greater than 3% of their targeted costs, the government is on the hook to pay them 50% of these losses. If insurers have costs higher than 8% of their initial targets, the government is on the hook for 80% of these costs.
"There are reasons for pricing plans low," he says. "You want to capture market share, be competitive and state regulators are more likely to approve rates that are lower rather than higher. We will probably have to use quite a bit more money for these risk corridors in the first year."