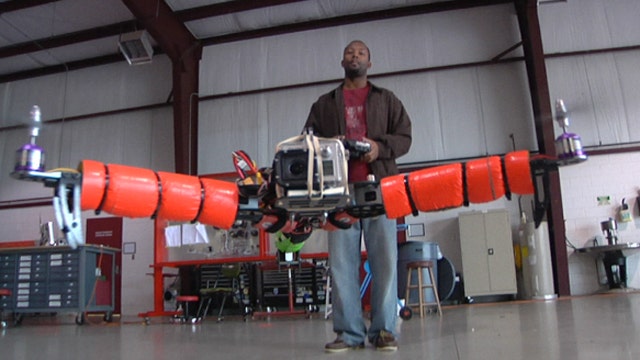 A growing number of students are signing up to receive college degrees in flying drones.
"It's so unique in terms of being right on the cutting edge of technology and aviation," says Clyde Muse, president of Hinds Community College in Mississippi.
The Aviation Department at the school is one of the first programs in the country to prepare students for the future of unmanned aerial vehicles.
Brett Wheat, an advanced second-year student in the program, expects his flight skills to be in demand after graduation.
"Either surveillance type work, or possibly agricultural type work, there's going to be huge opportunities for that," he says.
The school's drone program launched in 2012 at a small airport in Raymond, Miss. The program charges $980 per semester for in-state students and $2,280 per semester for out-of-state students with an addition $500 charge for the drone program.
Students learn how to build and fly drones inside the airport's hanger. Although they can fly inside, current law prohibits outdoor flight in restricted airspace.
The Federal Aviation Administration does not allow the students to fly drones outside, but these are about to change. In the year 2015, the FAA is expected to allow unmanned aerial vehicles to fly for commercial use. That's enough reason for aviation student Watson McDavitt to get a drone degree.
"In 2015, drones are going to be everywhere…I'm going to be right in the middle of a huge industry that's about to blow up in the United States."
The U.S. military is also partnering with the new drone program. Officials from Camp Shelby, the largest military drone training facility in the nation, are allowing students in Hinds' drone program to fly in their unrestricted airspace.
"The possibilities are endless for their employment…and it makes sense for us to partner with them…to allow them to fly in our unrestricted airspace," says Col. Brad Smith, commander of Camp Shelby Joint Forces Training Center.
In a labor market with bleak hiring prospects for many recent graduates, drone expertise could give students a leg up in the world of aviation.
"We train pilots, we train mechanics, we train air traffic controllers.  So this is the next logical progression...The sky is the limit," says Randy Pearcy, chairman of Hinds Community College Aviation Department.
The first four advanced second year students from Hinds Community College's avaiation department are expected to graduate with a drone degree in spring 2014.