Yes Pain, Yes Gain: Mud-Run Businesses Take Off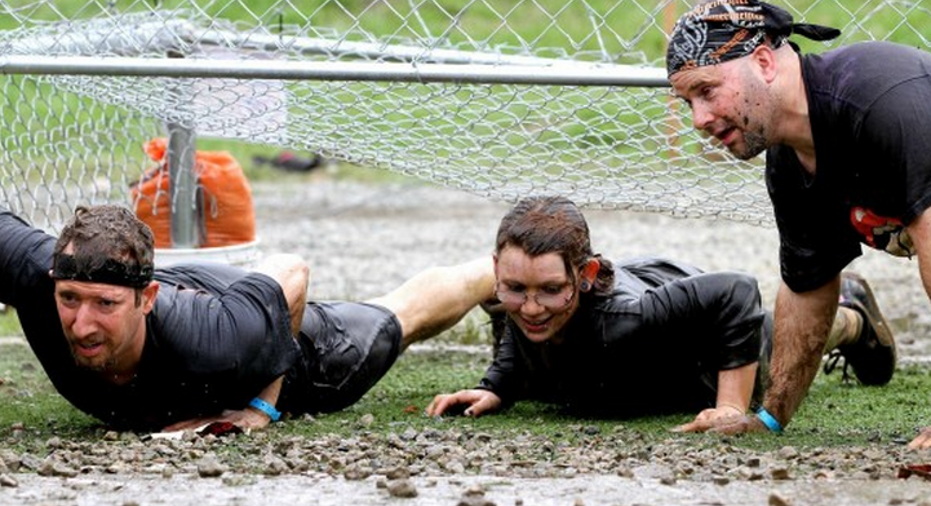 Running through a muddy field of live wires carrying up to 10,000 volts of electricity may not be everyone's idea of a fun weekend activity – let alone something to pay good money for.
And yet, 700,000 participants will compete this year in popular Tough Mudder challenges, completing heart-racing obstacles on muddy courses ranging from 10 to 12 miles. What's more? They'll pay up to $180 for the privilege of crawling through wet dirt and facing the possibility of electric shocks.
"The appeal is that feeling of accomplishment, pride and glory," says Baltimore-based personal trainer John Bonacci, who helps prepare aspiring mud-run competitors. "We lose a lot of opportunities to find that in ourselves athletically as we get older."
The numbers agree that Americans are looking for a physical challenge and are willing to pay good money to get it.
U.S.A. Triathlon says the sporting event, which involves biking, running and swimming, is seeing double-digit growth. It attracted nearly 2 million participants in 2011, up nearly 60% in only three years. Adventure races, which combine two or more endurance sports for a long-distance race, and their cousin, the mud run challenge, are seeing a similar spike. The Outdoor Foundation indicates that adventure racing grew by more than 18% from 2009 to 2010, and Tough Mudder alone grew from 17,000 participants in 2010 to 700,000 in 2013.
Event-Management Companies Cash In
Many of the organizers behind mud-run challenges prefer to view them as an athletic "event," rather than a race like a marathon or a triathlon.
"We even go as far as to make them take a pledge … I will help my fellow Mudders complete the course," says Tough Mudder Chief of Culture Alex Patterson.
"It really signals how our event is different from the traditional gambit, which is much more about individual performance, and getting your PR (or personal record)," says Patterson. "This is much more about having the challenge of overcoming obstacles and leaving no Mudder behind."
The companies that hold mud-run challenges typically turn them into all-day affairs; some provide participants with beer after finishing the race, while others feature stages with entertainment acts.
Chicago, Illinois-based Red Frog Events, which hosts the Warrior Dash challenge, also puts on Delaware's Firefly Music Festival and the American Beer Classic, where attendees sample American beers on Chicago's Soldier Field.
The first Warrior Dash was held in 2009; Red Frog's Stephanie Mezzano says the company will hold 50 Warrior Dashes this year across the globe, attracting as many as 26,000 participants to a single event. Participation fees range from $45 to $85, and Red Frog stands to make more than $50 million in revenue this year, says Mezzano.
And as the races take off in popularity, more companies are trying to cash in on the fun. Today, hosts are increasingly looking for ways to differentiate themselves in a crowded field.
The "Run for Your Lives" event, for instance, is a 5K obstacle course where participants run from "zombies" – volunteers who pay the company $35 to get professionally made up before the race.
"It was intended to be one time. [The idea was], let's make it unique and different from Tough Mudder," says Bill Ward, the vice president of Marketing for RSP Live, which hosts the challenges.
After attracting 10,000 participants to the first race in 2010, though, RSP Live decided to continue Run for Your Lives. This year, they'll put on 20 races; next year, they're looking at between 30 and 40.
RSP Live is also trying out new concepts.
"We're testing a new concept this upcoming Saturday, a 'tomato run' … We'll have an army of people throwing tomatoes through a constructed 5K road race. We're cautiously optimistic," says Ward.
Hosting a mud run, however, is not as easy as hosing down a field and constructing a few obstacles. The risk of injury makes insurance a must-have for event sponsors.
David Hemme, of K2 Insurance, has created a mud-run insurance website specifically for obstacle course hosts. He says companies need to protect themselves from potential accidents during setup as well as the chance of injuries sustained by both participants and spectators.
"There's a range or variety," says Hemme, with some companies paying as little as $3 per participant and some as much as $20, depending on the risk level of the obstacles.
His call volume is another indicator of the growing popularity.
"I get six to eight calls per week saying, I'm putting on an event, can you quote me?" says Hemme, who says he's seen more than a 100% increase over last year.
Trainers Carve Out a Mud-Run Niche
Certified personal trainers are also getting down and dirty with mud runs. Bonacci, the Baltimore-based trainer, says he charges $100 per hour for one-on-one mud-run training.
"I make sure the upper body and lower body work well together," says Bonacci; he focuses on building lower-body endurance and upper-body strength, since many of the obstacles require participants to be able to pull themselves up.
Jonathan Aluzas, who runs Arena Fitness in Encino, California, says he does personal and group preparation for obstacle races and sees clients of all ages and various levels of athletic ability. Group training ranges from $150 to $399 per month, depending on the size of the group.
"We became involved a few years ago, and even in that time, popularity has expanded significantly," says Aluzas. He says participants tend to be in their 20s and 30s, but he has a fair number of clients in their teens, 40s and 50s as well.
Aside from overall body conditioning, some trainers are actually constructing obstacle courses to prepare participants.
At Shale Hill Adventure in Benson, Vermont, co-owner Jill Butler says visitors come from Connecticut, New Jersey and New York to train on the 50 obstacles built by her husband on their equestrian farm. The couple hosts races at the farm as well.
"Training is $35 per visit. Really fit people can do it in an hour and a half, but the average is three to four hours," says Butler.
Are Mud Runs Just a Fad?
With an increasing number of copycats and offshoots, some of the trainers, like Bonacci, feel mud runs may have hit their peak. Others, however, feel they'll go the distance.
Butler says she and her husband invested $100,000 in building their course; she believes people will continue to look for outdoor workouts.
"It offers an alternative to the indoor gym experience. It's a different way to work out," says Butler.
Run for Your Lives' organizer Ward is also optimistic. "I hope I'm not drinking the Kool-Aid. I think the adventure-run market is not a fad and is here to stay," says Ward, even if they do need to tweak the event over time to maintain interest.
Tough Mudder's Patterson is even more confident, given that his company's race is arguably the one most associated with the "mud run" space.
"I think there will be fewer operators and the market will consolidate … But I think it will be an event that's a classic part of American culture," says Patterson.
"Baseball, Ironman … I think Tough Mudder will become a classic part of these options. You do the trisport thing, you run a marathon, and then you get dirty and go over obstacles by doing a mud-run course," he says.