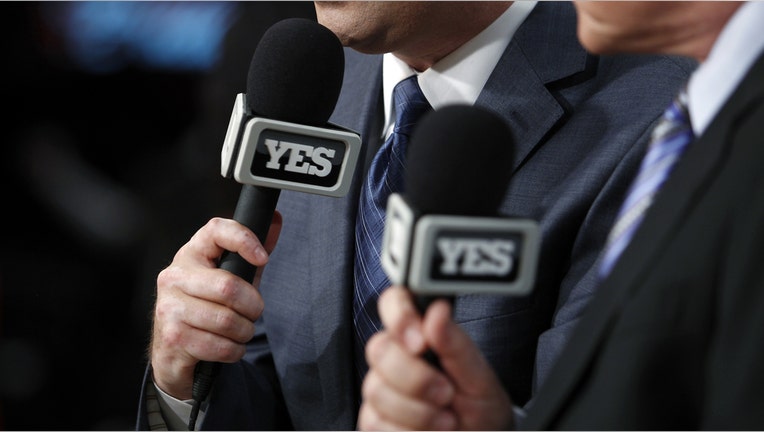 A standoff between Comcast (NASDAQ:CMCSA) and the network that broadcasts New York Yankees games is getting heated with baseball's Opening Day less than a month away.
The YES Network has launched an ad campaign that urges Comcast Xfinity customers to switch pay-TV providers, as the two sides continue to battle over carriage fees. Newspaper, TV and billboard ads are warning Yankees fans that they could miss the start of the 2016 season if they subscribe to Comcast. The YES Network also set up a website that directs viewers to alternate cable and satellite companies in their area.
The YES Network, which also airs Brooklyn Nets games, went dark on Comcast in November amid a disagreement over how much Comcast should pay to carry the cable channel. The blackout is threatening to prevent Comcast customers in the New York area from watching the Yankees' Opening Day game against the Houston Astros on April 4.
Comcast signed off on a preliminary agreement to continue carrying the network beyond the 2015 baseball season. However, the Philadelphia-based media giant revisited the deal after it scrapped a proposed merger with Time Warner Cable (NYSE:TWC), the largest cable company in New York City. Comcast has argued that it can't justify the cost of keeping the YES Network, citing lower viewership in the baseball offseason.
In its new ad campaign, the YES Network emphasizes that it was the top-rated cable network in the New York area on Yankees game days.
"This isn't like Comcast taking off the sewing channel," YES Network CEO Tracy Dolgin said Wednesday on The Michael Kay Show, an ESPN radio program that is simulcast on YES.
In a statement, Comcast said it remains hopeful that it can bring back the YES Network, but only if the asking price comes down.
"This dispute comes down to one reality: FOX and YES are demanding more than a 30% increase for a network that has very low viewership among our customers and which is already the most expensive RSN (regional sports network) in the country," Comcast said.
Twenty-First Century Fox (NASDAQ:FOXA), the parent company of FOXBusiness.com, owns a majority stake in the YES Network.
The YES Network is the largest regional sports networks in the nation, according to SNL Kagan data. The 14-year-old network reaches roughly 9 million homes, and distributors pay roughly $5 a month per subscriber for the right to carry the YES Network. The channel was available to approximately one million Comcast homes in New Jersey, Connecticut and Pennsylvania.
The fight between Comcast and the YES Network is just the latest war of words over carriage fees. In Los Angeles, Dodgers network SportsNet LA is only carried by Time Warner Cable, a joint partner in the TV channel. Negotiations with other providers in the area, including DirecTV (NYSE:DTV) and Verizon (NYSE:VZ), have been in a stalemate since SportsNet LA launched in early 2014.