Yahoo Gets More Visitors Than Google in July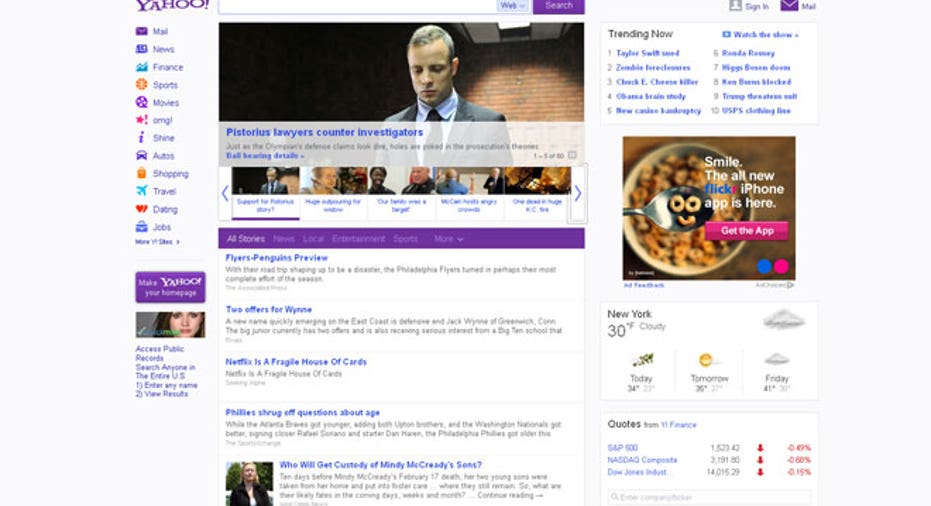 It seems some of Yahoo's (NASDAQ:YHOO) efforts to erase its tarnished image and revitalize its bottom line are starting to pay off.
The company's audience rankings -- visitors to all of its sites including it popular news and finance tabs -- topped rival Google (NASDAQ:GOOG) in July, according to a new report by metrics giant comScore.
Under the direction of CEO Marissa Mayer, Yahoo saw 196,564 unique visitors last month, or about 87.2% of the total Internet population. That marks a slight improvement over Mountain View, Calif.-based Google, which recorded 192,251 visitors representing 80.6% of the Internet.
Rounding out the top five were Microsoft's sites (NASDAQ:MSFT), Facebook (NASDASQ:FB) and AOL (NYSE:AOL). Online retailer Amazon (NASDAQ:AMZN) was the sixth most visited site.
Yahoo's growth seems to be a reflection of its efforts to diversify beyond the search engine. Earlier this year, the company earlier unveiled a fresh homepage, helping users better navigate through its many layers of pages that include news, finance, weather and games. In May the compnay acquired social blogging site Tumblr, which has more than 100 million users.
When counting data from just the search engine component, Yahoo still isn't even close to Google. A comScore report from last week showed Google to be leading the U.S. explicit core search market comprising 67% of market share, while Yahoo fell below Microsoft to be the third most used search engine, capturing just 11.4% of the market.
Shares of Yahoo were up 3.5% on Thursday to $27.9 in recent trade, up 41% so far this year.