Yahoo CEO Marissa Mayer Facing Fireworks at Annual Meeting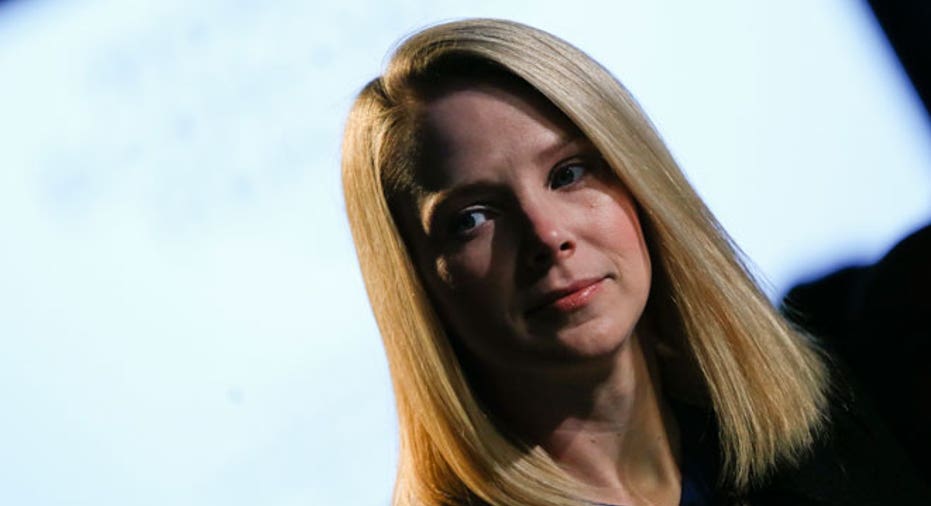 Today could be Marissa Mayer's last stand as CEO of Yahoo (NASDAQ:YHOO) as she takes the hot seat at the company's annual meeting in Santa Clara, California.
Activist shareholder Starboard Value's CEO Jeff Smith has been a thorn in Mayer's side and reports suggest he wants her kicked to the curb.
Smith and three other handpicked candidates are all up for election to the Yahoo board at today's meeting.
"Investors seem to be giving Yahoo a long leash; despite Yahoo delivering below average returns for above average risk," notes Michael McDaniel, chief investment officer at portfolio and risk analysis firm Riskalyze.
Those risks during Mayer's nearly four-year long run as CEO have included rising expenses in the face of slowing revenue and profits. Not to mention a series of acquisitions, including Tumblr, which cost over $1 billion and has failed to live up to expectations.
Under Mayer's direction, the company has been in perpetual turnaround mode. Still her former employer, Google (NASDAQ:GOOGL), surpassed it in search and web ad-revenue. And the stock price, once $125 per share, has tumbled to the $37 level.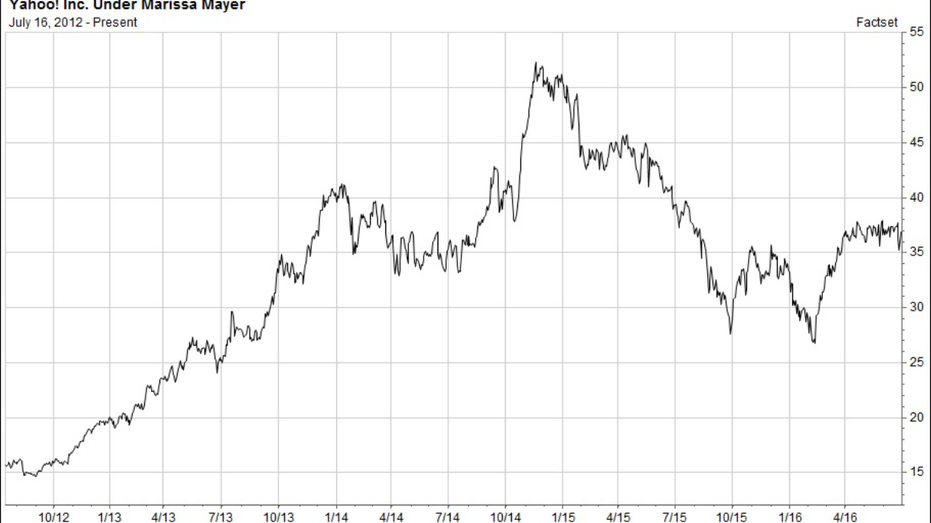 "They seem like the AOL of the early '00s, and have failed to regain much traction," quipped noted computer scientist and former MIT professor Michael Hawley in an interview.
Hawley's critique continued, "Their attempts to build up a journalistic enterprise didn't have staying power. They kept buying mediocre companies left and right, and nothing came of it."
Strategic Alternatives a 'For Sale' Sign?
Since February, a Yahoo committee has been looking into strategic alternatives, widely believed to be a sale of Yahoo's core assets. Some observers believe there may be value in the web portal and search businesses yet.
After all, the Yahoo sites are the third most visited in the U.S. according to ComScore, trailing only Google and Facebook (NASDAQ:FB). Similarly when you look at mobile, Yahoo sites are the third most visited properties for mobile web and app users.
Additionally, thousands of patents and real estate in and around the Sunnyvale headquarters have some analysts and investors believing there's value to be unlocked.
"Maybe with Yahoo as part of a large, diversified company, a profitable and even growing operation is possible," says Tim Ghriskey, chief investment officer for Solaris Asset Management. "If another company can acquire the assets at a reasonable price, the risk should be minimal."
Yahoo's market cap is about $35 billion and some observers say that's a fire sale given its holdings in China's Alibaba (NYSE:BABA) and Yahoo Japan are valued at a combined $37.4 billion and there's still $6 billion of cash on hand.
---
Parts Worth More Than The Whole?
Source: FactSet Data, SEC Filings
---
Piper Jaffray (NYSE:PJC) analyst Gene Munster told FOXBusiness.com: "We think core Yahoo is worth about $8 billion, and overall we think Yahoo is worth about $39 billion or about $40 per share."
Verizon's (NYSE:VZ) name has appeared most frequently in the press as attached to a potential auction. AT&T (NYSE:T) and private equity firms including TPG (NYSE:TSLX) have been named as other suitors in recent media reports. The reported bids range from $3 billion to more than $5 billion.
That of course pales in comparison to the $48 billion offer by Microsoft (NASDAQ:MSFT) in 2008, which Yahoo's former management spurned as too low.
While Mayer has managed to hang on as CEO, her legacy is already marred by poor performance and potentially a sale that could possibly jip shareholders.
"I'd guess that Mayer's tenure will be measured in months if not weeks at this point," asserts Hawley.
FOX Business Network will have continued live broadcast coverage from Yahoo's annual shareholders meeting.