WTC is Sprouting, But Who's Moving In?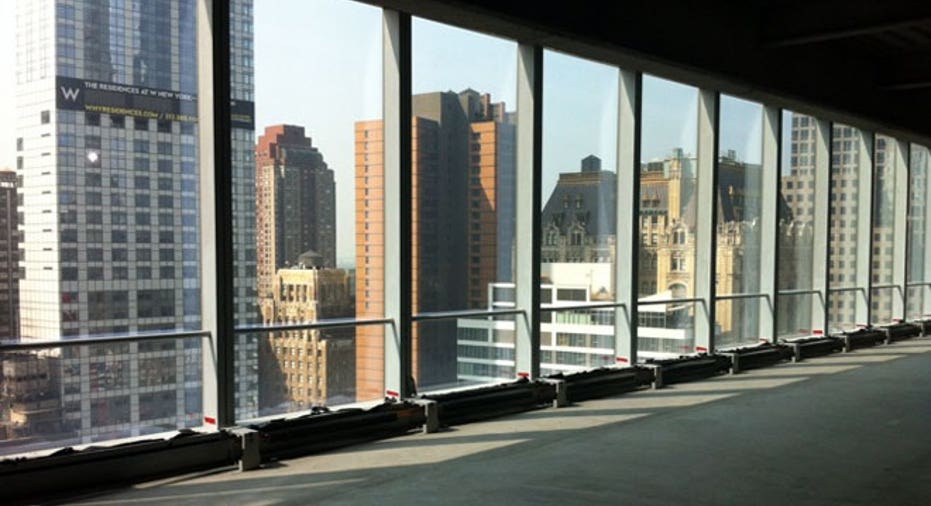 A mini-metropolis is once again scraping the lower-Manhattan sky -- showing American patriotism and resilience -- and filling the void created by the worst terrorist attacks perpetrated on American soil.
You can see it from all over Manhattan, parts of Queens, Brooklyn, Staten Island, the Bronx, and suburbs to the north and south of the city. The new World Trade Center, replete with gleaming, modern, buildings and gargantuan steel structures destined to become skyscrapers, is sprouting.
But who's moving in?
One World Trade Center, which is still under construction, has already topped the 103-story Empire State Building to become New York's tallest. The entire complex is expected to contain five new skyscrapers and more than 10 million square feet of office space, according to its developers.
Commercial Real Estate: Not an Easy Sell
Selling so much space in a commercial real estate market that is still reeling from the financial crisis and fending off a new set of economic headwinds is no small task, even in a relatively vivacious market.
Indeed, 17.2% of U.S. office space lay vacant in the second quarter of this year, down only slightly from its recent peak at 17.6% in 2011, according to real-estate data firm Reis. The New York metro market was in better shape, with a vacancy rate of 10.2%. Downtown Manhattan fared slightly worse than the rest of New York, with an 11.6% vacancy rate.
It stands to question, then, who exactly is moving into the WTC complex?  Traditionally, lower Manhattan has been home to an array of financial services companies. After all, the WTC literally overlooks Wall Street and the famed New York Stock Exchange.
Many of those companies, however, are cutting back on headcount and costs as they deal with a new regulatory and financial environment created by the financial crisis. In fact, the number of workers employed in the financial-services industry in Manhattan dropped 13.5% to 355,618 between 2001 and 2011, according to a FOX Business analysis of Labor Department data. Overall employment in Manhattan fell by a much slimmer 0.55% over that same time period.
Signs of Life
Despite the stodgy economy and difficulties in the financial realm, the WTC is already showing some signs of life. 7 World Trade Center, a 52-story building, is fully occupied, according to its developer, Silverstein Properties.
It boasts a diverse group of tenants, including Silverstein itself, music licensing heavyweight BMI, law firm Kostenlantz & Fink, non-profit society New York Academy of Sciences, and electronics company NCR.
There are also a host of financial companies, along with ones that service the financial industry, with offices there. Those  include  Ameriprise Financial, Moody's Corporation, Volant Trading, Algo Engineering, and DRW Trading Group. Still, leasing the rest of the complex is a tall order.
The property set to be finished next is 4 World Trade Center, which is also developed by Silverstein. When it is done next fall, it will be 72 stories, or 977 feet, tall. As of now, only government entities have leased portions of it.
The New York/New Jersey Port Authority along with the City of New York have agreed to lease 600,000 square feet in the lower half of the tower. Port Authority will be headquartered there, while NYC will house Human Resources Administration offices there.
Jeremy Moss, senior vice president at Silverstein, is in charge of leasing all of the company's WTC properties.
Moss said in an interview with FOX Business at the 4 WTC construction site that he pitches WTC as a new, interconnected office space that should appeal to a new generation of workers. The spaces are fresh and customizable, unlike many other buildings in New York.
Oh, The Views  
The easiest sell for Moss and his team might be the views.
Looking out the windows on the fifty second floor you can see what feels like the entirety of the island of Manhattan, including the Empire State Building and the Chrysler Building in the distance. Turn slightly and you'll be greeted with a birds-eye view of the Statue of Liberty, Ellis Island, both rivers, and other New York City landmarks.
The floors, walls and ceilings remain unfinished, but it isn't hard to imagine what an office may look like there. Ride the construction hoist down a few floors, and you're presented with different, although no less interesting, views. In particular, a peek straight down provides views of the reflecting pools paying  tribute to the thousands who lost their lives during the 9/11 terror attacks.
The Infrastructure
Despite having spectacular views, the WTC's piece de resistance might be the infrastructure. There will be an 800,000 square foot, multi-billion-dollar transportation hub on the WTC site. It has the capacity to ferry a quarter million people a day to their destinations across the city, according to Port Authority. Its PATH station connects to cities in New Jersey such Hoboken, Newark and Jersey City, while the subway grants access to much of New York City.
Perhaps missing out on the advantages would be those commuting from suburbs via the Long Island Railroad, Metro-North Railroad and parts of New Jersey Transit.
Moss said the ease of access from cities in New Jersey like Hoboken and points across NYC may appeal to a younger generation of workers.
One group that Moss said has shown interest in 4 WTC is legal practices. He reckoned it could be because those types of firms require standard floorplans, as opposed to larger multi-floor trading setups that some financial services players require.
Similar in some sense to financial services companies, law firms have seen a drop on Manhattan-based employment of roughly 7%, according to a FOX Business analysis of Labor Department data.
One WTC , the complex's signature property, which will encompass some three million square feet, is already 55% leased, according to the Port Authority, its developer. Its anchor tenant will be publisher Conde Nast, which is snapping up 1.2 million square feet over 25 floors. The U.S. General Services Administration revealed in July it signed a lease for 270,000 square feet over six floors.
"There will once again be a federal presence in the World Trade Center, as there was from its beginning," GSA Acting Administrator Dan Tangherlini said in a July press release.
Vantone China Center, which is owned by Beijing Vantone Holdings, a major real estate investor in China, has agreed to lease 190,000 square feet.
Other buildings that are part of the WTC complex are slated to be completed within the next few years.