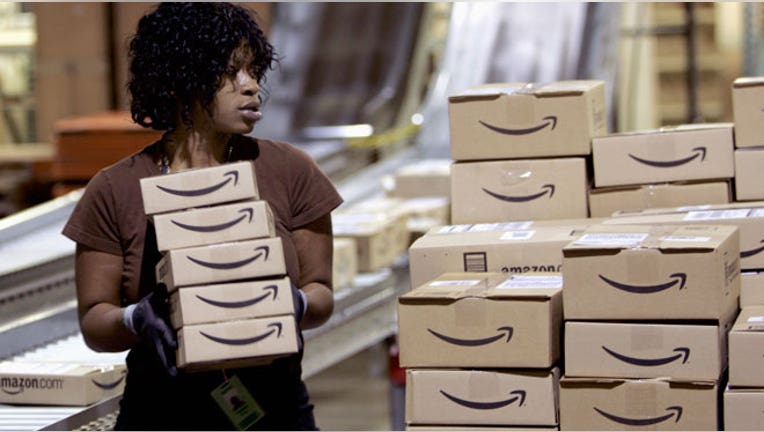 Amazon.com (NASDAQ:AMZN) is reportedly moving into warehouses owned by suppliers like Procter & Gamble (NYSE:PG) to cut back on costs and shipping times, potentially giving the online retail giant an edge over competitors.
According to a report from The Wall Street Journal, some of Amazon's important suppliers are sharing warehouse space with the company.
Amazon is expanding its arrangement with P&G, while the company is working out deals with or has already entered the warehouses of Seventh Generation, Kimberly Clark (NYSE:KMB) and Georgia Pacific, the Journal said.
One P&G warehouse that houses Amazon is located in Tunkhannock, Pa. The Journal detailed operations there, saying P&G workers load products onto pallets and pass them over to Amazon inside a small, fenced-off area. Amazon employees then package and ship the goods.
P&G began sharing warehouse space with Amazon roughly three years ago, according to the newspaper. It cited a source as saying Amazon is now inside at least seven P&G distribution centers globally.
Amazon and P&G declined to comment on the report.
Yannis Skoufalos, P&G's global product supply officer, told the Journal that P&G works with many retailers to help reduce supply-chain costs.
Amazon's partnerships are a result of a program it calls Vendor Flex and allow the company to use its suppliers' warehouses and distribution networks.
That lowers costs for Amazon, which therefore doesn't have to store the goods in its own warehouses, and allows it to better compete on price and shipping times with Wal-Mart Stores (NYSE:WMT) and other rivals.
The relationship with P&G allows Amazon to expand its footprint in everyday consumer products, such as toilet paper and shampoo.
Suppliers also benefit from the partnership, since they would normally incur the cost of trucking products to Amazon's distribution centers. They also get Amazon's help in boosting online sales.
The report said a few unnamed rivals of Amazon have caught wind of the program and aren't happy the e-commerce titan is getting the benefit of using other warehouses.
Amazon shares were down half a percent at $309.07 Tuesday.