WP Engine CEO Says Austin IT City for Women in Tech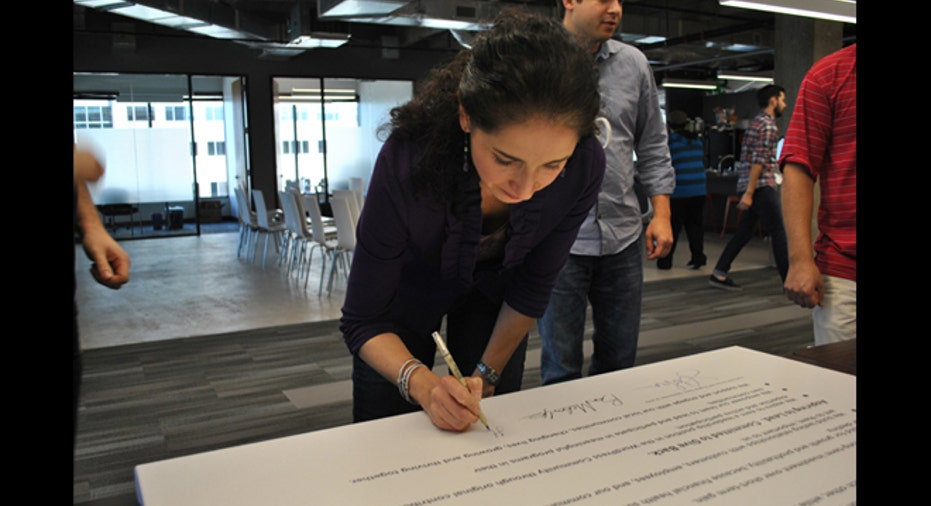 On the heels of this year's South by Southwest festival held in Austin, Texas, WP Engine CEO and 24-year tech industry veteran Heather Brunner says the city is booming with startups and is poised to be the most accessible place for women entrepreneurs.
"I'm so excited to see the innovation here," Brunner says. "When I look at what's happening here in Austin, it is literally just taking off."
A native Texan, Brunner is an Angel investor with money in a handful of women-run businesses, as well as a partner and mentor for startup incubator Capital Factory. From that vantage point, she says Austin's tech and business scene is burning up. Brunner was named CEO at WP Engine last October, before that she had served as COO. The website hosting company specializes in running WordPress sites for companies like Four Square, Williams Sonoma (NYSE:WSM), Gap (NYSE:GPS), Wells Fargo ((NYSE:WFC) and CMA (Country Music Association).
The Austin-based company was founded in 2010, and recently raised $15 million in funding from North Bridge Growth Equity. The round brings WP Engine's total funding to $18.2 million, according to Brunner, who says it will go toward product innovation. She says the company has grown 25% every quarter since launch, has more than 17,000 customers and hosts more than 140,000 websites. (That translates into more than 40 million unique visitors per day.)
"We're a hyper growth company because more and more businesses are looking to use Wordpress as a content management solution… that has evolved from being just blogging technology," she says.
WP Engine incubated out of Capital Factory. The incubator recently announced an investment matching program with two venture capital firms that could provide $100,000 for startups, according to Xconomy.
Brunner says there are more than 100 startups currently incubating at the Capital Factory alone. Austin also boasts of being home to several big name venture capital firms including Silverton Partners and Austin Ventures. And now some established incubator organizations from Silicon Valley (Dreamit Ventures, Y Combinator) and Colorado (Tech Stars) may be opening up shop in the Texas capital, which she says proves the "tremendous energy" around Austin and its startup community.
Women in Tech @ SXSW
Brunner says talk of SXSW "losing its luster" in the tech community is simply untrue. She said this year's event was three-days packed with energy, "extremely compelling speakers" and overall was well done.
"SXSW has become such an epic event and it's very intense in terms of the events and parties and schedules," Brunner says. "WP Engine was very fortunate to be able to host."
For the festival, WP Engine partnered with Gigaom to create a curated oasis (dubbed Oasix) for people to hang out, get comfortable, meet and mingle. It was held at WP Engine's downtown headquarters.
During the event, business leaders including Crowd Companies founder Jeremiah Owyang, UrbanUs founder Shaun Abrahamson, Airbnb's Joe Zadeh and WP Engine's own Tomas Puig spoke about the sharing economy and the power of the crowd. Brunner said the conversation specifically focused on the idea of brand peering, with Puig calling for brands to collaborate to expand their reach. The other main theme was the idea of engaging people outside your organization to bring back ideas and solutions into your business.
She believes collaboration is crucial for growth, and says that goes for women in business as well.
"For me personally I have found as a woman professional that tech has been a boundless opportunity where I've never felt like I had a glass ceiling or any barriers other than my performance," Brunner says.
That said, according to a study out of Stanford University, women only founded 3% of tech firms between 2004 and 2007. Brunner thinks all women in the digital industry need to focus on helping each other, and on offering a step up for future entrepreneurs.
She, along with a group of women entrepreneurs, helped launch networking group Women@Austin to create an expansive forum where professionals can meet and find access and support.  She mentions longtime entrepreneur and Women@Austin co-founder Jan Ryan, and Rallyhood CEO Patti Rogers as two inspired businesswomen, and expresses that the goal is to make Austin the "It" city for women entrepreneurs.
"There are a lot of fantastic women leaders and a lot of us haven't had a place to get to know each other," Brunner says.