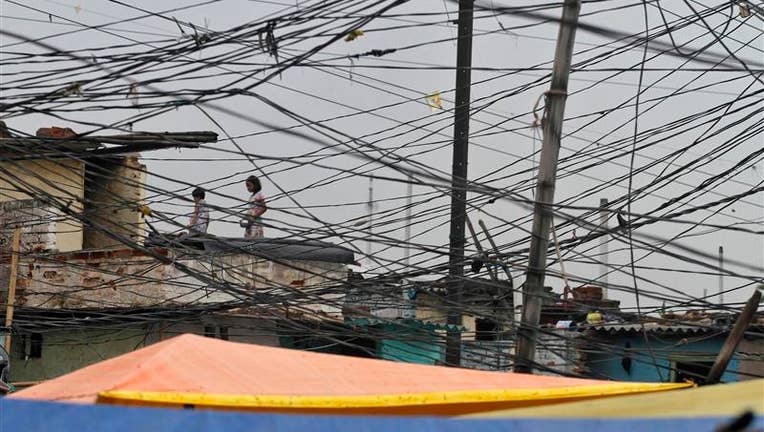 Hundreds of millions of people across India were left without power on Tuesday in one of the world's worst blackouts, trapping miners, stranding train travelers and plunging hospitals into darkness when grids collapsed two days in a row.
The power failures hit states with a combined population of 670 million, hurting Indians' pride as the country seeks to emerge as a major force on the international stage.
Here are some of the world's other major power cuts:
2009
Stormy weather caused an important hydroelectric dam on the Paraguay-Brazil border to fail, blacking out the homes of nearly 60 million people for a couple of hours in Brazil, including the cities of Rio de Janeiro and Sao Paulo. Parts of neighbouring countries Paraguay and Uruguay were also hit.
2006
A German electric company shut down its transmission line over a river to let a ship pass in November, it triggered a chain-reaction of power outages in many parts of Europe, including Germany, France, Italy and Spain, leaving 10 million people without lights.
2005
Power supplies to large areas of Java and Bali islands in Indonesia were disrupted in August after glitches in the power grid kicked power plants offline, affecting more than a 100 million people. While office buildings and hotels switched to power back-up generators in the five-hour-long disruption, travelers were left stranded as electric train services froze in the capital city.
2004
A power overload flickered all the lights, and air conditioning, off in Athens and much of Greece as the mercury soared to 40 degrees Celsius (104 F). The failure, which axed electricity supplies for nearly five hours, left millions sweltering in the scorching heat and brought public transport to a standstill, just a month before the Olympic Games.
2003
A power cut hit a large part of Italy in September due to disrupted power supplies from France. It left over 50 million without any electricity and caused public transport across the country to come to a grinding halt. The outage, which lasted for more than five hours, also put a sharp end to an all night party in the capital Rome where shops, tourist sites and museums were set to stay open until daybreak.
2003
In August, circuit breakers tripped in the U.S. Midwest causing a cascade of breakdowns, which chopped power to over 50 million people in both the U.S. Northeast and a part of neighbouring country Canada. The blackout that lasted for more than a day stranded thousands of commuters and forced evacuations of office buildings. Hospitals and public offices kicked on their back-up generators.
1999
After lightning struck an electricity substation in Brazil, a series of outages knocked out the power grid mostly in Sao Paulo and Rio de Janeiro, pushing 60 million people into darkness. Hundreds were stuck in winding traffic jams and several were trapped in the underground railway system for hours.