World's Most Expensive Thanksgiving Dinner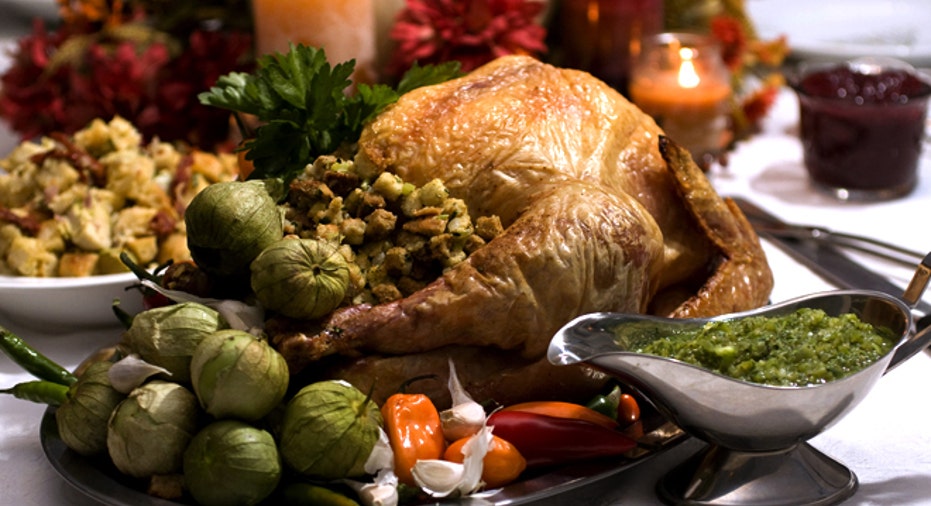 Tryptophan-tastic Thanksgiving
There are a lot of noble emotions and well-intentioned stories associated with Thanksgiving. We tell each other how grateful we are for this and that and how the Pilgrims and Native Americans probably swapped recipes for the best cranberry sauce around a big table adorned with those cornucopias we all made cutouts of in third grade.
In the end, though, it's about celebrating what we have by eating and sleeping as much as we can in one 24-hour period. In some ways, it's enjoying as much excess that is realistic for one day. How else should we explain the giant, basted bird planted in the middle of our table?
For all of the work, dishes and ambrosia that go into a full Thanksgiving meal, the cost per person is often surprisingly cheap. The American Farm Bureau Federation places the average cost for a full meal this year, including staples like turkey, stuffing and sweet potatoes, at $49.04 for a table of 10. This figure would likely go up with inclusion of more organic ingredients.
Chef Hosea Rosenberg, winner of "Top Chef" season five and owner of Blackbelly Catering, suggests buying less and skipping leftovers to further save on costs but says Thanksgiving is a chance to go all-out.
"I feel that you get what you pay for," he says. "If you want to treat everyone to a more delicious meal with healthier and more environmentally conscious ingredients, then you have to splurge a little."
So we wondered: What would Thanksgiving look like if you were to splurge a lot?
Setting up for a feast
Your personal set of family china is no doubt worth its weight in gold in sentimental value and perhaps actual value, but you're going to need some more blatantly extravagant settings to rub your family's and friends' faces in just how thankful you are this year.
Something like, say, a hallmark crescent engraved into sterling silver flatware containing the initials of the president. For you and 11 guests, the Continental dinner set presented by Tuttle Silver furnishes 66 utensils for a trim $25,200 -- available at Neiman Marcus. At that price, it may be the first holiday when you actually hope for the dinner conversation to turn political. Just in case the banter once again trails off, it may be best to under-season all of your dishes. After all, you have your matching "Leon" salt and pepper mills from Robbe & Berking. Not only will your guests begin to notice the running theme of sterling silver as they grind some flavor into the dinner, but you "forgot" to remove the price tags of $1,701 for each mill. "Oops!"
To prove to your guests you aren't solely thankful for sterling silver this year or still bitter about not being invited to the King of Morocco's daughter's wedding, you can simply pull out the gold-themed dining set used at the reception. Designed by Haviland & Parlon, the Scheherazade dinnerware from the 1,000-guest ceremony is available on the site Elegance2003 at just $7,004 per six-piece dining set. Don't worry -- shipping is free.
Nice to 'meat' you
The average turkey cost is due to fall to $21.76 for a 16-pound bird, according to the American Farm Bureau Federation, but who said anything about being average?
San Francisco artisan butchery 4505 Meats seems to have taken that idea of "too much of a good thing" and added an enticing question mark at the end, presenting its fifth annual Grand Turducken. Using the freshest, tastiest bits from local chicken, duck and turkey, it is 20 pounds of "juicy perfection" with enough meat for up to 30 people, resting on root vegetables and offered with a side of gravy. It needs to cook for 10 hours, at which point the tantalizing aromas will presumably make you forget all about the $380 you spent on the bird(s).
If you'd rather confuse your guests, there's the vegan whole turkey option from Healthy Eating. For $93.99, this dish is "shaped like a turkey," or for just $80.95, Hebert's Specialty Meats offers a boneless turkey stuffed with alligator dressing -- just how the Pilgrims would've wanted it.
And "Top Chef's" Rosenberg says to up the ante with squab, a young pigeon, as a main course.
"It's one of the most delicious birds you can eat," he said. "You can partially debone them and stuff them with a truffle and foie gras stuffing for a most decadent holiday treat."
"They have amazing flavor and texture, yet most people are not very familiar with them," Rosenberg says.
No skimping on the sides
Sweet potatoes, stuffing, pumpkin pie and other Thanksgiving fundamentals are relatively easy to make and usually affordable.
To really knock your guests' socks off with truly excessive thankfulness, try following in the steps of Spencer Burge, chef at the Fence Gate Inn in the U.K. Chef Burge had an idea for a pie that would not resemble any pie you've had before. You'd probably realize as much from the gold leaf adorning the top or the price tag of about $13,000.
"It started as a bit of silliness and quickly got out of control," Kevin Berkins, the owner of the inn, told the BBC.
Trying to concoct this at home would only save so much, as the ingredients call for 5.5 pounds of Wagyu beef (about $890), two bottles of 1982 Chateau Mouton Rothschild (about $3,000), 3.5 ounces of winter black truffle (about $350) and about $500 of the gold leaf.
You shouldn't cut this pastry masterpiece with just any old blade. Coltellerie Berti's Insieme cutlery collection will not only make it feel like you're cutting through butter, but each piece comes with a magnetized block of wood for safe usage and storage. Pick up a boning knife, carving knife and carving fork for about $1,200.
Toasting a great meal
Whether you're not feeling too grateful about spending another holiday with extended family or want to expound on just how grateful you are, perhaps it's time for some toasts. Festive drinks such as homemade cider always fit the bill, but the bill for this Thanksgiving is bottomless, and just about any drink should be considered "festive" so long as it's enjoyed on Thanksgiving.
You might as well pour a glass or two of 2008 Domaine de la Romanee-Conti Grand Cru, Cote de Nuits, a pinot noir from France's Burgundy region. The average price for a bottle of this wine was $12,000 in late 2013. Of course, if you're a true connoisseur, you will have some time to save up, as the suggested drinking window for a fully matured flavor doesn't open until 2018.
Before the libations and tryptophan take effect and you retire to the couch to nap, you may want to get the coffee brewing so your guests will be alert enough to leave when you'd like them to. They will appreciate the boost and be honored that you opened the bag of grinds that can cost $700 for 2 pounds. Why so expensive? The Kopi Luwak coffee beans are harvested as a delicacy from the droppings of the Asian palm civet, a small forest mammal.
Perhaps you won't need to ask your guests to leave, after all.
Don't make dinner, make reservations!
Maybe the turkey was ruined, the dishwasher broke, or maybe your Aunt Edna doesn't like your living room decor. For whatever reason, some folks like to dine out and not worry about all the details.
In many cases, there are some exceptional meals by top-of-the-line chefs to be enjoyed on the holiday, sometimes even at a relative bargain.
Cafe Gray was not one of those bargains.
Perched a few stories up from Columbus Circle in New York City, chef Gray Kunz's restaurant offered the ultimate in Thanksgiving dinners. More of an all-day affair, Cafe Gray provided its guests with a view of the Macy's Thanksgiving Day Parade followed by an open bar and turkey carving demonstration by the chef. The dinner consisted of elements such as truffled butternut squash potage, lobster and crab meat gratin and "Million-Dollar Pie." A steal at just $833 for a seat at the chef's table, it's a shame the restaurant is no longer open.
Other more "in business" high-end restaurants around the country offer impressive Thanksgiving dinners with prix fixe menus averaging $100 per person. The NoMad in New York will be serving its $135 prix fixe menu, which will include turkey, chicken with black truffle and foie gras.
Keep in mind choosing to fine-dine out also means no leftover turkey sandwiches for a week.