World Series Ratings Spike As NFL Strikes Out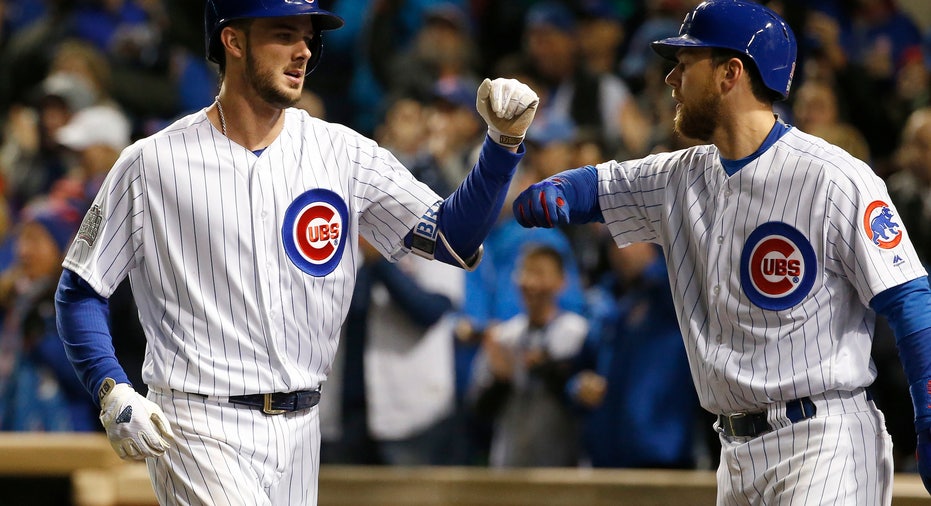 The National Football League is in the midst of a ratings spiral this season, but strong fan interest in the Chicago Cubs and Cleveland Indians' historic World Series clash shows live sporting events are still a major draw – under the right circumstances.
The first four games of the 2016 World Series drew an average audience of 18.2 million viewers on Fox – the highest total for Major League Baseball's championship since 2009, Comcast Spotlight analyst Brad Adgate said Monday on Twitter. That trend continued on Sunday night, when the Cubs' Game 5 win garnered a 15.3 overnight rating. By comparison, the NFL's marquee "Sunday Night Football" matchup between the Dallas Cowboys and the Philadelphia Eagles drew an 11.6 overnight rating.
Every major network and sports league is operating in an increasingly challenging market, as digital streaming options and the rise of cord-cutting have chipped away at audience sizes. But this year's World Series features a compelling battle between two markets – Chicago and Cleveland – which have overcome years of struggle to reach baseball's biggest stage. Experts say that narrative is enough to fuel a ratings spike.
"Live sports definitely are a draw, but the spike in World Series ratings are almost entirely the result of the Cubs being in the World Series," Andrew Billings, a sports media expert and director of the University of Alabama's sports communication program, told FOXBusiness.com. "When calculating other live sporting events, one predictor of increased attendance and ratings is something that I know college football bowl games refer to as "hungry team.' Here, we have two of the hungriest teams in all of baseball, each spanning many decades (and in the Cubs' case more than a century) of championship futility."
While Major League Baseball and its partners are benefiting from a fortuitous storyline, the NFL is experiencing an unprecedented ratings spiral. Entering Sunday, audiences for the league's primetime "Sunday Night Football" and "Monday Night Football" contests were down 19% and 24% respectively, according to Sports Illustrated writer Richard Deitsch.
League executives and pundits have blamed the decline on competition from the ongoing presidential election, the NFL's concussion epidemic, domestic violence scandals and the rise of National Anthem protests.
Football ratings will likely rebound once the election is over, though not to the levels the public has grown to expect from the NFL, which typically dominates the list of most-watched programs.
"I would expect the NFL ratings to improve, but still be down more than expected before the season started," Jefferies and Co. analyst John Janedis said. "Over the past few years, the NFL has increased the number of games that are televised through both the Thursday package as well as London games. Streaming has also slightly added to the erosion of live linear viewing by ~1-3%, and that is unlikely to shrink going forward."
While the NFL has increasingly come under fire for both the quality of its on-field product and its handling of off-field issues, Major League Baseball's product is resonating with fans, according to John Vrooman, a sports economist at Vanderbilt University in Tennessee.
"MLB has found the optimal competitive balance between large and small markets (David v. Goliath) with two teams built the baseball way," Vrooman said. "There is something rejuvenating in the MLB season cycle that mimics life and now culminating in a seemingly pure contest between equally matched player managers and unspoiled fan bases."