Women Soccer Players May Kick Up Sales of FIFA '16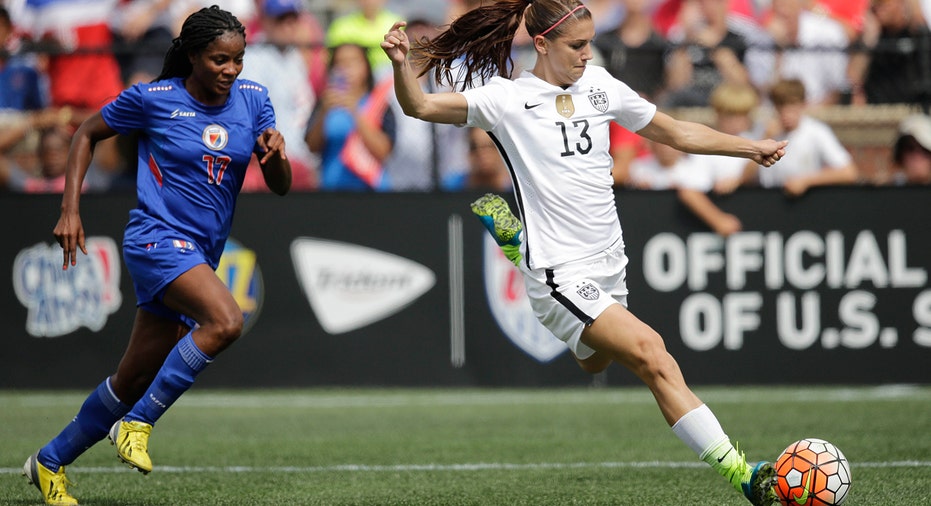 Electronic Arts (NASDAQ:EA) is looking to net even bigger sales this year with a number of firsts and updates to its most popular global sports game, the FIFA soccer franchise. Sales of the latest installment, FIFA '16, kicked off Tuesday for PC, Sony's PlayStation 3 and 4 (NYSE:SNE) as well as Microsoft's Xbox One and 360 (NASDAQ:MSFT).
The first big change is apparent from glancing at the cover, where U.S. Women's National Team player Alex Morgan is sharing space on the domestic cover with Lionel Messi, one of the world's best soccer players.
Many fans, gamers, and even players have long requested the addition of female players to the game, but EA Sports had resisted the move despite the U.S. women's great success in winning World Cups and Olympic Gold Medals.
But after this summer's FIFA Women's World Cup title, rostering women in the game may create a growth opportunity for EA.
"Historically, our data show that FIFA's primary user is male, however, with the introduction of women's soccer to the game, I expect there to be a shift towards female gamers," says Liam Callahan of NPD Group, which tracks industry sales.
Mag Black-Scott, CEO of Beverly Hills Wealth Management, does not currently own EA shares, but thinks the strategy will be a winner: "I think adding women into the game will increase sales. Now there is a reason to buy the game for girls, and girls will want to own the games for themselves, so it's a potentially huge market. Since the U.S. won, it is a wise move psychologically, to ride a winner."
Michael Pachter, an analyst with Wedbush Securities, notes one area that FIFA has tapped into for sales growth has been the FIFA Ultimate Team (FUT) mode. The analyst explains: "It allows gamers to customize their teams, uniforms and stadiums for modest fees (in-game transactions) that add up to $400 million or so annually."
Not surprisingly, that feature has been updated to entice even more participation. This year, the FUT mode introduces a draft and four-game tournament to face other gamers or a computer opponent. EA says players in the mini tournaments will earn FUT rewards that support custom clubs.
As for gameplay, the publisher says it focused on improving player movement, midfield control, and upgrading defenders to keep pace with attackers.
EA Sports producers say they've added two of the most requested features to Career Mode—pre-season tournaments and player training to help gamers learn some of the new moves including "No Touch Dribbling.".
Soccer: The Global Game  
This title, much like the sport it simulates, trails American football and basketball at retail in the U.S. but finishes atop the tables worldwide.
Madden NFL '15, also from EA Sports, and NBA 2K15, published by Take-Two Interactive's (NASDAQ:TTWO) 2K Games, sold more copies in the U.S. last year but the FIFA video game rules internationally and is crucial to EA's balance sheet.
"It's very important to EA," notes Pachter, explaining, "FIFA sales range from $1 billion to $1.5 billion annually (including in-game purchases)."
Pachter says that dwarfs Madden's $350 million to $400 million annual haul.
And to put it into perspective, consider the FIFA game can account for as much as 25% percent of the company's overall revenue; notably, EA reported revenue of $4.32 billion for fiscal-year 2015.
Pachter has an Outperform rating on EA shares and says it's going to be a "big year" for the company which released the latest iterations of Madden and the NHL hockey game in recent weeks, and next month is scheduled to release one of the fall's most anticipated titles: Star Wars Battlefront.
"There is a lot of room for upside," he predicts, as "Consensus (analyst opinion) probably factors in flattish FIFA sales and 12 million units of Star Wars. I think each can exceed expectations."