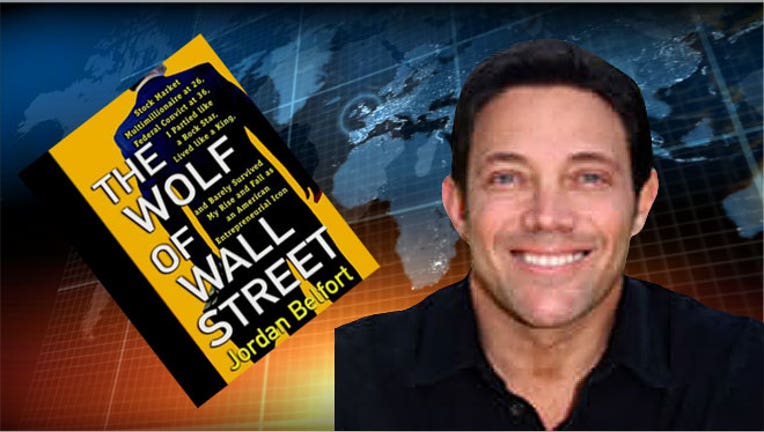 The infamous "Wolf of Wall Street," whose life of white collar crime is chronicled in an upcoming Martin Scorsese film collected around $1 million for the movie rights to his life story despite being ordered by a federal judge to pay $110.4 million back to the victims of his stock scams, FOX Business Network has learned.
Jordan Belfort's attorney, Robert Begleiter, now says he's using the money as "leverage" to craft a deal where his client might return the cash if prosecutors from the Eastern District U.S. Attorney General's office agree to substantially reduce the $110.4 million restitution ordered by Judge John Gleeson as part of Belfort's 2003 conviction for stock fraud and money laundering.
Belfort served just 22 months in jail for his role in running Stratton Oakmont, possibly the most notorious penny-stock brokerage in history, looting tens of millions of dollars from unsuspecting investors with phony stock sales. As part of his deal with the government, he agreed to repay victims and cooperate with federal officials to send other penny-stock fraudsters to jail, including women's shoe magnate Steve Madden.
After handing down the sentence in Brooklyn federal court, Gleeson remarked,"Mr. Belfort's going to earn a lot of money I have no doubt."
He was right. Belfort was released from prison in 2006 and became a motivational speaker. He also teaches sales techniques to stock brokers in Australia, where his lawyer says Belfort has achieved cult hero status.
He currently lives in California, and according to Begleiter has earned advances and royalties from two books about his years as a crook, "the Wolf of Wall Street" and "Catching the Wolf of Wall Street."  He sold the books' movie rights for the upcoming Scorsese film in which Leonardo DiCaprio will star as Belfort, the infamous "Wolf."
Begleiter won't say how much Belfort has made on the books, and concedes the $1 million his client received from the movie doesn't include other payments including future royalties.
All the money Belfort has been earning, he says, has prompted an investigation from the U.S. Attorney's office; last year, Eastern District prosecutors placed a "restraining order" on a $125,000 payment due to Belfort from the movie producers. That money was diverted to the restitution fund, but not the $1 million movie fee, he says.
A spokesman for the Eastern District declined comment.
Begleiter says Belfort pays about $3,000 a month to the government and has returned between $11 million and $13 million for victim restitution so far. The government wants a higher monthly payment and a big chunk of the $1 million movie money, but he adds prosecutors don't have a "right to everything."
"People have a right to make a living under the law," Begleiter says; federal law prohibits the government from taking more than 25% of Belfort's earnings after his supervisory release ended around 2009. Before that, Belfort was forced to turn over 50% of his monthly salary, he says.
Begleiter tells FOX Business that it's in the government's interest to agree to a "forbearance" that would limit the restitution to less than the $110.4 million the court handed down at Belfort's 2003 conviction. He says Belfort is willing to turn over all the money from the movie and any book and movie royalties for the right deal.
"There is no doubt that there is a $110 million judgment that Jordan (Belfort) has to pay," Begleiter said. "We're offering a deal where they would get more money than they might otherwise.What happens if he gets struck by lightning? Then they get nothing."