With Mayer's Touch, Yahoo Gives Its Homepage a Makeover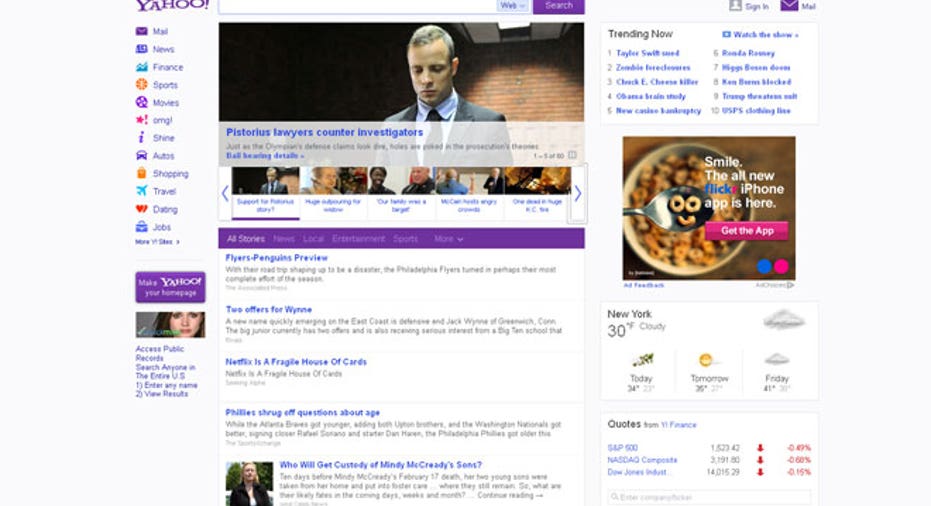 Yahoo (NASDAQ:YHOO) began a rollout of a new layout Wednesday morning that it hopes will drive traffic to its site and give users a more personalized experience so they have more reason to visit the search engine throughout the day.
The Sunnyvale, Calif.-based company's chief executive, Marissa Mayer, said the roll out of Yahoo.com that began in the morning will occur over the next few days.
The new experience will contain a newsfeed, new design and personalized characteristics that allow users to better find the news and topics that are most interesting to them.
"Yahoo has always been about bringing you the very best of the web. And, today, we're introducing a new, more modern experience to do just that," the company said on its official blog.
The revamped design comes as Yahoo struggles to compete with larger rival Google (NASDAQ:GOOG) and turn around after a series of setbacks, including a revolving door in its C-Suite, impacted its ability to stay competitive.
While Google's homepage is a large, empty slate of vast whiteness except for the word Google printed in simple primary colors and a search bar, Yahoo's site is much busier, giving users the ability to find news, horoscopes, search, check mail or play games all from the same piece of real estate.
Since Yahoo poached Mayer from Google last year, she has been trying to rebrand and revitalize the company while and streamlining costs.
Shares of Yahoo touched a 52-week high of $21.45 early on Wednesday but have slumped slightly in recent trade.