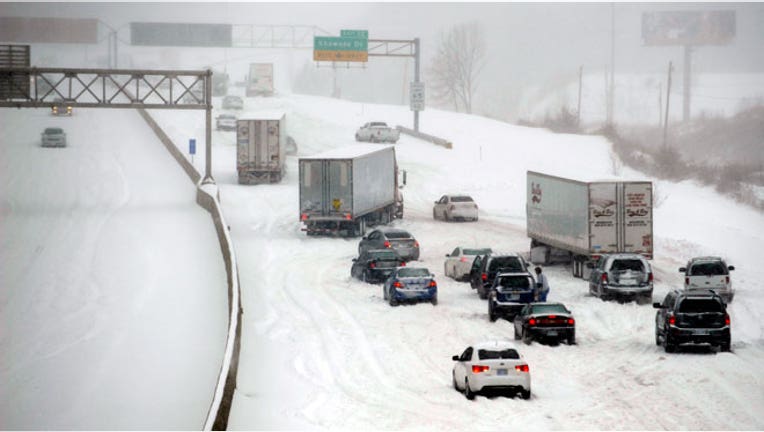 A winter storm dropping up to two feet of snow across New England and half a foot in New York City is creating nightmarish rush-hour commutes on Friday.
More than 1,800 flights have been cancelled nationwide as of 9 a.m. ET on Friday on top of the thousands cancelled on Thursday, with the majority in Newark, New York's La Guardia and JFK, Boston and Philadelphia, according to data from flight tracker FlightAware.
Several more have been delayed as the effects of the storm reverberate across the country, with cancellation numbers expected to climb as the storm moves through the region.
LaGuardia is open but was reporting 190 flight cancellations as of 6:30 a.m. ET. Flight operations at JFK were suspended throughout the morning due to zero visibility and wind-blown snow on the runways, however the terminal remains open and the airport was expected to resume operations around 9:30 a.m. ET, according to reports. Newark is open but as of earlier this morning had already cancelled 274 flights.
Delta (NYSE:DAL) has been forced to cancel hundreds of flights at its LGA and JFK hubs in New York, and United Airlines (NYSE:UAL) and American Airlines have canceled hundreds, mostly in Newark and LGA.
"While American has been operating normally today in most airports in the Northeast, we have canceled a number of departures/arrivals late this afternoon and this evening in advance of the storm," American said late Thursday without specifying the number.
In New York, JFK and LaGuardia are warning passengers should allow for extra travel time and check with carriers before leaving for the airport. The Port Authority of New York and New Jersey had more than 200 pieces of equipment ready for snow clearing at its airports, including melters that can liquefy 500 tons of snow an hour and plows that can clear at 40 miles per hour, but strong winds forced drifting snow onto the tarmac.
Boston's Logan Airport was reopened as of 9 a.m. ET. but warned passengers to check with their airlines for fight information.
US Airways (NYSE:LCC) issued a travel advisory through 11:59 p.m. ET on Friday throughout airports in New Jersey, Pennsylvania, New York, Connecticut, Massachusetts and Rhode Island. It also relaxed its change-fee policies. United Airlines, American Airlines and Delta Air Lines have all waived change fees.
"Severe weather is causing the delay and cancellation of flights particularly to and from the Midwest and Northeast," United said in an e-mail.
In a separate statement late Thursday, United announced customers "ticketed on flights to, from or through airports in the path of the storm may reschedule their itineraries with a one-time date or time change," and not have to pay a fee.
Rail and road travel has also been impacted, creating troubling conditions for Friday morning commuters. New Jersey Transit said it would offer systemwide cross-honoring through the end of the day on Friday. It is operating on an "enhanced weekend schedule."
The New Jersey transportation giant said it was stocked with 16,000 bags of snow-melting supplies and hundreds of snow blowers, and has positioned locomotives strategically across the rail system to "rapidly respond" to disabled trains.
Metro North, which operates train service in New York and Connecticut, said it called in extra engineers and signal maintainers to ensure everything continues to function as normally as possible. On Friday, it is operating on a Saturday schedule.
The Massachusetts Bay Transportation Authority said subway and rail services may be operating on delays, while some bus routes located on hills or narrow streets have started operating on pre-specified snow routes.