Win a Super Bowl Bet? It's Taxable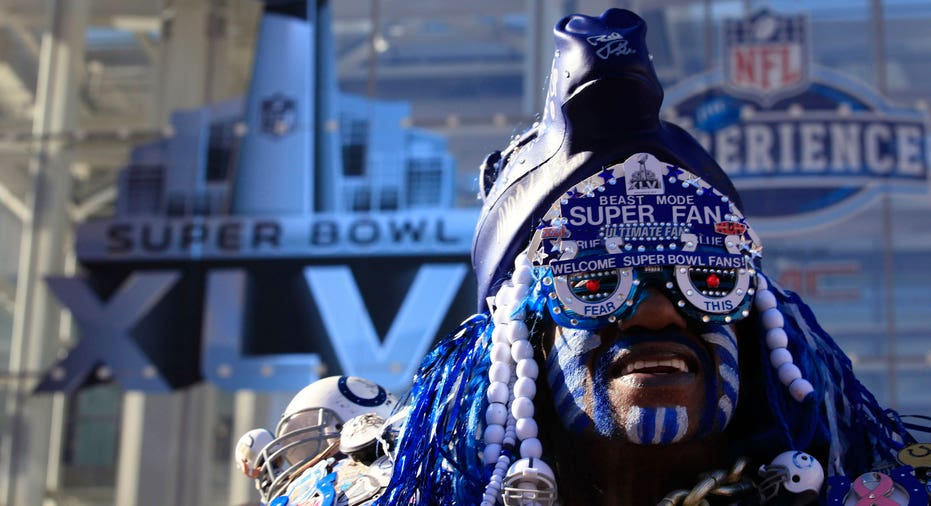 America is a nation of risk takers, so it's no surprise that we love games of chance. That's even more evident each year when the NFL's big event, the Super Bowl, rolls around.
The Super Bowl is the most gambled-on sporting event in the United States, with more than $100 million wagered on the game in some years. And that's just the legal betting at sports books in Nevada, the only state where sports gambling is allowed.
American Gaming Association data, complete through 2009, show that legal sports wagering in Nevada that year totaled $2.57 billion. But that figure is dwarfed by illegal bets. The National Gambling Impact Study Commission estimates that illegal sports wagers amount to as much as $380 billion annually.
If the gambling study estimate is even remotely accurate, the U.S. Treasury is missing out on an enormous amount of revenue since gambling winnings, whether obtained legally or illegally, are taxable.
But good luck, Internal Revenue Service collections agents, on getting your hands on ill-gotten gambling gains.
The federal tax agency has enough trouble collecting from legal bettors. Many people don't realize that gambling winnings are taxable income. And even if the winners know that, a good many simply choose to ignore the tax law.
What the IRS Knows
This skirting of tax laws is possible because the IRS doesn't know about every bet, and is only aware of the big winners.
Legal betting operations -- state lotteries, casinos and horse-racing tracks -- are regulated and that means there are rules for reporting when players are paid.
In some cases, the IRS gets its portion when winners are paid. Twenty-five percent is withheld from winnings of more than $5,000 from any sweepstakes, wagering pool or lottery or from betting proceeds that are 300 times or more the amount of the bet.
Gambling winnings from bingo, keno and the slots are not generally subject to withholding, but you still must give the gambling establishment your tax ID, i.e., your Social Security number. If you refuse, the casino can assess backup withholding of your jackpot at a 28 percent rate.
And with the popularity of poker, the IRS started demanding reports from poker tournament sponsors when tournament winnings exceeded $5,000. The reporting requirement, aimed at poker tournament sponsors, including casinos, helps the IRS ensure that card game winners are including their winnings on their annual tax returns.
Regardless of whether money is withheld, when a casino or other betting operation gets your tax ID, your winnings show up on a Form W-2G.
But even if you don't get an official form, you're still supposed to report all your gambling winnings to the IRS. In reality, that doesn't happen.
The IRS has no official idea how much tax money it doesn't collect from lucky gamblers. But even if the tax agency ventured a guess, it likely would be low, since there are so many under-the-radar ways for gamblers to play.
Online Gambling Advances
One of the major gambling venues nowadays is online. And despite efforts to control Internet gambling, U.S. bettors are still frequenting the websites, with many not telling the IRS about their winnings.
Federal lawmakers tried to put a dent in online gambling with enactment in 2006 of the Unlawful Internet Gambling Enforcement Act. The law is designed to restrict U.S. gamblers' access to online, foreign-based websites.
The law, however, hasn't affected players as much as it has payment processors, says Brad Polizzano, a New York tax attorney.
More notable, says Polizzano, is the apparent easing of opposition to online gambling in Washington, D.C., and some states.
He points to a measure in New Jersey, home of the United States' other gambling hot spot, Atlantic City, that would allow and regulate online gambling. The bill was passed by the New Jersey legislature and is awaiting Gov. Chris Christie's signature. The approval margin by lawmakers was so wide that even if the governor vetoes it, the legislature is expected to override the veto and enact the law.
"This is being viewed as a huge step toward the legalization of intrastate online gambling," say Polizzano. "New Jersey is the first state to get this far." If such a bill can make it in a state with a strong gambling industry presence, other cash-strapped states eager to tax a new revenue source might soon follow suit.
Of course, there are limits. The New Jersey online gambling option would only be for state residents. And the administration of the operation would be through casinos licensed in Atlantic City.
On the federal level, legislation has been introduced in the House and Senate to regulate and tax online poker and nonsports betting. Supporters of the bills say it could mean as much as $42 billion in additional federal tax revenue over 10 years.
During debate of the tax measure approved in December 2010, Senate Majority Leader Harry Reid, D-Nev., tried to add the gambling provision to the tax bill, but the effort failed, says Polizzano.
Still, when one of the senators from the state known for gambling supports expanding and taxing the activity online, it's an indication that times are changing.
Tax and Gambling Misconceptions
If states and Uncle Sam do eventually approve access to online gambling, the accompanying regulations could help the IRS get more winners to comply with tax laws.
Polizzano, who writes about gambling and tax issues at his blog "TaxDood," says there are three tax areas that many gamblers don't really understand well.
One is the difference between recreational and professional gambling. Most people fall into the recreational category; they visit a casino or racetrack a couple of times per year and buy lottery tickets.
In these cases, any winnings should be reported to the IRS as "other" income. Recreational gamblers also can reduce the amount of their taxable winnings by itemizing their expenses and counting gambling losses as a deduction in the "other miscellaneous deductions" category of Schedule A.
Professional gamblers, on the other hand, essentially gamble regularly with the intent to profit enough to earn a living. The tax court ruling that set up the standards for professional gambling, says Polizzano, "basically requires people to file one way or the other, professional or recreational."
"A lot of gamblers think they can file any way that minimizes their tax burden," he says. "But they really don't have a choice. They must pick one category or the other."
Record Winnings and Losses
Both types of gamblers, however, share one thing. They need to keep very good records of their gambling activities. This, too, is an area of confusion for taxpayers, says Polizzano.
A recreational gambler can't simply net wins and losses -- that is, combine them and report only the total. Rather, a gambler must add all winnings and report them as income. The losses are itemized and can be claimed as a deduction, but only up to the amount of winnings reported that year.
To substantiate these amounts, the IRS says you must keep records of every single gambling session. "You spend 15 minutes at the craps table and finish up with $500. Take a break, then spend 45 minutes at the blackjack table. That's another session," says Polizzano. "In my opinion, that's overly burdensome. Who really does that?"
Another documentation requirement, per IRS Publication 529, Miscellaneous Deductions, is that you keep a diary or log of gambling activities. The log is supposed to show not only the amounts you win or lose, but also the date and type of your specific wager or wagering activity, the name and address or location of the gambling establishment, and the names of other persons present with you when you gambled.
"If they get the 'dear valued taxpayer' letter from the IRS that wants them to substantiate their gambling activity, they won't be able to do that because they haven't kept track," says Polizanno.
Venturing into Foreign Gambling Waters
The third area that often trips up gambling taxpayers affects folks who frequent online poker sites. Since the Unlawful Internet Gambling Enforcement Act outlaws domestic poker sites, these players log on to offshore sites. And that means they could fall under the Report of Foreign Bank and Financial Accounts, or FBAR, rules.
You might have seen this at the bottom of Schedule B, Interest and Ordinary Dividends, where it asks if at any time during the tax year you had an interest in or a signature or other authority over a financial account in a foreign country. If your balances in all foreign accounts exceed $10,000, then you must file another form, TD F 90-22.1, Report of Foreign Bank and Financial Accounts, with the Treasury Department.
While 10 grand sounds like a lot, Polizzano says it's not that hard for an online gambler to hit the threshold. "You have three accounts and if you only had at most $4,000 in each during the year, that's $12,000 total, so you must file an FBAR."
"The penalties with the FBAR are ridiculous," says Polizzano. "Even a nonwillful violation is $10,000 for a late filing. You're penalized as much as you had for the year."
That's part of the reason gamblers are likely to ignore it and other tax laws. And it's also why when all the Super Bowl bets are paid off, the biggest loser will still be the IRS.