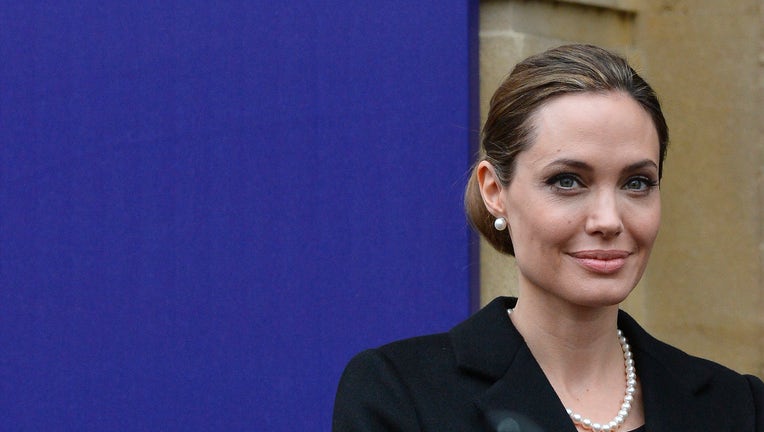 Angelina Jolie's decision to have a preventative double mastectomy after testing positive for the BRCA1 gene not only sheds light onto the excruciating decision some women make, but could also make the topic more approachable.
"I congratulate her for doing this," says Dr. Lyndsay Harris, director of the Breast Cancer Program at University Hospitals Case Medical Center. "It raises awareness of the fact that there are certain genetic abnormalities which have a very high risk of developing breast cancer."
Angelina Jolie spoke out Tuesday in an op-ed in the New York Times about her decision to have a preventive double mastectomy, after testing positive for the BRCA1 gene. Her doctor reports the actress and mother of six had an 87% chance of getting breast cancer in her lifetime, and a 50% risk of developing ovarian cancer.
The genetic testing reveals an extremely high-risk group of people with a family history of breast or ovarian cancer, and gives them options to move forward with preventative measures.
While Jolie's decision was bold and her choice to speak out noble, Dr. Julian Kim, division chief of Surgical Oncology at University Hospitals Case Medical Center, says her high likelihood of developing cancer is not common.
"This is not the normal population," Kim says. "The decision to have a breast or ovary removed is a very personal decision, and a lot depends on the person's age when they are tested."
Testing for the BRCA1 and BRCA2 genes, which stand for breast cancer susceptibility genes 1 and 2,  became common in the late 1990s, and has only gained momentum over the years. They are harmful mutations that can lead to breast or ovarian cancer, according to the National Cancer Institute.
Kim says the test is targeted at a certain group of women. "If your mother and sister had it at age 35 and your grandmother did too. This is not a test for the general population that doesn't have a family history of breast cancer. The reason is because your chance of having a genetic mutation, if you don't have a family history, is extremely low."
Harris says research shows women are increasingly opting to have a mastectomy, or a bilateral (double) mastectomy, once they are diagnosed with breast cancer.
"The rationale is that women would like to prevent new breast cancer from developing," she says. "This has become more common with and without reconstruction."
But having a preventative double mastectomy, or having the ovaries removed, is just one option for treatment, she stresses, listing hormonal treatments as alternatives.
About one in eight women will develop breast cancer if she lives to the age of 80, according to Harris, and it's less common for women in their 40s and 50s.
"We find women tend to overestimate their risk of developing breast cancer," she says. "[Jolie's] risk is high, because of her mutation, but not all mutations is that high of a risk."
Taking preventative measures like Jolie can help to pare down costs over time, Kim says. Between mammograms every six months, monitoring by doctors and potential other treatment—observing high-risk patients is expensive.
"Long-term surveillance can be costly," he says, "When you talk about the cost of a blood test [for BRCA1 and BRCA2] and compare that to the cost of the alternative, in treating cancer, it may be cheaper."
Insurance companies will cover the cost for testing in many situations if patients meet those criteria, says Kim. Depending on the level of cancer risk, most insurance companies will also cover mastectomy and reconstructive surgery, to the extent of the patient's policy.
"These surgeries are extraordinarily effective," Kim says. "Having both breasts removed lowers the risk of breast cancer by 95%, and the same goes for removing the ovaries. It won't impact other kinds of cancers; it just impacts the organs you are removing. If you remove the ovaries alone, it reduces the risk of ovarian cancer by 95%, and breast cancer by 50%."