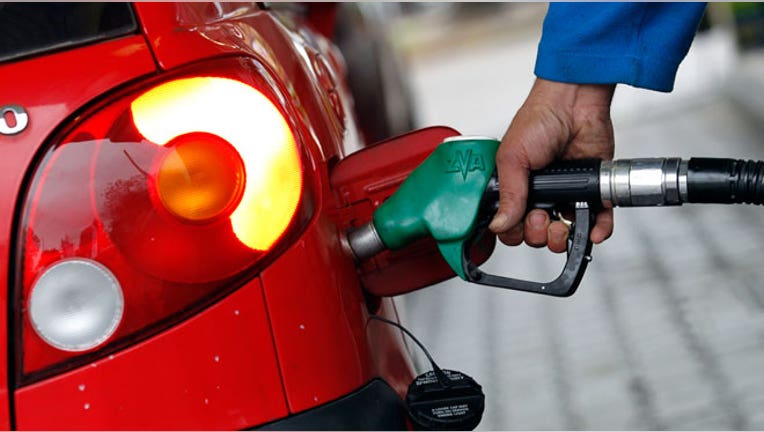 The oil rally is driving gasoline prices to their highest level of the year, just in time for the busy summer travel season.
After plummeting to almost $2 a gallon, the national average has climbed for three weeks running. Americans are paying close to $2.64 a gallon at the pump Wednesday, according to AAA's Daily Fuel Gauge. That's 25 cents more than last month.
However, gas is still far cheaper compared to 2014. The national average was approximately $1.03 higher a year ago.
AAA spokesman Michael Green said the sizable discount should prompt more Americans to travel for Memorial Day weekend.
"Memorial Day travel will increase. Even though gas prices are on the way up, they are still significantly cheaper than they were a year ago," Green explained. The travel group will release its Memorial Day projections later this month.
Gas prices traditionally hit their peak during the spring, when refineries shut down for seasonal maintenance and switch over to summer blend gasoline.
There's a different scenario playing out this year. U.S. crude oil hit a five-month high of $62.58 a barrel Wednesday, responding to a surprise drop in the nation's oil supplies. The Energy Information Administration said inventories fell by 3.88 million barrels last week, while Wall Street was looking for a gain of 1.5 million.
Oil prices are now at their highest level since December, mostly a result of weaker U.S. oil production and a stronger U.S. dollar. Domestic production has surged amid growth in hydraulic fracturing.
Fracking helped create the country's biggest oil glut since before World War II. But drillers slowed down once oil began to plunge in the second half of 2014.
Until oil rigs return to action, the futures market will keep upward pressure on retail gasoline. Drivers on the West Coast have seen exceptionally higher gas prices due to refinery issues in California.
"Everything will hinge on crude oil in terms of Memorial Day prices," Green said.
Consumers could get some relief at the pump once refineries across the country rebuild stockpiles. The EIA report showed gasoline supplies rose 401,000 barrels last week. Refineries ran at a better-than-expected 93% of production capacity, up from 91.3% a week earlier.
"We have record-high oil supplies, gasoline stocks are likely to be more abundant soon, and there's still a glut of supply that should help consumers this summer. On the other hand, oil is rising due to the perception that U.S. oil production has begun to decline," Green said.
"One can make a case for higher or lower gas prices going forward. We're in very uncertain territory."
Barring any major supply disruptions, AAA believes the national average will remain below $3 a gallon through the end of 2015. Drivers can expect to pay the lowest summer gas prices in at least five years, AAA said in its monthly gas report.
Americans have already saved a combined $50 billion from cheaper gas this year, or $400 per household.
A recent AAA survey found that six in 10 Americans, especially young consumers, say they're more likely to take a road trip of 50 miles or more if gas prices remain near recent levels. The majority of consumers still don't view gas prices as "cheap," though.
Gas prices averaged $3.58 per gallon between Memorial Day and Labor Day last summer, then fell to a low of $2.03 by January.
"It's hard for people to accept that gas prices are cheap today because so many of us were paying less than $2 a gallon," Green said. "But Americans still recognize they're paying less than in recent years."