Will School Bus Ads Drive Revenue for Cash-Strapped Districts?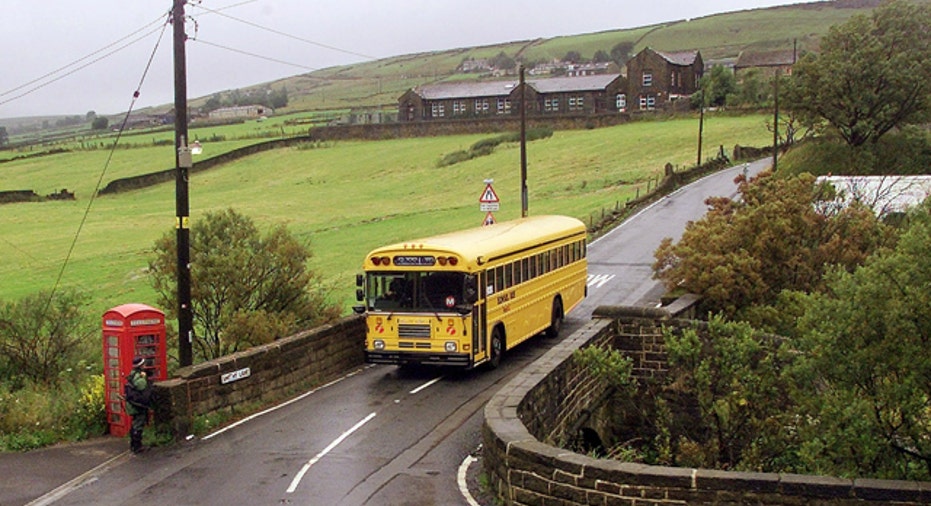 Recent efforts by state school districts to raise money may bring new meaning to the term cheese wagon.
In an effort to close widening budget deficits, states throughout the country are slashing funding to education, leaving school districts looking for ways to beef up revenue, and some have gone as far as to sell ad space on school busses.
Cash-strapped school districts say its the only way to cover expenses during tough times, but opponents say kids are vulnerable to marketing and shouldnt be forced to ride to school on a rolling billboard.
Clear Creek Independent School District in Texas took a $17.5 million budget cut this year , prompting district officials to get creative and start looking for other sources of revenue, according to director of communications Elaina Polsen.
When you start looking at where you can reduce your costs, you realize that theres no way to continue offering the services you have. We refuse to let our kids suffer, says Polsen, who says the $400,000 her district expects to earn annually from the bus ads will fund the schools gifted and talented programs as well as put new computers in classrooms.
For now, the ads that will appear on the school districts busses are mostly for local businesses, including local credit unions and colleges. Polsen says to avoid any controversy, the district created strict guidelines on what companies can advertise.
We actually spent quite a bit of time deciding what would be an acceptable ad, and we have policies in place, says Polsen. Obviously, nothing advertising alcohol tobacco, firearms, or gambling will be used. Really, anything that isnt clearly family-oriented wont be used.
School districts pursuing placing ads on busses should stick with ads that portray the schools in a positive light to avoid any controversy, warns Chira Dan, executive account director at advertising and marketing agency Rokkan.
It depends on the opportunity and the message. Cash-strapped schools and education departments should work with brands that actively support the school system and students, says Dan. Schools should only work with brands that fit their beliefs and help them deliver a positive message to the students in their system and the community.
Polsen says her district is playing it safe with the ads because theyre just learning what it means to be in business.
These werent conversations you would have two or three years ago, says Polsen. We are approaching it very conservatively, but at the same time, I dont see us ever turning our back on this.
Polsen says the time has come for schools engaging in public and private partnerships.
I think if weve learned anything in recent years, its that you cannot completely rely on state funds. Whether its the instability of the economy or budget cuts, we have children to educate and we have to take action to fill a $17.5 million hole.
Polsens district in Texas isnt the only one getting in on the act. Other states turning to bus-side advertisements  include Arizona and Colorado. At the Comal Independent School District in New Braunfels, Texas, communications coordinator Julie Jerome says that her district will be using their bus ad revenue to purchase new busses. The new busses will also display ads once theyre up and running to pay for other educational needs.
So far, advertisers for the district, which include a local credit union, a local flooring company and a Subway sandwich shop, have purchased ads at a cost of $300 per month and a $195 installation fee.
A new bus is $100,000, so thats a lot of ads on busses, says Jerome, who adds that the school districts vote to approve the ads was not unanimous.
We havent received any complaints so far, says Jerome. We have a committee in place to ensure that all ads are family-oriented, and I think most people see that money is a good thing at the end of the day.
Yes, most parents would agree that more money for schools is a good thingbut do they want their children being driven around on ad-laden busses? For brands, the question is a little more clear cut, says Dan.
For a brand, there's the potential to create a very personal and emotional connection with a consumer depending on the placement of their ad. On a school bus, it's that much more obvious of a push, and it could actually be damaging to a brand if consumers feel like they are being used and, even worse, that their children are being used as a vehicle for brand marketing. Brands should be more careful about the tone they set for themselves, and putting fast food on the side of a bus is borderline irresponsible, says Dan.
Ads for anything food-oriented is something all school districts should watch out for, says Limor Baum, a registered dietician at Nutrition Energy in New York.
Both kids and adults are very susceptible to advertisements for food, but kids are more likely to act on that stimulation, says Baum. Theres tons of research that shows children who watch more commercials are more likely to suffer from obesity.
Although Baum acknowledges that children are around advertisements all the time, the less they can be exposed, the better, she says.
There are so many grassroots efforts going on now to improve the school lunchroom diet, it seems like this could go against some of those efforts if they start advertising junk food, says Baum. If a kid gets out of school hungry and the first thing he sees is pizza on the side of his bus, hes going to ask for pizza when he gets home.
For the Clear Creek District, Polsen says the school will draw the line when it comes to having ads on lockers or school desks, but she does see a day in the not-so-distant future where private/public partnerships play a much bigger role in a childs education.
We are just adapting to a change that has already occurred, says Polsen. It goes beyond Adopt-a-Classroom programs nowwe are looking at the endowment structure of a corporation investing in a school or school district for the long haul.