Will School Bans Kill One of 2013's Hottest Toys?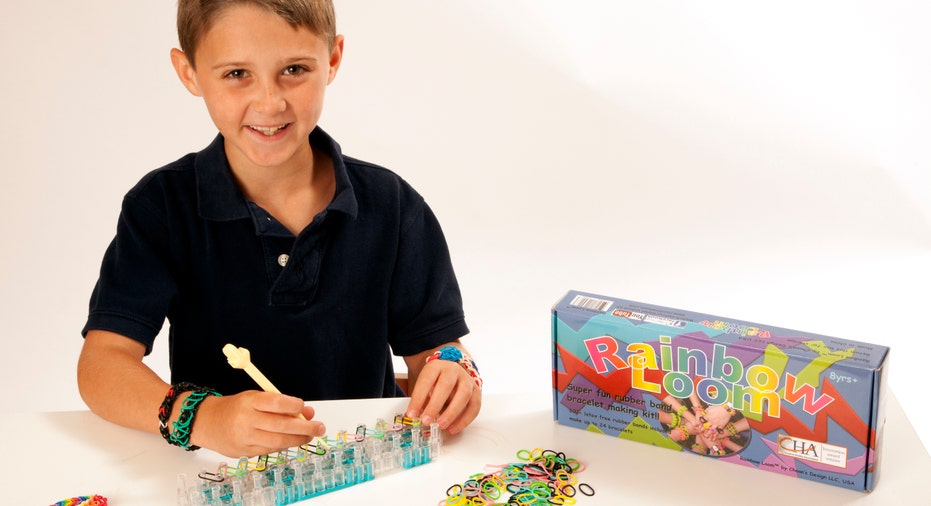 One of 2013's hottest schoolyard trends, the bracelet-weaving set Rainbow Loom has become so popular that some schools are banning it, calling it an "addiction."
And the inexpensive toy is in great demand. More than 800,000 users have watched individual Rainbow Loom instructional videos on Youtube, and a senior buyer for toy franchise The Learning Express jokes that the store should change its name to "The Rainbow Loom store."
"I couldn't even guess the number [of sets sold]," says Sandy Paradiso, who oversees the franchise's Rainbow Loom purchases.  "Some stores are selling 300 to 400 sets a day!"
While the Rainbow Loom craze took off in the past year, inventor Cheong Choon Ng came up with the idea in 2010 while working as an engineer. Ng created the toy for his two daughters. Ng's wife, Fen Chan, who helps run the business, says the couple invested the $10,000 they were saving for their daughters' educations in the company.
"I'm 100% supportive of him," says Chan, who says the investment has paid off quite well. The company is based out of Novi, Michigan.
'Addictive' Toy Gets Banned
This week, Brooklyn, New York's P.S. 107 announced that Rainbow Loom is banned from school premises; the school's principal, Eve Litwack, told DNAInfo that the craft set had become an "addiction." Another New York school, on the Upper West Side of Manhattan, also outlawed the must-have item.
A spokeswoman for the New York City Department of Education says the ban is a decision left up to individual principals who feel it's become a distraction.
"The DOE has no official ban on rainbow loom bracelets. Under the Discipline Code, it is at the discretion of the principal to prohibit items they feel may be disruptive to the classroom or to a child's learning," said the spokeswoman in an email to FOXBusiness.com.
Chan agrees that kids shouldn't be weaving bracelets under their desks during class – a situation Litwack says was becoming frequent – but disagrees with a ban from school premises altogether.
"They're encouraging kids to do more crafts, rather than spend more time on their computers," says Chan. She's also proud that students are now weaving the bracelets to sell at fundraisers – a new twist on the age-old lemonade stand or bake sale.
Global Toy Experts CEO Richard Gottlieb says bans on the popular toy hardly signal the end is near for Rainbow Loom.
"It's like being banned in Boston," says Gottlieb, referring to the city's history of being the first to ban "racy" books.  "Everyone's going to want it. Banning makes it more popular."
Gottlieb says Rainbow Loom is the latest toy in a long line of bottom-up success stories.
"They are not fueled by advertising or marketing. They just explode on their own. It's something about the toy -- in the moment, in the time, it comes together," says Gottlieb, who lumps pogs and Silly Bandz in the same category.
"It's like chaos theory. You just don't how … maybe some popular kid, an influencer, brought it to school and it started spreading," he says.
And it's true – Ng and his wife clearly didn't splurge on the company's marketing. The website is bare-bones, if not downright retro, in its design.
Gottlieb says the Rainbow Loom's affordability is a big draw – especially for kids who are spending their own money on the item. On average, the sets sell for $16; bags of the rubber bands sell for just over $3.
That said, Gottlieb says all fads eventually run their course.
"When they end, they end," says Gottlieb, saying the normal run time for any toy fad is about nine months to a year. By the end of the Silly Bandz craze, Gottlieb says there were so many competitors that stores ended up sitting on an enormous amount of inventory.
But Paradiso isn't so sure about that.
"I don't see it going away. I've been with the company for 19 years. There are items when I first started that we still have," says Paradiso.