Will New Safety Rules Derail Increasing Oil Train Accidents?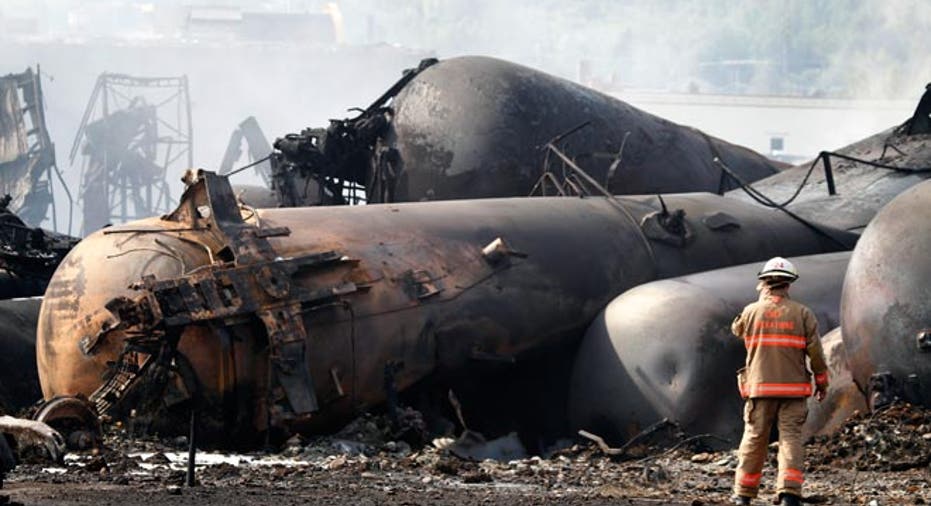 Please see the bottom of the story for update information.
The frequency of oil train derailments has increased dramatically over the last few years. Just last week, another accident occurred in North Dakota whereby an oil train derailed and caught fire in a rural area of central North Dakota, which prompted the evacuation of a nearby town, although no injuries were reported.
One main reason accidents are becoming more frequent is because more and more oil is being pumped and carried by rail throughout the United States and Canada.
The Association of American Railroads (AAR) reported that in 2008, U.S. Class I railroads originated 9,500 carloads of crude oil. In 2013, they originated 407,761 carloads, and in 2014, they originated 493,126 carloads.
In an attempt to further strengthen the safe transport of crude oil by rail, the Dept. of Transportation enacted new safety regulations on May 1.
U.S. Transportation Secretary Anthony Foxx announced a final rule for the safe transportation of flammable liquids by rail that was developed by the Pipeline and Hazardous Materials Safety Administration (PHMSA) and Federal Railroad Administration (FRA), in coordination with Canada.
The rule unveils, among other things, a new, enhanced tank car standard and an aggressive, risk-based retrofitting schedule for older tank cars carrying crude oil and ethanol. It also requires a new braking standard for certain trains that may reduce the severity of an accident, and the "pile-up effect."
Some reacted fairly positively to the ruling.
"The Association of American Railroads was relieved that after years of urging the federal government to impose more stringent tank car design standards, the Department of Transportation announced new regulations, which follow freight railroads' crude-by-rail safety achievements," spokesman Ed Greenberg said.
He stressed the fact that "99.995% of tank cars carrying crude oil arrive at destination safely. Again, zero incidents or 100% safe arrival remains our industry's goal."
Others were less pleased with the outcome.
"We will continue to see these fiery derailments even with the new regulations in place, because they fail to take sufficient actions to prevent oil train wrecks," Jared Margolis, an attorney for the Center for Biological Diversity said.
Margolis is also adamantly opposed to pipelines carrying certain kinds of crude. "We should have a moratorium on extreme fossil fuels, not your everyday crude, but the type that is coming from the tar sands in Canada, which are really hard to clean up if there is a spill."
Todd Paglia, Executive Director of ForestEthics, an environmental organization had similar thoughts.
"The rules released on May 1 keep the most explosive cargo moving in dangerous tank cars through cities and towns for another ten years. Even then the updated tank cars remain unsafe for hazardous crude oil. Oil trains continue moving far too fast to prevent major accidents."
Raymond James Transportation Services Analyst Arthur Hatfield doesn't think these regulations will prohibit any future serious accidents, but are designed to reduce them to a minimum. "I think the issue around the Canada disaster (Lac-Mégantic) was a 'Black Swan' event. The types of issues around that disaster should have never happened, but were apparently attributable to poor practices, execution, and lapses in judgment."
Margolis still believes many of the rules need to be amended before further implementation.
Late last year, Margolis, with the Center for Biological Diversity, and Riverkeeper (a watchdog organization) filed a petition with PHMSA to, among other things, limit the number of cars and weight of trains (4000 tons of total weight) hauling hazardous liquids, including, specifically, crude oil, in unit and manifest trains.
The PHMSA has acknowledged they have received the petition, but there has been no response, according to Margolis. He said the Petitioners are also considering the need to seek a court order to require the agency to respond.
Regarding the ruling, Hatfield said: "Overall I think the regulators did a pretty good job, as they tried to balance it out, and not be influenced by lobbying groups."
In a statement from BNSF (a unit of Berkshire Hathaway [NYSE:BRKA]), the rail company said it has "advocated for a safer tank car in the movement of crude oil and finally setting a new federal standard will get the next generation tank car into service and substantially reduce the risk of a release in the event of an incident."
Other rail companies including CSX Corp. (NYSE:CSX) and Norfolk Southern (NYSE:NSC) did not return calls.
UPDATE: The third paragraph in the story was updated to include a figure for the entire year of 2014.