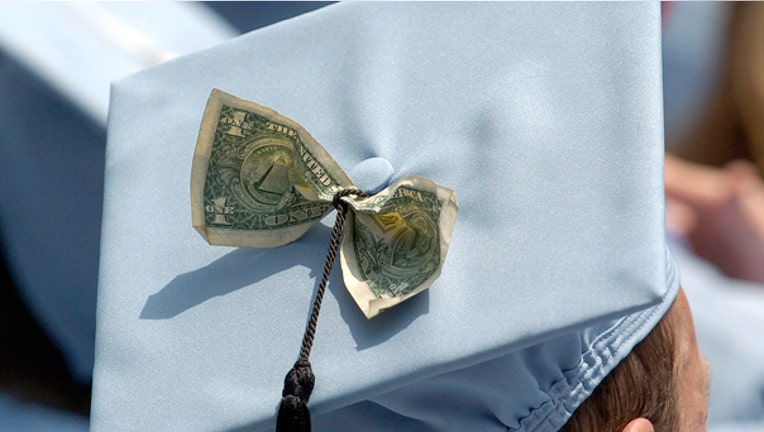 Late last year, total student loan debt in the United States reached $1 trillion, a situation that set off a lot of hand-wringing.
And for people bearing the burden of the debt, the crisis is a deeply personal one.
At the time, few could have predicted that a revolution was already in the works that could someday make student loan debt a thing of the past.
But MOOCs–the nickname for Massive Open Online Courses, which offer elite college-level instruction to anyone with an internet connection–have exploded over the last year, drawing students from locations as far-flung as Sri Lanka and Nepal and even stimulating the minds of retirees in Indiana. The biggest of the companies offering MOOCs, Coursera, had an enrollment of 1.7 million this fall.
And what's the price tag on these courses offered by professors from such top universities as Stanford, Harvard and Duke?
$0.
We explain the growing business behind MOOCs, how they could affect the business of higher education in this country and around the world–and how they could impact the wallets (and debts) of future students.
READ: What to Do If You're Struggling With Student Loan Payments
Companies Offering MOOCs: The Playing Field
Before we dive into how the industry behind MOOCs developed, we'd like to clarify that MOOCs aren't just regular online courses, which have been around for a while. Traditional online courses are like regular college classes: You have to pay tuition to take them, but you get credit and a small class size in return. MOOCs, on the other hand, are usually free, don't offer credit and have unlimited class sizes, which means that professors can't personally respond to students.
So how did this whole revolution get started? In the fall of 2011, then-Stanford computer science professor Sebastian Thrun decided to offer a free course in artificial intelligence. He had no idea how many students his grand experiment would attract, but he ventured that 10,000 would sign up.
The actual enrollment: 160,000 from 190 nations.
he experience prompted him to declare, "I can't teach at Stanford again," and then he launched Udacity, one of the key players in the field of MOOCs. The wild success of the course lured others into the burgeoning field, including these major players:
Coursera This is the largest of the MOOCS, and was founded last January by two other Stanford computer professors, Daphne Koller and Andrew Ng. It has 33 university partners, including Stanford, Duke, Columbia and Brown. Students can earn certificates of completion, but academic credit is only available to students who take an enhanced version of a course offered at the University of Washington.
edX A non-profit venture funded by Harvard and MIT, edX only has two other partners–the University of California at Berkeley and the University of Texas system. This fall, 370,000 students enrolled in its first official courses.
Udacity This math- and computer science-focused "21st-century university" designs and produces its own courses, with help from companies like Google and Microsoft, and is funded by venture capital money. The company prides itself on choosing instructors who are good teachers, even if they are not known for their research. Students in one Udacity class, Introduction to Computer Science, can get credit through the Global Campus of Colorado State University.
What Does This Mean for Higher Education?
Simply put, MOOCs are set to disrupt the education business. Over the last year, as student loan debt levels reached record highs, polls showed that dissatisfaction with higher education and its costs was also high. (If you have student loans, learn about the top student loan mistakes.) The average total cost of a bachelor's degree now exceeds $100,000, and a 2011 Pew Research survey showed that nearly 60% of Americans say that the country's colleges and universities do not offer "good value for the money [students] and their families spend."
READ: The 20-Something Crunch: High Debt, Low Employment
And this could have a big effect on the economy, given the size of the education market: A quarter of the American population is enrolled in some kind of school, and government expenditures on it alone exceed $800 billion, not including private education costs. Plus, student loan debt has been a drag on the economic recovery as indebted graduates delay major life expenses on homes, cars and even further education.
The fact that MOOCs are free is precisely why they appeal to people like Doug MacKenzie, a 34-year-old Philadelphia firefighter who took an introductory sociology class on Coursera. "I've always wanted to go into a degree program, but the problem is that I don't have the money," MacKenzie told The New York Times.
But just how MOOCs disrupt the business of higher education is a big question mark. Here are some potential ways, based on a report by Moody's Investor Service:
Less prestigious colleges could have a hard time attracting students who may not feel the degree is worth the price.
Top universities seem unconcerned about diluting their brand, and they are likely to gain even more in prestige, allowing them to still attract students to their campuses.
MOOCs are likely to increase competition among for-profit colleges, which have long dominated distance education.
The business model of education could radically change. While the current model has been increasingly higher tuition, MOOCs are offering an arguably equivalent education for nothing.
Moody's concludes that MOOCs could make education cheaper for families, and increase access to higher-quality education.
Tom Katsouleas, dean of Duke's engineering school, surmised in a Forbes article that MOOCs pose the greatest threat to master's programs: "In our visits to corporate partners like Apple and Cisco, it was clear that most top engineers and executives are using MOOCs for their lifelong learning in a way that some used to use corporate sponsored masters programs. Although universities provide individual and team project-based learning that are still difficult to replicate online, a masters education can be taken anywhere."
MOOCs could also shake up the workplace. At this point, most employers view completion of a MOOC on a job applicant's résumé as an advantage–as long as the individual also has a college degree. But analysts expect that some education companies may soon begin offering MOOC-like courses to corporations.
The Future of MOOCs
Because MOOCs are rapidly taking off, a number of major players in the education space are trying to figure out what the future looks like–and that involves tackling some of the major unresolved issues of MOOCs:
Credit Should (or could) students in MOOCs earn credit? In mid-November, the American Council on Education and Coursera announced a pilot program to look at whether some MOOCs resemble conventional college classes enough to offer their students credit.
Revenue How exactly do companies offering MOOCs plan to make money? In an interview with Knowledge@Wharton, Coursera founder Daphne Koller said that the company's expenses include producing the courses, hosting and disseminating them and also developing the platform for the courses. She added the company is considering charging for certificates of completion or giving employers access to the records of students of their courses.
Cheating To catch potential cheaters, Udacity and edX are offering proctored exams. Other professors are defining plagiarism to their students, many of whom are foreign and don't understand the American concept of plagiarism.
Grading It's a pretty daunting task to grade thousands of papers, so for work that can't be auto-graded, Coursera is developing a peer grading system: Each assignment is reviewed by five other students in the class, and each student in turn grades assignments by five other people. The company is also developing software that will rate the graders to weed out inaccurate graders.
If these issues get resolved, attending college on a campus could become a thing of the past, and students may instead garner credits from MOOCs offered by different companies. Future employers could also be paying for the costs of an education, if MOOCs remain free to students and companies offering MOOCs instead generate revenue from employers willing to pay for the records of job applicants who have taken MOOCs.
And all these developments could mean that crushing student loan debt might become a thing of the past.