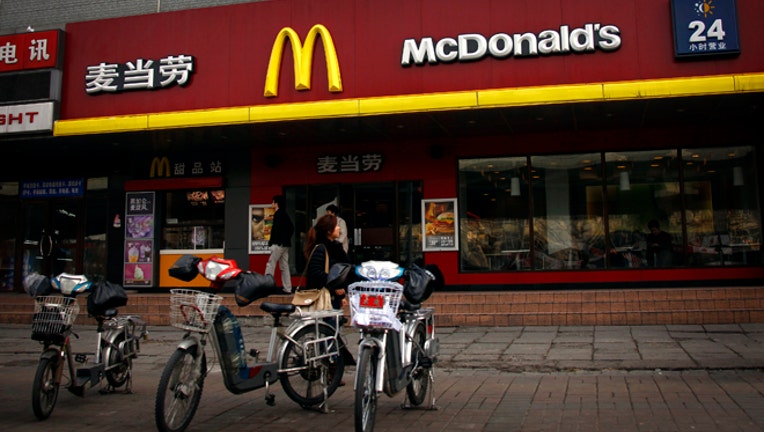 McDonald's (NYSE:MCD) and Yum Brands (NYSE:YUM) are facing a fresh scandal featuring some not-so-fresh meat.
Chinese regulators are reportedly alleging that a local meat supplier for McDonald's and Yum, whose brands include KFC and Pizza Hut, was found using expired meat. Both McDonald's and Yum said they would stop ordering from the supplier, Shanghai Husi Food Co., a subsidiary of OSI Food Group.
OSI quickly distanced itself from the supplier, issuing a statement yesterday that OSI management was "appalled by the report" and has formed its own investigation team.
"We have zero tolerance for any actions that compromise food safety. We sincerely apologize to our customers for any problems this has caused and to consumers who may be affected by these events," said the statement. The company added that it believed the issue to be isolated.
Both McDonald's and Yum released statements asserting their commitment to food safety. McDonald's told FOX Business that the Husi Food Co. primarily supplied the Shanghai market, thereby leaving most Chinese restaurants unaffected.
Yum said the decision to stop using meat from Husi will cause a temporary supply shortage of cheese pork hamburger and BBQ hamburger at some KFC restaurants, as well as a shortage of the Texas-flavor beef at Pizza Hut restaurants.
"We have already transferred the materials from other suppliers urgently to tackle the supply shortage. Our deepest apologies to all consumers for the inconvenience caused during this period of time," said the company in a statement provided to FOX Business.
But despite the ongoing nature of the scandal, given the pending investigations, restaurant-industry consultant Aaron Allen said McDonald's, KFC and Pizza Hut were unlikely to be seriously affected by the allegations.
"It's much less of a reputation blow than Ikea selling horsemeat, and no one was injured or killed," said Allen, referencing a food-labeling scandal that unfolded last year.
If anything, Allen said the scandal might provide a good opportunity for McDonald's and Yum to drill home to consumers how much they care about food safety and quality.
"They can bring awareness and make some bold new assurances when handled properly. Certainly these guys are capable of doing this and may even see a boost in sales afterward," said Allen.
While the incident seems to be contained within China, Allen said there is a possibility that the allegations affect the mindset of U.S. consumers, who have already been moving away from quick-service restaurants to fast-casual concepts, such as Chipotle (NYSE:CMG). However, Allen said he believed consumers in emerging markets would turn a blind eye.
"The growth in discretionary income and the untapped need for these [quick-service restaurant brands] … They are doing well in foreign markets," said Allen.
Yum reported its second-quarter earnings last week. The company missed expectations slightly, posting earnings per share of $0.73, falling just short of analysts' expectations of $0.74 per share. China sales were up 21%, and operating profit in the country grew 188%. Chairman and CEO David C. Novak said Yum planned to open at least 700 new restaurants in China this year.
McDonald's is expected to release its second-quarter earnings on Tuesday, with analysts expecting $1.43 in earnings per share.