Will Apple Watch Catch On?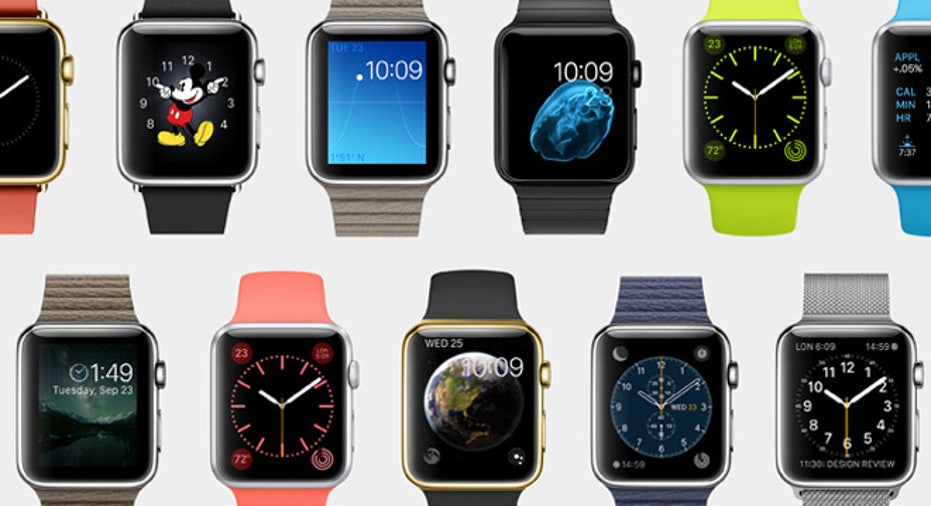 After months of anticipation, the Apple (NASDAQ:AAPL) Watch is here, with pre-orders and in-store demos beginning on Friday. This will be the first new major product category for Apple since the iPad was released five years ago, and investors will be watching early sentiment.
"Its going to be a game changer," said Nihal Mehta, partner at Eniac Ventures. Mehta, who is an investor in Uber, predicts that by Christmas, "people are going to be looking at their wrists instead of down at their at phones."
"The future is in wearables," said Eric Migicovsky, founder of the smartwatch, Pebble. The brand first popularized the smartwatch in 2012 on crowdfunding site Kickstarter and has sold 100,000 watches.
But some are skeptical that the Apple Watch will be an overnight success. "People may wind up waiting for the product to have more apps and for the next generation to come," said Colin Gillis, analyst at BGC. Gillis predicts that the device will do well with "early adopters," but he is going to be watching the "sustainability of the demand" to see if the Apple Watch remains popular after the initial release.
With a market cap of $734 billion, the future of Apple is not contingent on the success of the watch, but the company hopes that the product will be one more reason to keep users on its operating system. Apple has sold 700 million iPhones to date, but has faced growing competition from Android (NASDAQ:GOOGL) and Chinese maker, Xiaomi.
Walter Piecyk at BTIG is optimistic that Apple will be able to convert a sizeable number of its iPhone users to Apple Watch users. "How many of those half a billion customers are going to  decide that they want to extend the functionality of their phone?"
"There's enough Apple fans to fill the first year," said Daniel Ernst, analyst at Hudson Square Research. "The first weekend will be insane and then we'll see where we're at."
Yet despite Apple's reach, Pebble's Migicovsky is "not particularly" concerned about the Apple Watch competition and said that they saw a surge in demand after Apple revealed their prices, ranging from $349 to $17,000. Pebble sells at a lower price point, with its new Time Steel starting at $199.
The battery life is also going to be a question for Apple Watch. Although the company says it will last 18 hours, some are questioning if that is enough time and if it will even last that long. By comparison, Pebble's battery for its Time Steel device will last up to ten days according to Migicovsky.
It is a saturated market, but Android's watches released last year have been met with lackluster enthusiasm. Samsung and Motorola were amongst the brands that introduced watches compatible with the operating system.
Sometimes it takes a few years for new product categories to gain mainstream popularity. While smart glasses like Google Glass have yet to catch on, Ernst noted that only 5.4 million iPhones were sold in its first year on the market in 2007. He is predicting that the Apple Watch will have a better launch, and that 18.5 million will be sold in the first 365 days. For comparison, the iPad sold 19.5 million in its first year.
"Our initial estimate for the first year was 30 million units" in 2015, said Piecyk. But "it might ultimately be a situation of selling as many as they can make." He said it's now less clear how many devices will be sold, because Apple is limiting the launch to the United States and select international markets.
The Apple Watch will offer much of the same functionality as the iPhone, with apps like Uber and Twitter (NYSE:TWTR) available for download. Users will be able to answer voice calls, dictate texts, view photos and pay with Apple Pay. Fitness will also be a critical component, with Apple debuting its own goal-tracking metrics. The iPhone needs to be within 30 feet of the Apple Watch for the device to be fully functional.
This is a big moment for CEO Tim Cook, who once faced criticism that Apple would be unable to innovate without Steve Jobs. While the company has successfully debuted new smartphones and notebooks,  this will be the first new product category introduced under his leadership.
Apple shares are up 14% year-to-date and are hovering around $125 a share.