Widow Turns Loss into Love, Launch of a Business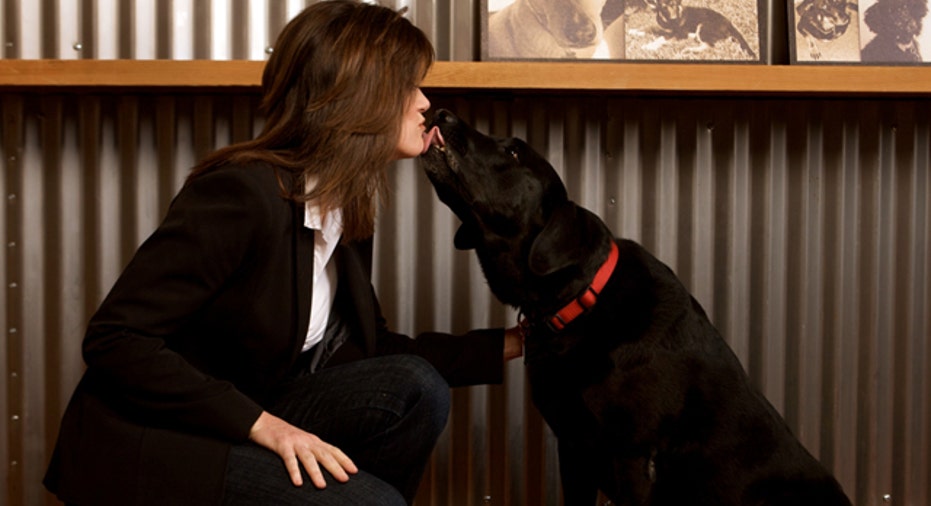 Numbness. That's all Heidi Ganahl said she felt after her husband lost his life in a tragic stunt-plane crash 16 years ago. In addition to losing her partner in life, Ganahl had also lost her business partner. Earlier that year, the newly-married couple had completed a business plan for a dog care facility and had begun fundraising and scouting locations around Denver. Her husband's passing halted everything.
"It's hard to care about things going forward," said Ganahl, 44, as she reflected on the incident that she said turned her world upside-down.
Luckily, there was something she said that forced her out of bed every day, her dogs Winnie and Mick.
"They still had to go on walks and they still wanted to play ball," Ganahl said of her two big mutts. "They kept on living, so I had to. They really helped me cope."
It would take six years, a disastrous second marriage and two failed small business ideas before Ganahl found the courage and support to take another shot at starting her pet boarding facility, Camp Bow Wow.
"I wasn't sure it was going to be successful," said Ganahl. "I had maxed out my home equity line and credit cards, but I just had this feeling the idea was going to work." Her instincts turned out to be right—and eventually worth $48 million.
The Dream: Ganahl and her first husband Bion dreamed up the idea of Camp Bow Wow while searching for a suitable kennel for their two dogs.
"We were horrified by what we found. So, we decided to build a business plan for what we thought would be a good dog care facility," Ganahl said.
In addition to day and overnight lodging, the couple, who had been married for two years, wanted the business to offer dog training and a charity component to help support local animal rescue efforts.
Obstacles: The loss of her first husband sent Ganahl into a mild state of depression. The insurance settlement from his death was $1 million, but Ganahl said the sum was quickly absorbed by a series of bad personal and business investments.
Ganahl's second marriage ended after one year in divorce and what she describes as a terrible custody battle over her daughter that cost $500,000. She then tried to reignite her entrepreneurial drive. Her first two ideas – a high-end baby clothing and accessories catalogue and a financial consulting firm— both tanked taking $300,000 down with them.
"I started a couple of businesses that people thought were well-suited to me, but I wasn't passionate about them," she said.
With a daughter to support and only a little left of the insurance settlement, Ganahl said she returned to a full-time job in the pharmaceutical industry to make ends meet.
In November 2000, a family member helped Ganahl find her way back to something she was once excited about. Her younger brother Patrick reminded her of the pet business she had dreamed up in 1994. If she invested the rest of the settlement money into that business idea, her brother told her he would quit his job and help her build her dream.
"I rolled the dice and put it all into the business," said Ganahl. Camp Bow Wow opened its first location the following month in an old Veterans of Foreign Wars building. Within the next year and a half, she said she opened a second location.
Today: In 2011, Camp Bow Wow has 200 franchises around the U.S. and one in Canada. Ganahl, whose title is "Top Dog", owns and runs the corporation based in Boulder, Colo. that manages the properties, D.O.G. Developments.
Last year, Camp Bow Wow reined in $48 million in system-wide sales and expects to hit $60 million in 2011. As she originally envisioned, her camps offer lodging, dog training, in-home pet care services, and contribute to a company-wide charity that raises money to sponsor animal health research, find homes for rescued dogs, and even fund "Extreme Makeover"-style renovations of local shelters.
Ganahl's current husband, Jason, has signed on as "Brand Dog," a position that oversees strategic business development. He said he hopes to get Camp Bow Wow franchises into large hotels, casinos, and onto corporate campuses.
Lessons Learned and Help Along the Way
While her brother, father and current husband have been pivotal to building Camp Bow Wow into a million-dollar company, Ganahl said she learned that employing too many friends and family can hold a company back.
"It can seem like a quick fix to hire family and acquaintances," Ganahl said. "But you have to make sure the person is the right fit for the position and can grow with the company."
At one point, 10 out of Ganahl's 40 employees were friends and family. But a recent shift from a family-business mentality to a performance-based office culture has helped Ganahl weed out employees who were causing her to make decisions based more on preserving personal relationships rather than what was best for her company. To continue to fuel the company's growth, Ganahl has partnered with a business intelligence software company that will be helping her measure progress and effectiveness throughout her corporation and its 200 franchises.
When Ganahl was about to open her second Camp Bow Wow, there was a moment when she feared growth was happening too fast.
"I remember sitting on the floor of the new location thinking 'What the heck did I just do?' We were still laying tiles hours before it opened. I just had a feeling, though, that it would be alright. Maybe that was pure stupidity."
But Ganahl said something nudged her to keep pushing forward.
"There have been many times along the way I was struggling and just felt like I had an extra push right behind me," said Ganahl who still senses a part of her first husband in the business. "It's great to know that our vision has come to fruition. I think he'd be really excited and happy. It's much better than we'd ever imagined."
Are you, or do you know, a well-established mom-and-pop and/or thriving startup that started out at the bottom of the barrel? How did they dig out and climb up? FOX Business wants to hear from you about your from-roadblock-to-success stories, and those of your entrepreneurial heroes. They are the little engines that could and today keep chugging and pushing our economy back on better footing, and for that they deserve the spotlight. Send us details at smbs@foxbusiness.com about those in your neighborhood or city, and we'll feature some in upcoming articles in the FOX Small Business Center special series, "Determined."