Why You Need to Ask Doctors if they've Washed their Hands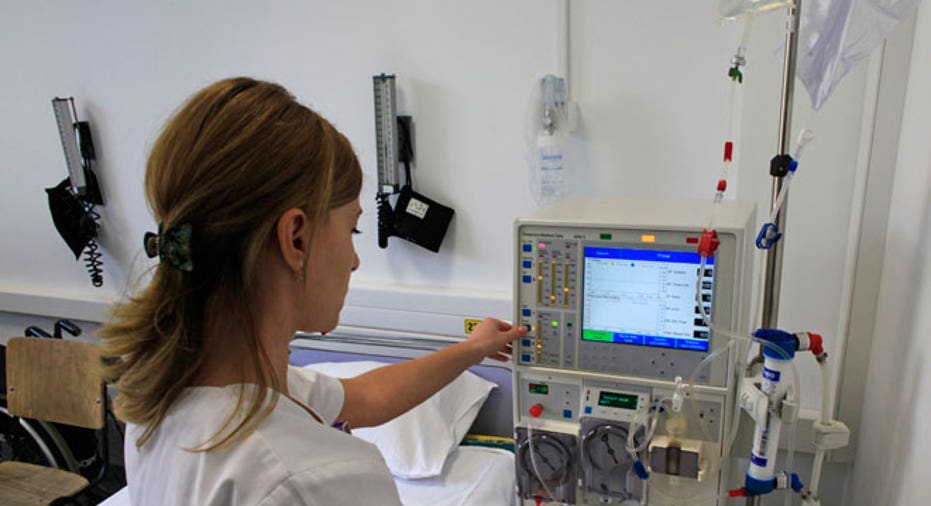 When Cari Shane requested that her four-year-old's pediatrician wash her hands before starting the exam, the doctor complied, but was upset. But Shane, who is a public relations executive, says if she were in the same position, she'd do the same thing all over again. "What was more important? Having the doctor mad at me or protecting the health of my child?"
Strict hand hygiene is the gold standard for reducing infections associated with health care-associated infections (HAIs), experts say. And when doctors, nurses and health care workers fall short, it's important for patients to feel confident enough to speak up.
HAIs are a serious problem. According to the Centers for Disease Control (CDC), 1.7 million HAIs occur in hospitals every year. Even worse, these HAIs result in 100,000 deaths and cost the health-care system billions of dollars every year, says Carol McLay, an infection prevention consultant, who is working on a campaign with the Association for Professionals in Infection Control and Epidemiology (APIC).
"Some 88% of all infections are transmitted by hands," claims Lay. What's more, she says year-upon-year statistics show only 50% compliance in hand hygiene among medical and support staff. Add in the compromised immune systems of post-operative patients, an increase in the number of older patients admitted to hospitals, then pile on the issue of antibiotic-resistant bacteria, "failure to wash hands leads to high risk."
Hospitals work to reduce risk
Many hospitals have improved certain processes like faster removal of unnecessary catheters or washing a patient's skin with antibacterial soap before surgery to reduce the risk of infection over the past few years.
Hospitals are also being attentive to hospital design ensuring sinks and user-friendly hand-sanitizing dispensers are conveniently located. Some dispensers are even armed with electronics and send radio-frequency messaging to monitor compliance unit-by-unit, says Heather McLarney, vice president marketing at DebMed.
And, smart devices not only remind hospital workers when to wash, but also if they're doing it correctly, says Seth Freedman, president of IntelligentM.
The attempt is to reinforce proper procedures, not to penalize doctors and health care workers for omissions, says Dr. Philip Robinson, medical director of infection prevention at Hoag Orthopedic Institute.
Emphasis is on teaching the importance of "wash in wash out" (WIWO) protocols and drawing on a combination of personal, social and structural staff motivators to facilitate proper behaviors, says David Maxfield, co author of Influencer and Crucial Accountability and a health care communications expert at VitalSmarts.
The efforts are paying off. For example, Hoag maintains a very low 0.2 standard infection ratio; Spectrum Health reports 96% hand-washing compliance rate since it implemented influencer training in 2009; and the University of Pittsburgh Medical Center's (UPMC) "Spread the Word, Not the Germs—Clean Your Hands" campaign has bolstered compliance rates 25%.
Hospital-wide initiatives such as these are imperative. Hospitals, bar none, are the entities responsible for the system-wide hygiene behaviors of their workers from doctors on down, says Dr. Didier Pittet, director of the Infection Control Programme and WHO Collaborating Centre on Patient Safety, University of Geneva Hospitals.
The World Health Organization, which has already rolled out its "Five Moments for Hand Hygiene" initiative for hospitals, is currently working on a campaign to encourage patients and their families to demand hospitals implement system-wide hand hygiene strategies.
For now, Pittet says, the needle can be moved forward at least on a case-by-case basis, when patients and their families remind health care workers to wash their hands.
The other side of the equation is training docs to react well, says Robinson. No ruffled feathers, but deference to patients who make a request or demand.
That being said, patients still need real-time nudging. A recent UPMC study shows an electronic reminder like a button or light indicating the physician did not use appropriate hand hygiene would serve as an effective prompt—even better than material in the admissions packet encouraging and/or giving permission to patients to ask physicians and other personnel to wash their hands.
Barbara Salte, a retiree who's had her share of bouts in hospitals, says she always asks medical professionals to wash their hands.  "My health is very important to me.  I don't care if they think I'm a nitpicker." Even when workers tell her they've already washed their hands, Salte says she smiles and asks them to indulge her. "I always get results, and in time they really do respect me."
Here are some tips from experts about how to advocate for hand and general hospital hygiene: 
Understand your risk. It's estimated one out of 20 patients will develop an HAI, and two-thirds are linked to antimicrobial resistance. What's more, there's a tendency for patients and hospital workers to overestimate compliance.
Think logically. Don't behave emotionally when asking for hand-washing compliance, says Maxfield. Rationally identify your discomfort, then slow downand prepare to speak. The practice is a good rule of thumb for hand hygiene and also all patient/doctor engagement.
Show respect. Affirm your respect for your doctor or nurse's competence, says Maxfield to help set the stage for positive dialogue.
End with a question. Reiterate you are interested in their professional point of view. End with a question. "Is this correct?" or "Do you see why I am worried?"
Pay attention to pre-admission instructions: These details could include information about HAIs, the inclusion of bottles of hand sanitizers and a check list of hygiene points on which to focus, says McLay. Also ask whether you should be showering with a strong antibacterial soap before surgery. Recent literature or findings indicate this does reduce the risk of infection.
Be vigilant about your antibiotics. Take all prescriptions as directed, even if you feel better.
Evaluate the cleanliness of your hospital room. If it looks dirty, ask to have it cleaned, says McLay, particularly high- touch surfaces like light switches, bed rails or windowsills which are homes for germs. Plus, spores that cause C-difficile, a virulent digestive system infection, are extremely resistant to many antibiotics. Even worse, McLay adds, they can live in a room for three months.