Why You May Never Have to Step in a Doctor's Office Again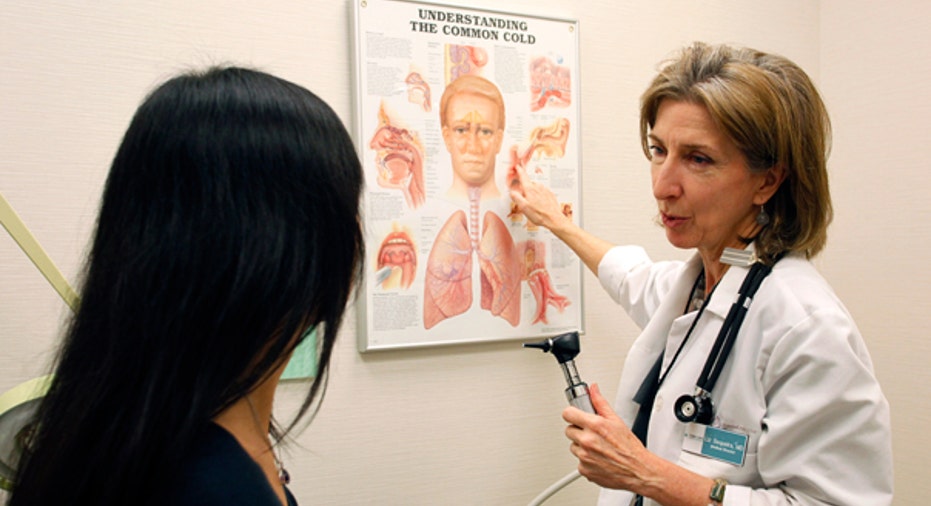 The doctor will see you now, but not in the typical office setting with you sitting on the examining table.
Drug store operator Rite Aid (NYSE:RAD) is offering people that live in the greater Detroit area the ability to engage in virtual doctor's visits. Either by visiting participating Rite Aid stores or going online from the comfort of their home, patients can have real-time appointments with doctors or nurses where they can have discussions, get diagnosed and even get prescriptions.
The service, called NowClinc Online Care, isn't covered by medical insurers, although patients can submit a claim to their insurance company for possible reimbursement. It costs $45 per visit with a doctor, while conversations with nurses are free. "Go into a Rite Aid and you are interested in having a conversation [with a doctor] or have a medical question, the pharmacy staff will escort you into a private consultation room where you can log on," says Robert Thompson, executive vice president of pharmacy for Rite Aid. Thompson describes the system as "very secure" and is Health Insurance Portability and Accountability Act or HIPAA compliant.
According to Thompson, the idea behind NowClinic Online Care is to address the growing problem people face when trying to access doctors: long wait times to schedule an appointment and while at the office. The problem is only expected to get worse as more primary care doctors exit the market than enter it.
The service is also the growth of an increasing trend of having nurse practitioners set up live offices in drug stores. Under these programs, consumers see a nurse on a first come first serve basis. "It's sort of a genesis of this model except the technology is so robust that we are able to connect nurses, doctors and potentially other types of practitioners to provide access to a broad range of services to our customers," says Thompson.
Rite Aid and OptumHealth, which provides the doctors and nurses, partnered with American Well to provide the technology for this service. When patients log on to the software, they will have the ability to select what kind of discipline he wants to engage in and it will come back with a list of different doctors or nurses that can provide a live examination, describes Roy Schoenberg, chief executive at American Well.
Since being launched in September, most of the patients seeking help are adults with ailments like the flu, allergies, stomach aches, coughs, colds and sore throats. Thompson says the symptoms are often ones that people don't want to wait two days to get an appointment at the doctor's office, but need assistance. In the future, the program could expand into more specialized services, says Thompson.
Detroit was picked as the test market due to its residents having problems accessing health-care due to low incomes and the availability of urgent-care and primary-care doctors, according to Schoenberg at American Well.
While the virtual doctor service is in the early stages of being adopted in pharmacies, Schoenberg says it's only a matter of time before these telehealth kiosks start popping up in all sorts of locations including other retail settings and even airports. He says as the technology expands, doctors will not only be able to have a conversation with the patient, but even examine them remotely with devices connected to the station. "It's the very first time we are seeing the extension of the healthcare system into the consumer space."