Why Toyota's NASCAR Success is a Boon for Business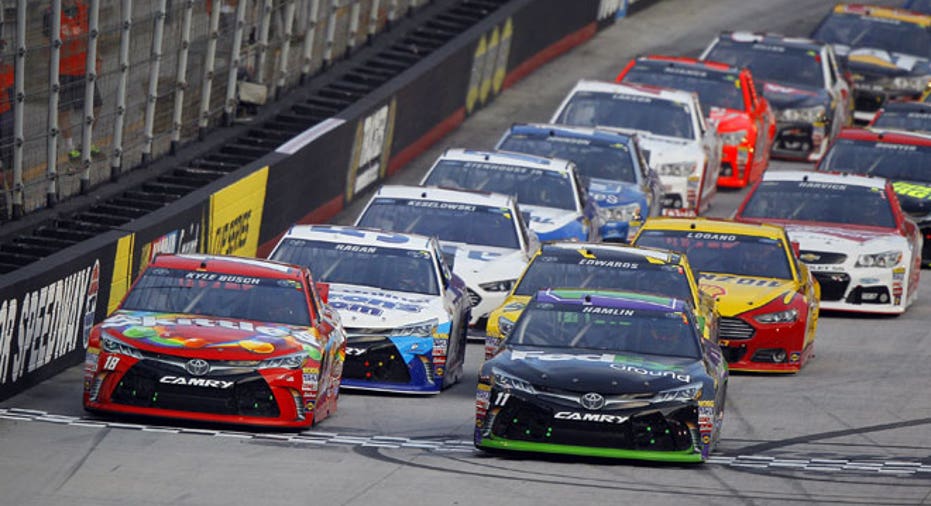 NASCAR's Chase for the Sprint Cup is underway, and Toyota (NYSE:TM) is making its presence felt.
Toyota drivers Kyle Busch, Matt Kenseth, Carl Edwards, Denny Hamlin and Clint Bowyer all secured spots in the 16-member playoffs. In fact, Toyota is in the midst of its best NASCAR season to date, running second in the manufacturers' standings behind General Motors' (NYSE:GM) Chevrolet and ahead of Ford (NYSE:F).
It wasn't long ago when racing fans were scratching their heads over Toyota's entrance into a NASCAR world dominated by Detroit's Big Three: Chevrolet, Ford and Chrysler. To die-hards, a Japanese brand didn't belong in America's most popular form of racing.
Those perceptions of the Toyota brand have since changed. Toyota's investment is paying off not only on the track, but on the sales floor.
Toyota was strong in markets like Los Angeles, yet in the heartland where NASCAR is especially popular, sales growth lagged behind. Ed Laukes, vice president for marketing, performance and guest experience at Toyota Motor Sales USA, said fans of the sport were 30% less likely to purchase a Toyota vehicle compared to American car brands.
Now, after a decade in NASCAR, purchase intention among fans "either meets or in some parts of the country exceeds 'Detroit Three' models," Laukes said.
'The Perfect Marriage'
Toyota joined NASCAR's truck series in 2004. Three years later—around the same time it was launching a new generation of Tundra pickup trucks—the automaker became part of the premier series that is now the Sprint Cup.
Racing was an opportunity for Toyota to assimilate into America's car culture, and Toyota believes more customers have considered the brand because of its ties to NASCAR. Laukes called it Toyota's "Americanization." Approximately 75% of all Toyota vehicles sold in North America are built in the region.
"I don't think a lot of Americans realized that the strategy for Toyota is to be local and build where they sell," NASCAR Chief Operating Officer Brent Dewar said.
The partnership made sense for NASCAR, too. As a global brand, Toyota has played a role in the sanctioning body's overseas operations. NASCAR oversees races in Europe through the Whelen Euro Series, for example, and races are broadcast in 180 countries around the world.
"It was the perfect marriage," Dewar added. "When Toyota joined, it was a signal that NASCAR is more than an American icon."
Preparing for the Chase
An old adage says car builders sell on Monday if they win on Sunday, and Toyota has done plenty of winning this season. With Kenseth's victory Saturday in the Federated Auto Parts 400, Toyota drivers have amassed 11 wins, tying Chevrolet for the best result so far in 2015.
"We're winning, and we're demonstrating what our brand is all about," Laukes said.
The 10-race Chase begins with the MyAFibRisk.com 400 at Chicagoland Speedway on Sept. 20. This is the fifth-consecutive year that the Chase will begin at Chicagoland, a track owned by International Speedway (NASDAQ:ISCA).
The first three rounds of the Chase consist of three races each, and then four finalists will compete for the Sprint Cup championship in the last race of the year, the Ford EcoBoost 400 at Homestead-Miami Speedway.
Toyota Generating Buzz
NASCAR will celebrate the beginning of its postseason on Thursday, Sept. 17, at Chase Fest, a Chicago event sponsored by Toyota. Fans can meet the 16 Sprint Cup challengers during autograph sessions, and 3 Doors Down will perform a live concert.
Laukes, a Chicago native, said Toyota capitalizes on Chase Fest to interact with fans. He also noted that local dealers are excited about the event.
Toyota's representatives in the Chase field have certainly put the car company front and center more than ever before. The drivers, all of whom race for Joe Gibbs Racing except for Michael Waltrip Racing's Bowyer, are propelling their teams forward as well.
"It's been a lot of fun and everything they've put into the team has been amazing. Being able to be a part of [Chase Fest] with them will be neat," Edwards, who drives the No. 19 ARRIS Toyota Camry, told reporters before Saturday's race in Richmond, Va.
And for the future of NASCAR, Toyota's rise through the rankings is a big win.
"Hats off to them," Dewar said of Toyota. "This is a big year for them, and we're excited to see their progress over the years."